India's Prime Minister To Step Down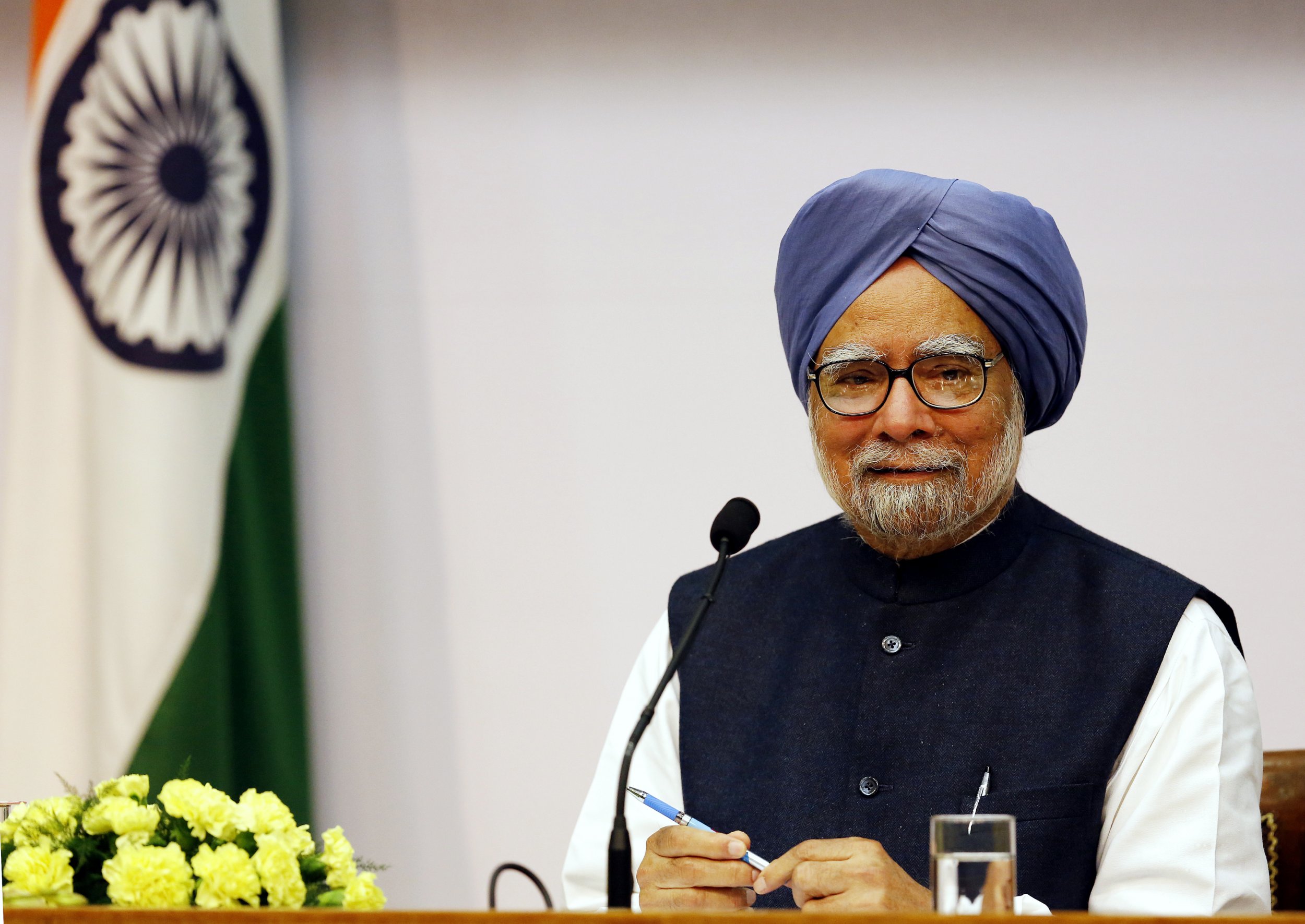 NEW DELHI (Reuters) - Indian Prime Minister Manmohan Singh ruled out on Friday serving another term after an election due by May and threw his support behind Nehru-Gandhi dynasty scion Rahul Gandhi to lead the country if their party wins the vote.
Singh, a soft-spoken economist, was unusually scathing about opposition leader Narendra Modi, who is ahead of Gandhi in several opinion polls, saying it would be "disastrous" if he were to become prime minister.
The 81-year-old Singh has presided over India for a decade at the head of coalitions led by the Congress party.
As finance minister 22 years ago, he deftly ushered in reforms of a state-shackled economy that helped launch years of rapid growth.
But on Friday, with growth at a decade-low, he conceded that the government had failed to generate employment in manufacturing, to control inflation and combat corruption.
Those problems will make it a difficult election for Gandhi, who has largely failed to win votes for his party when campaigning in state elections, if he is chosen to lead the Congress into the vote.
"In a few months' time, after the general election, I will hand the baton over to a new prime minister," Singh said at a rare news conference, adding a "new generation" would guide the country.
Singh, who was widely expected to step down after the vote, said Gandhi, 43, should be the Congress party's prime ministerial candidate.
"Rahul Gandhi has outstanding credentials to be nominated as the ... candidate and I hope our party will take that decision at an appropriate time."
The Congress is due to hold a top-level meeting on January 17 and is expected to announce its candidate soon afterwards.
Gandhi used to head the Congress party's youth wing and is the party's vice president. His mother, Sonia Gandhi, is party president.
Whoever gets the nod will face off in the election against Modi, of the Hindu nationalist Bharatiya Janata Party (BJP), who is campaigning on a platform to end the red tape and graft that have bedevilled the Congress-led coalition.
Compared with the relatively untested Gandhi, Modi has years of experience as the chief minister of the western state of Gujarat, where he has built a reputation as a business-savvy and investor-friendly administrator.
But he has been unable to fully shake off allegations over anti-Muslim riots in Gujarat in 2002 in which at least 1,000 people were killed, most of them Muslims.
Modi denies wrongdoing and a Supreme Court investigation found no evidence to prosecute him.
On Friday, Singh made a pointed reference to the riots under Modi's watch when dismissing a suggestion that he had been a weak prime minister.
"If by strong prime minister you mean that you preside over the mass massacre of innocent citizens in the streets ... I do not believe that sort of strength this country needs. Least of all in its prime minister," Singh said.
BJP leaders were quick to condemn the comments. Spokeswoman Nirmala Sitharaman said on her Twitter account she was "utterly disappointed" by Singh's remarks and a senior party leader Arun Jaitley said Modi's three election wins to become chief minister of Gujarat proved he had voter support.
Many Congress members, particularly younger legislators, are calling for Gandhi to be made the prime ministerial candidate quickly as they hope that will rejuvenate the party's image and deflect public anger with current leaders.
Gandhi has in recent months tried to style himself as a maverick and make clear he condemns corruption. In September, he denounced an executive order from the government allowing convicted lawmakers to stay in office and stand in elections.
India's electorate is increasingly dissatisfied with the traditional subsidies and handouts that have helped Congress win previous elections and is looking for an end to corruption, a strong economy and a firm hand on inflation.
The anti-corruption Aam Aadmi Party (AAP) has just trounced Congress in Delhi elections and come in a close second to the BJP, barely a year since it was created, proving that graft is firmly on the agenda.
On Friday, Singh endeavored to salvage the image of his leadership and government, touting welfare measures and saying it was "for historians to judge" his record.
"I have every reason to believe that when history is written of this period, we will come out unscathed," he said.
The news conference was only the fifth Singh has held as prime minister, according to his office, a statistic that does nothing to temper criticism that he is ineffective and out of touch.
"It makes no difference now what the prime minister says," said Prem Shankar Jha, a political analyst. "As far as this election is concerned, the Congress is doomed."