India's Taj Mahal Is Changing Color Because of Insect Feces and Pollution
India's iconic white-marbled mausoleum Taj Mahal is changing its color, presenting spots of yellow, brown and green in pictures that shocked the country's Supreme Court.
At a hearing on Tuesday, Justices Madan B. Lokur and Deepak Gupta accused government agencies of failing to preserve the site and ordering them to seek expertise from abroad.
"Earlier it was turning yellow and now it is becoming brown and green. It is very serious. It seems you are helpless," the justices said, according to The Times of India. "Even if you have the expertise, you are not utilizing it. Or perhaps you don't care," they added, accusing the government of only seeing the monument as a money-making machine to show off to foreign visitors.
M. C. Mehta, the environmentalist lawyer who brought the pictures to the Supreme Court's attention as part of a 30-year-long battle to preserve the Taj Mahal, believes the Archaeological Survey of India (ASI) and the government share a responsibility for the current state of the monument as they have failed to follow the court's previous orders.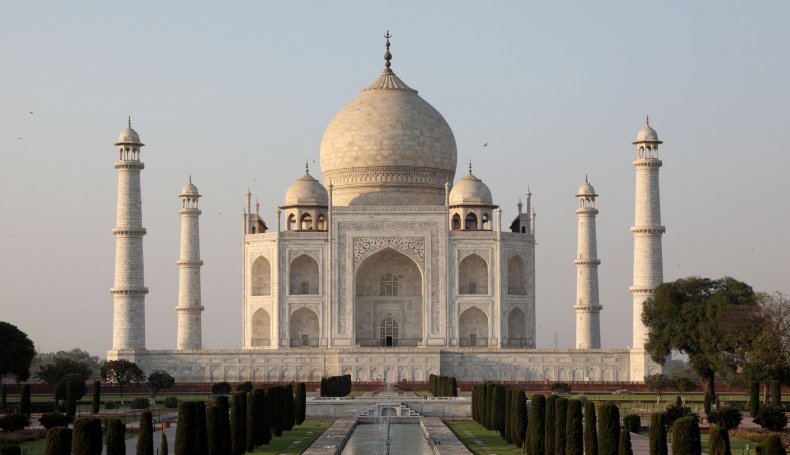 The 17th-century tomb was built in Agra—currently part of the northern India state of Uttar Pradesh—by Mughal Emperor Shah Jahan in memory of his wife Mumtaz Mahal and is included in the UNESCO World Heritage Site, where it is described as "the jewel of Muslim art in India."
The vast complex is located near the Yamuna river, which recently became so polluted it was proclaimed "ecologically dead," insofar as it cannot support fish or plant life.
The river pollution, however, attracted a species of insect that has contributed to the degradation of the Taj Mahal's surfaces. The insect problem has been known for at least two years, when officials from the ASI first connected the green traces in the Taj Mahal's marble walls and red stones to the presence of the bugs.
"Some mysterious insect is leaving the traces, either through its excreta or it could be carrying some sort of bacteria which stick to the wall," an ASI official told The Hindustan Times in April 2016. The insect was later identified as being a type of Goeldichironomus, which somewhat resembles mosquitoes.
Tuesday's Supreme Court hearing came ahead of the release of the World Health Organization (WHO) report on air pollution showing that India is home to 14 of the world's most polluted cities. Kanpur, an industrial city located in the same state and about 170 miles away from the Taj Mahal, topped the WHO list as world's most polluted city, Reuters reported on Wednesday.