Indicted Donald Trump Confidante Roger Stone Asks Court to Give Him Access to Full Mueller Report
Roger Stone, a longtime associate and confidante of President Donald Trump, asked a federal judge on Friday to not only dismiss the indictments brought against him by Special Counsel Robert Mueller, but to also give him access to the Mueller team's complete investigation into Russian meddling in the 2016 presidential election.
"Roger Stone is the only person with a compelling case for standing to demand the Report," reads a motion to compel filed Friday with a federal court in Washington, D.C., by the political insider's legal team. "His lawyers must be allowed to review the Report in its entirety because it contains the government's evidence and conclusions on matters essential to Stone's defense."
Based on evidence compiled by the Mueller investigation, a federal grand jury indicted the outspoken 66-year-old consultant in January on seven counts, including witness tampering and misleading House Intelligence Committee investigators about his communications with WikiLeaks founder Julian Assange during the 2016 campaign.
The motions filed by Stone's attorneys accused Mueller of selective prosecution, arguing that the special counsel targeted Stone "because he has exercised his First Amendment right to associate with, and through speech, support Donald J. Trump, the President of the United States."
Mueller crossed a constitutional line, claimed Stone's court filings, by prosecuting the Trump associate without having first received a specific referral from Congress to do so.
"What makes this prosecution particularly selective is that the Special Counsel had to act without a referral from Congress and act outside the limits of his appointment – prosecute obstruction of another branch of government," reads one of the several documents filed Friday. "Said plainly, the Special Counsel was not asked to look into obstruction of Congress and the Special Counsel was not authorized to investigate it on its own."
While Stone is seeking access to the complete Mueller report, his motion clarified that he is not looking to make the document public, but only to use in his defense.
Stone was one of a few dozen individuals indicted as a result of the nearly two-year Mueller investigation. The special counsel concluded his probe and turned over an almost 400-page report to Attorney General William Barr in late March. Two days later, Barr provided Congress with a brief four-page summary of the investigation.
According to Barr, Mueller found no evidence of any active collusion between the Trump campaign and Russia. Regarding concerns about obstruction of justice by the Trump White House, Mueller made no firm conclusions. Rather, wrote Barr, the special counsel left it up to the attorney general and Deputy Attorney General Rod Rosenstein to review the evidence in the report to determine if any criminal conduct had occurred. Barr wrote that they did not.
The release of that summary did nothing to alleviate the partisan bickering on Capitol Hill, with Trump and his supporters claiming the report had fully exonerated the president while many Democrats and Trump critics demanded to see the full report so they could judge the evidence for themselves.
That tension only increased in recent weeks, after multiple reports claimed that members of the Mueller team were disappointed in the Barr summary of their investigation, saying it had omitted important information.
Additionally, Barr testified before lawmakers this week that he believed – without citing any evidence for his claim — that "spying did occur" on the Trump campaign, and that he would be investigating the origins of the investigation into Russian meddling.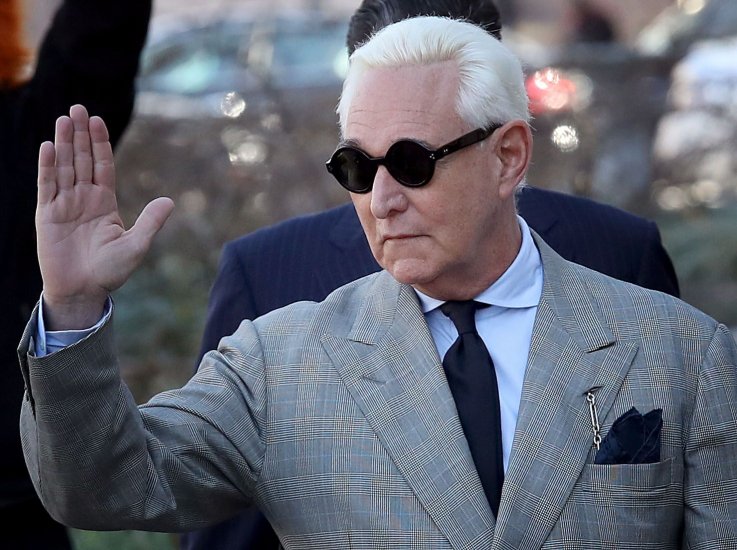 Indicted Donald Trump Confidante Roger Stone Asks Court to Give Him Access to Full Mueller Report | U.S.