Indie Rock Musician BØRNS Denies Sexual Misconduct Allegations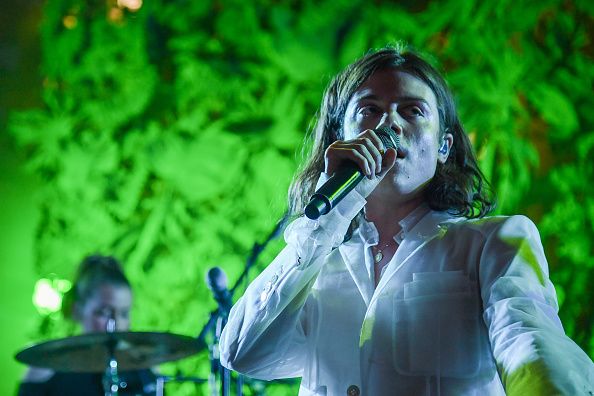 Indie rock artist BØRNS, real name Garrett Borns, has been accused of sexual misconduct, manipulation and harassment on social media.
In a statement posted to his Instagram on Tuesday, Borns, 26, denied the allegations, calling them "irresponsible."
"I am both hurt and angered over the disturbing and false allegations that have been spread over the past few days on social media," his statement read. "All of the relationships I have had were legal and consensual. They ended abruptly and that obviously caused hurt feelings, but for anyone to suggest anything beyond that is irresponsible."
In an official statement, BØRNS revealed he would not perform at the All Things Go Fall Classic this year. "We hope, in all years and especially this one, that the Fall Classic continues to be part of making the music world a better, more equal place. Please stay tuned for scheduling updates and more announcements," the statement said.
The claims began on Friday, September 21, when Twitter user @kaliforxnia (Nia) posted about her experiences with Borns, saying that he was a "manipulator, horrible 'friend,' and user." Her tweet went viral and another woman, @alyssaadaniele (Lyss) came forward with similar experiences.
Nia explained that she had met Borns at a concert in 2015 when she was 19. The two began texting regularly. "He ignored my messages because I said no to going to his hotel room," Nia wrote. The next time the two saw each other, Borns allegedly coerced Nia into going to his hotel room. "Suddenly I became drunk and was completely taken advantage of. Once everything happened I went to the bathroom and started bleeding," she continued.
"I blamed myself for that night because I didn't say no even though I was intoxicated," she said. "We kept in touch afterwards without me confronting him about what happened because he was so good at manipulating."
The second woman, Lyss, posted a similar story to Twitter on Sunday, September 23. "When I was 16 years old I was at a music festival where I met [Borns] for the first time," she wrote. The two also began texting regularly. "He asked me what I was doing later and invited me to his hotel," she said.
"I idolized him," said Lyss. "He made me feel so special."
She continued, "He would ask me to send specific pictures and videos of myself, and I did. He asked me to so I did, and if I didn't he would beg, or ghost me if I refused. I was 17….I tried to normalize things so many times, but it always led back into the sick lustful conversations that he used me for."
Both women replied to Borns' statement denying their allegations on Tuesday.
"Your statement is contradicting. How can you say they're false allegations & then add that all of the relationships you had were legal & consensual? (When we never said it was illegal)," Nia tweeted. "3 years doesn't end anything abruptly. If you knew it hurt me & others, where is the apology?"
This article has been updated to include a statement by BØRNS's rep about All Things Go Fall Classic this year.