Indigenous Protesters in Brazil Vow To Block Highway Until They Get COVID Help
An indigenous group in Brazil has vowed to indefinitely block a highway that cuts through the Amazon if the Brazilian government does not comply with a list of demands that includes aid to alleviate the impact of COVID-19.
Protesters from the Kayapó Mekrãgnotire ethnic group have been blocking traffic on Brazil's BR-163 highway since Monday. They are seeking medical supplies, assistance and food to combat the impact of COVID-19, along with financial restitution for environmental damage done by the highway and agreements for deforestation and illegal mining to end in their territory.
The group is protesting on the highway, which serves as one of the country's chief routes for delivering crops of soybeans and corn, in Brazil's Pará state, near the town of Novo Progresso. Although the Kayapó Mekrãgnotire had been temporarily lifting the blockade to allow truckers to pass through, they are now reportedly blocking the road without any exceptions.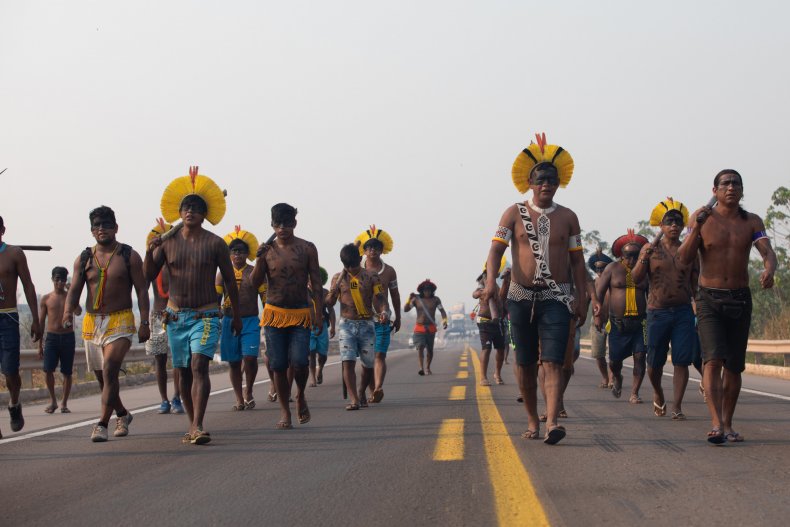 A judge ordered the group to disperse earlier in the week and denied a subsequent appeal on Wednesday. Regardless, the group has continued protesting and maintaining the blockade. Members of the group, many of whom are armed with bows and spears, have promised that a violent uprising will take place if the government does not meet their demands.
"We do not want to fight," the Kayapó Mekrãgnotire wrote in a letter to the Brazilian government's National Indian Foundation, or FUNAI, according to a report from Agence-France Presse (AFP). "But we will not accept the army or police coming here and removing us by force. If that happens, there will be blood spilled on the asphalt."
The group reportedly burned a letter they had received from FUNAI, which is said to have rejected some of their demands while urging patience on others. The Kayapó Mekrãgnotire are being assisted in their protest by the Kabu Institute, an advocacy group that aims to help prevent the exploitation of indigenous groups in Brazil.
Brazil has the second-most COVID-19 cases and deaths in the world, after only the United States. There had been more than 3.5 cases reported in the country as of Thursday, including over 112,000 deaths.
Cases are said to be quickly spreading among indigenous groups, with some infections reportedly being introduced after members of the groups are forced to leave their villages and come into contact with outsiders to obtain supplies due to the government failing to deliver aid in time.
"Our rights are being violated," protesters told AFP. "Indigenous health is growing more fragile by the day... We are here to defend the Amazon and protect our territory. But the government wants to open indigenous lands to illegal projects, including mining, logging and ranching."
Newsweek reached out to the government of Brazil for comment.