Major drug companies reached a $260 million agreement Monday to settle two Ohio counties' lawsuits, but individual victims of the opioid crisis probably won't see a single dollar.
First confirmed by The Wall Street Journal, major distributors AmerisourceBergen, Cardinal Health and McKesson, along with drug maker Teva Pharmaceuticals reached the agreement late Sunday night. In doing so, they joined the ranks of Johnson & Johnson, Mallinckrodt Pharmaceuticals and Purdue Pharma, which all reached similar deals earlier this year to avoid the landmark federal trial scheduled to begin Monday morning.
Under the agreement, the three distributors will pay a combined $215 million, while Teva will pay $20 million in cash over three years and donate $25 million in anti-addiction medication. Since the civil suit will send the money straight into the hands of local governments, experts are concerned that individual victims of addiction, dependence and families of loved ones who overdosed won't be compensated appropriately.
"Of course states need to be compensated. But the concern is that very little money actually filters down to those who have been most deeply affected," Kate Nicholson, civil rights attorney and patient advocate, told Newsweek in an interview. "That's what happened with the tobacco settlements, and that's what seems to be happening in this crisis."
In the past two decades, tobacco companies have paid states more than $100 billion through the largest civil litigation settlement in U.S. history, but it's still unclear how state governments are using the money, according to reporting by NPR.
That's largely because state legislatures decided how the funds would be spent without restrictions, according to Regina LaBelle, chief of staff in the Office of National Drug Control Policy during President Barack Obama's administration.
In this case, if opioid settlement cash comes with some parameters for how it's administered and spent, at least the public could monitor the government's outcomes, according to LaBelle.
"It's not just about a lump-sum payment," LaBelle said in an interview with Newsweek. "It's about where this money is going."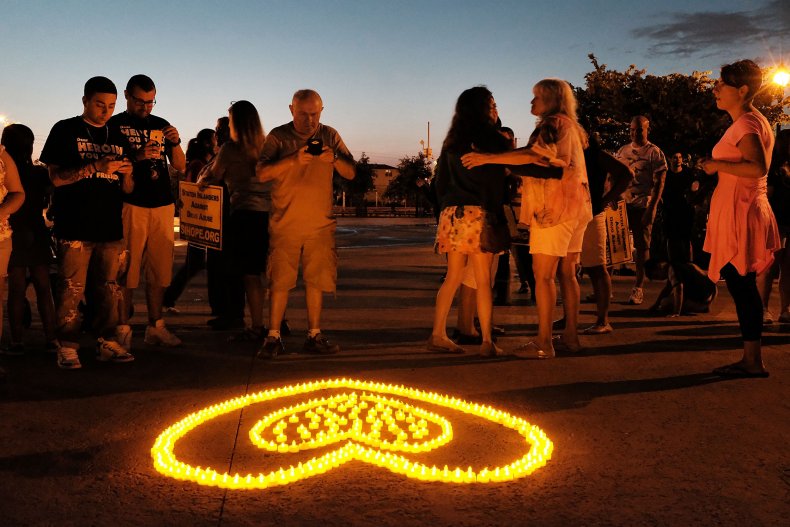 The settlement is one of many to precede a federal trial on Monday that combined 2,000 lawsuits by states and local governments. They were looking for the world's biggest drug makers and distributors to help pay for the rampant addiction and overdoses spurred by their products, regulatory failures and dishonest marketing practices.
Cuyahoga County, one of the Ohio counties named in the case, is investing money from its opioid settlements toward its Opioid Crisis Mitigation Plan. It funds drug addiction and mental health services, emergency care, inmate withdrawal treatment and diversion programs. No reimbursement on behalf of victims and their families is mentioned in the plan thus far, largely since the legal structure of the civil suit doesn't call for it.
Officials in Cuyahoga County and Summit County said today's settlement brings their total to over $326 million in opioid-related settlements to date.
"While we cannot return loved ones who succumbed to this scourge to their families and communities, we can, and we must treat and save those thousands in our county who remain addicted and prevent the next person and family from experiencing the horrors of addiction," the spokespeople said in a statement.
Still, there's talk of other options. In a letter obtained by Newsweek and first reported by the Associated Press, the counsel involved with Purdue Pharma's bankruptcy proceedings wrote more than a dozen drug companies about a common fund, established through bankruptcy code, that could make billions available to public and private litigants alike.
It's a common option in cases in which one faulty product, in this case a prescription opioid, affects the businesses of other companies. By donating substantial contributions to the fund, drug makers and distributors—including most that settled with Ohio counties this weekend—could be released from other settlement obligations.
"We do not know, at present, whether such a plan ultimately would be feasible. We do know, however, that the country is in the grips of a crisis that must be addressed, and that doing so may require creative approaches," wrote Arik Preis, a lawyer on the counsel, in the letter to drug companies.
The opioid epidemic cost the U.S. economy at least $631 billion over four years—but most of that cost was absorbed by individuals' health-care spending, premature mortality and lost productivity, according to the Society of Actuaries. It also claimed hundreds of thousands of lives and caused barriers to treatment for chronic pain patients in the government responses that followed.
A settlement to resolve thousands of other cases brought by local governments in the federal suit could be announced later in the day on Monday by state attorneys general, according to reporting by The New York Times. Teva says it has an agreement in place with state attorneys general from North Carolina, Pennsylvania, Tennessee, Texas and other defendants to settle its remaining lawsuits, according to reporting Monday afternoon by Bloomberg News.