Indonesia Earthquake and Tsunami: Aerial and Satellite Photos Reveal Scale of Devastation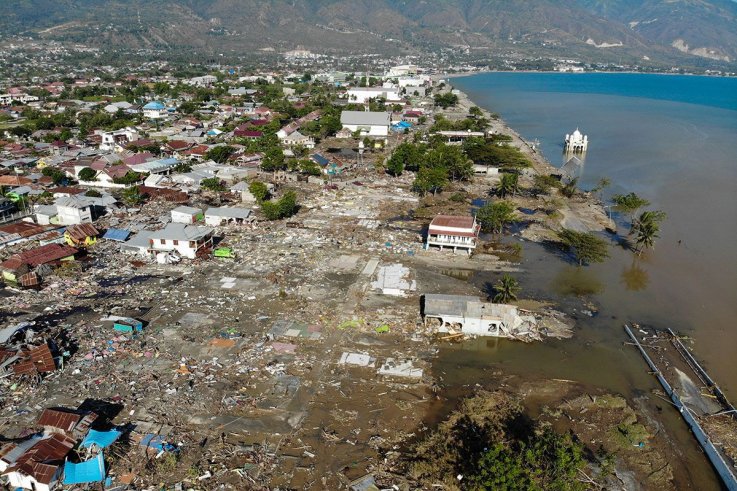 The official death toll after the devastating earthquake and tsunami that hit the Indonesian island of Sulawesi has risen to more than 1,200. Most of the dead have been from the small city of Palu, but some remote areas have been cut off since Friday's 7.5 magnitude quake triggered tsunami waves, leading to fears the toll could soar.
The Red Cross said the situation was "nightmarish" and reports from its workers venturing into one cut-off area, Donggala, a region of 300,000 people north of Palu and close to the epicenter, indicated it had been hit "extremely hard."
In Palu, tsunami waves as high as six meters (20 feet) smashed into the beachfront, while hotels and shopping malls collapsed in ruins and some neighborhoods were swallowed up by ground liquefaction.
"We suspect there are still some survivors trapped inside," the head of one rescue team, Agus Haryono, told Reuters at the collapsed seven-story Hotel Roa Roa. About 50 people were believed to have been caught inside the hotel when it was brought down. About nine bodies have been recovered from the ruins and three rescued alive.
A particular horror in several areas in and around Palu was liquefaction, which happens when soil shaken by an earthquake behaves like a liquid. About 1,700 houses in one neighborhood were swallowed up, with hundreds of people believed buried, the national disaster agency said.
Aerial photos and before-and-after satellite images show a largely built-up neighborhood just south of Palu's airport seemingly wiped clean of all signs of life by liquefaction.
Elsewhere, on the outskirts of Palu, trucks brought 54 bodies to a mass grave dug in sandy soil. Most of the bodies had not been claimed, a policeman said, but some relatives turned up to pay respects to loved ones at the 165 feet long trench, where the smell of decomposition was overpowering.
Rosmawati Binti Yahya, 52, whose husband was among those placed in the grave, told Reuters: "It's OK if he's buried in the mass grave, it's better to have him buried fast." She then headed off to look for her missing daughter.
At least 65,000 homes were damaged and more than 60,000 people have been displaced and are in need of emergency help, while thousands have been streaming out of stricken areas.
Indonesia is all too familiar with earthquakes and tsunamis. A quake in 2004 triggered a tsunami across the Indian Ocean that killed 226,000 people in 13 countries, including more than 120,000 in Indonesia. It has said it would accept offers of international aid, having shunned outside help earlier this year when an earthquake struck the island of Lombok.