Indonesia Earthquake: Scenes of Devastation on Tourist Island of Lombok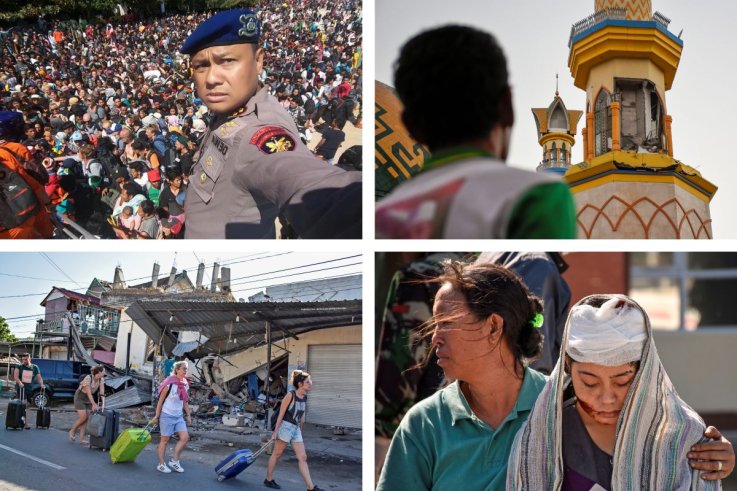 These photos show scenes of devastation across the north of Indonesia's resort island of Lombok after a magnitude 6.9 earthquake killed at least 91 people and prompted an exodus of tourists rattled by the second powerful quake in a week.
There were no foreigners among the dead and the number of injured stood at 209, National Disaster Mitigation Agency (BNPB) spokesman Sutopo Purwo Nugroho told a news conference.
BNPB said it expected the death toll to rise once the rubble of more than 13,000 flattened and damaged houses is cleared away, but a lack of heavy equipment meant this would take time.
Lombok was hit a week earlier, on July 29, by a 6.4 magnitude quake that killed 17 people and briefly stranded several hundred trekkers on the slopes of a volcano.
The tremor was so powerful it was felt on the neighboring island of Bali where, according to BNPB, two people died. The first quake was also felt on Bali.
Long lines formed at the airport of Lombok's main town, Mataram, as foreign visitors cut their holidays short. At least two airlines said they were adding extra flights to help tourists leave.
Officials said hundreds of tourists had been evacuated from the three Gili islands off the northwest coast of Lombok, and boats were being scrambled to collect several hundred more who feared a tsunami would hit the islands.
Michelle Thompson, an American who was holidaying on one of the Gilis with her husband, described a violent "scramble" to get on boats leaving for the main island.
"People were just throwing their suitcases on board and I had to struggle to get my husband on because he was bleeding," said Thompson, whose husband was treated for cuts on his head and legs when they arrived back on Lombok.
Indonesia sits on the geologically active Pacific Ring of Fire and is regularly hit by earthquakes. In 2004, the Indian Ocean tsunami killed 226,000 people in 13 countries, including more than 120,000 in Indonesia.
— Reuters.