ISIS-Inspired Jihadis Planned Chemical Bomb Attack on Indonesia's Presidential Palace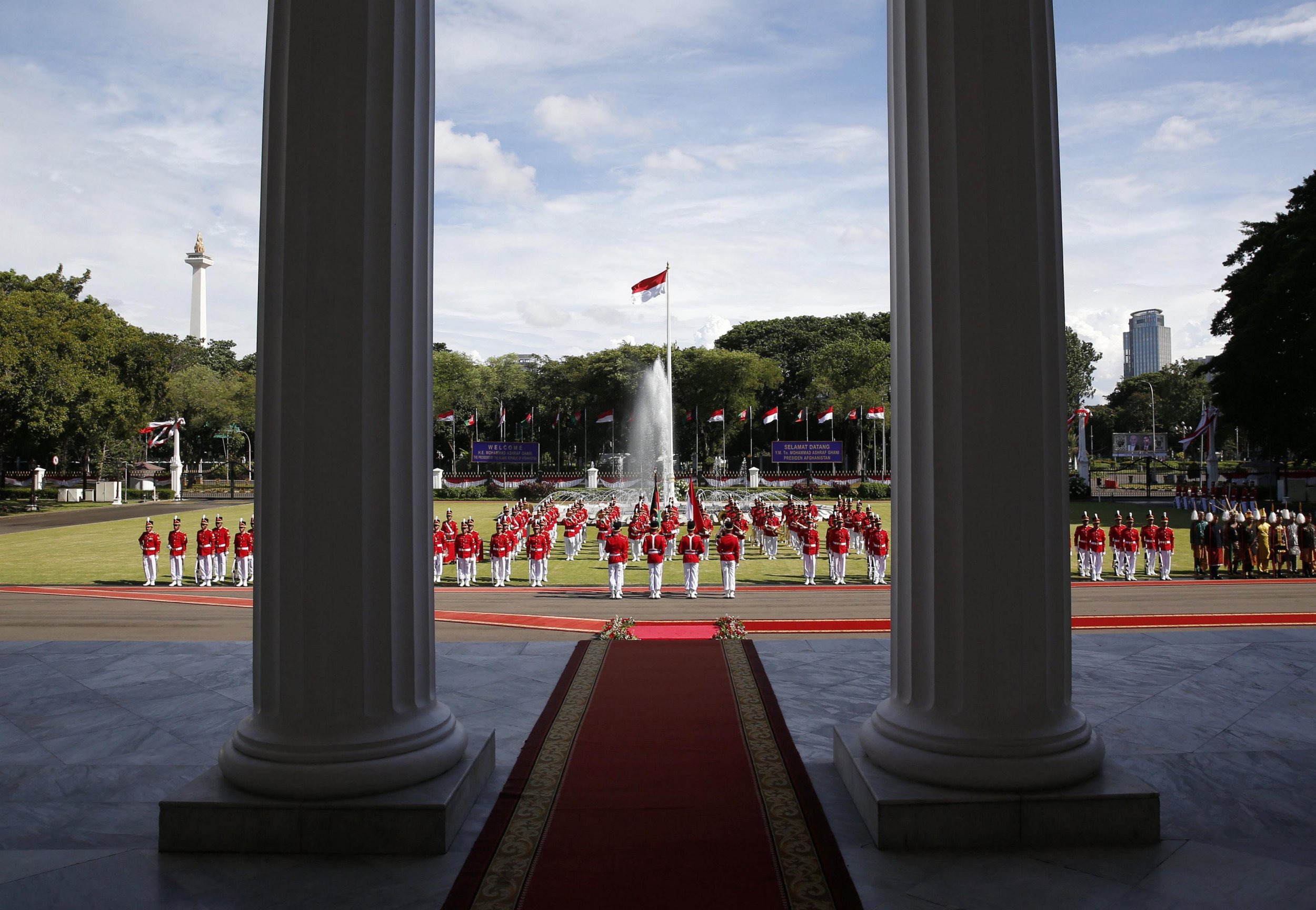 Indonesian authorities say they have thwarted an alleged chemical bomb plot inspired by the Islamic State militant group (ISIS), including one attack that would have targeted the presidential palace, ahead of the country's Independence Day celebrations on Thursday.
Police arrested five suspected radical Islamist militants in the West Java city of Bandung, located east of the capital Jakarta, a spokesman said. He said the suspects were members of an ISIS-affiliated network known as Jemaah Anshorut Daulah.
Two of those arrested had been deported back to Indonesia from Hong Kong for spreading radical Islamist ideology. Police said that the cell had been following the online bomb-making instructions of an Indonesian militant fighting for ISIS in Syria.
"They learn to make bombs from Bahrun Naim's blog," regional police spokesman Yusri Yunus told the Associated Press. "This arrest opened a new discovery linked to terror acts."
He did not provide further details on the plot to detonate an explosive device at the presidential palace, but it involved chemicals and their targets included several other locations. Counter-terror police said their discovery of the cache in a raid in Bandung, they left them with redness of the skin.
Indonesia is the world's most populous Muslim-majority nation and its government is battling against the threat of extremist ideology in the country.
The jihadi group has a notable presence in southeast Asia and Indonesia's army chief General Gatot Nurmantyo warned in June that there are sleeper cells in "almost every province of Indonesia."
A report detailing the links between ISIS's central leadership in Syria and the southeast Asian militants who overran the southern Philippine city of Marawi in May revealed that a Malaysian fighter and leader of the group's East Asia wilayah, or province, Dr. Mahmud Ahmad, was funneling money to the militants through Indonesia. The funding came in payments of tens of thousands of U.S. dollars via Western Union transfers.
Ahmad also used fighters from the outlawed Indonesian militant group Jamaah Ansharut Daulah (JAD), which the U.S. has designated as an extremist organization, the report, published by the Jakarta-based Institute for Policy Analysis of Conflict, said.
Indonesia has suffered several small scale, ISIS-inspired attacks, including twin cooker-bomb blasts at a Jakarta bus station in May that killed three police officers, and a coordinated bomb and shooting attack in the capital in January 2016 that left four people dead. Police killed all four attackers in that assault.
In June, Indonesian authorities jailed six militants from the island of Batam for a plot to fire a rocket at Singapore's Marina Bay.
The deadliest attack in Indonesian history remains the 2002 Bali bombings that killed 202 people, many of them foreign tourists. Indonesia sentenced three militants who were members of the Al-Qaeda-affiliated Jemaah Islamiyah radical Islamist group to death for their role in the attacks.