Man Fights Giant 26ft Python and it Doesn't End Well for the Snake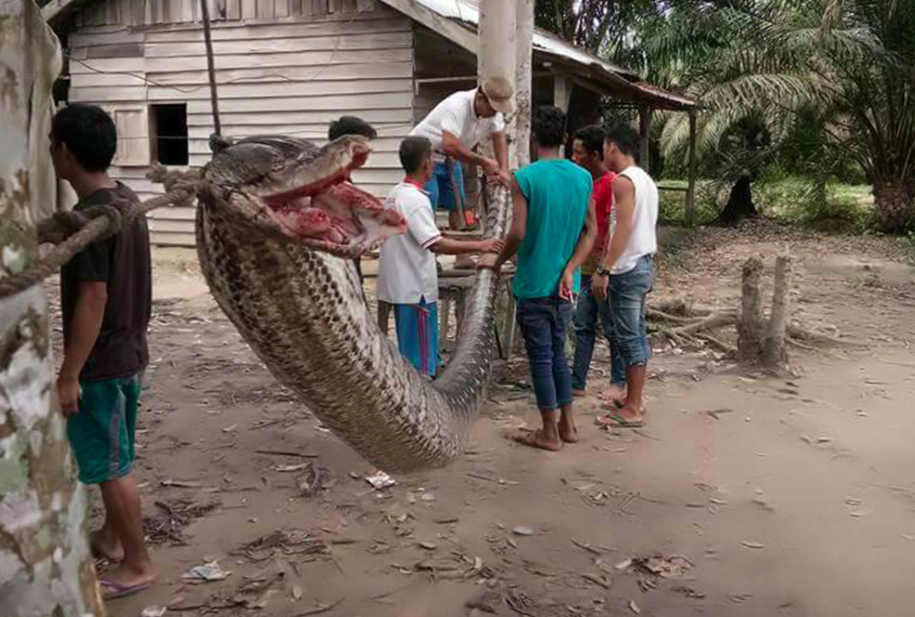 A security guard nearly lost his left arm wrestling a 26ft python on a remote country road in Indonesia.
But Robert Nababan, 37, from Riau, Sumatra, got off far lighter than the snake, which was caught and then eaten by locals.
Nababan, who briefly spoke to local reporters from his hospital bed, said he encountered the python in the evening of September 30 as he was riding his motorcycle home from his work.
"I tried to catch it. It bit my arm, and we wrestled for a while" Nababan, a security guard at a palm oil plantation company, recalled.
It is unclear how long the fight went on for and as reporters interviewing Nababan were ejected from the hospital before hearing the full story. "My brother is still weak condition" one of family members said.
Giant pythons can regularly grow to more than 20 feet but this particular snake, to local police chief Sutarja said, was "unbelievably huge."
He told AFP that another security guard and several local residents ultimately helped to save Nababan's life, one of which hit the snake with a log. Local villagers then hung the snake's body up, where it was played with by local children. Later it was cut down, fried and eaten.
Indonesia is home to some of the world's biggest reptiles and attacks against humans are faily common.
In March, a local villager mysteriously disappeared on Sulawesi Island. It was discovered later that the 22 foot-long python had eaten the man whole.