Indonesia Plane Crash: Everything We Know About Lion Air Crash as Search for Bodies Continues
The search for those aoard a Lion Air flight that crashed near Jakarta, Indonesia, continued on Monday. Six bodies were recovered while teams worked to find the more than 180 others who were on the plane when it went down.
New information is still emerging regarding the details of the crash. Here's what we know so far.
Crash
Lion Air flight JT 610 was bound for the Indonesian island of Bangka from Jakarta on Monday. It crashed just 13 minutes into the flight, off the coast of Jakarta. The plane had reportedly reached just 5,200 feet when it went down.
The pilot asked to return back to Jakarta just after the plane took off, before losing contact.
"An RTB [return to base] was requested and had been approved, but we're still trying to figure out the reason," said Soerjanto Tjahjono, head of Indonesia's transportation safety committee.
Plane
The plane involved in the crash was a new aircraft. The Boeing 737 Max 8 had flown only 800 miles before the crash, according to the National Transportation Safety Committee. The 737 Max 8 is designed to hold up to 210 passengers, according to Boeing.
It was not immediately clear what caused the crash, but Lion Air president Edward Sirait confirmed the plane experienced a technical issue on a previous flight, according to CBS News. The skies were reportedly clear when the plane went down.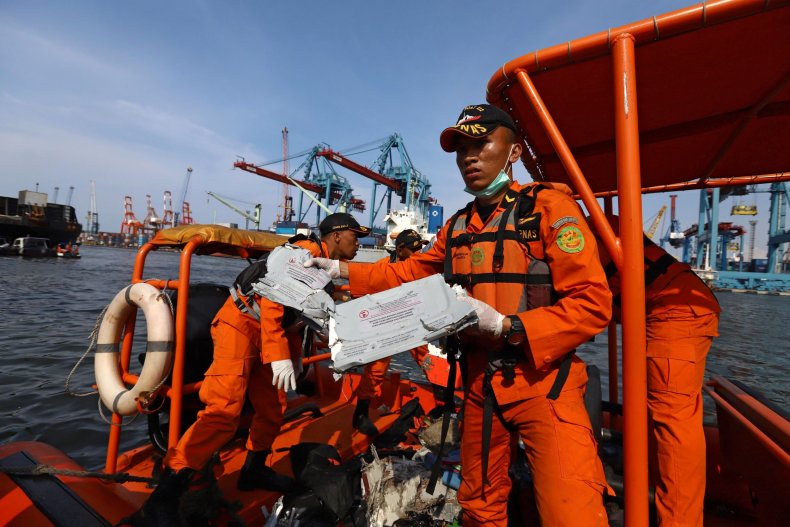 Passengers and Crew
One hundred and eighty-nine people were on board the flight when it crashed. Of those, 181 were passengers, six were crew and two were pilots. The plane contained more than 20 Indonesian government officials.
The pilot and the copilot each had thousands of hours of flight time prior to Monday's crash.
The Search
Search and rescue missions were deployed in full force on Monday, scouring an area of some 150 nautical miles, CNN reported. What appeared to be nine body bags, possibly just containing body parts, had been taken from the scene as of Monday morning. The bodies were taken to a hospital to be identified.
Waters where the plane went down reach up to 115 mph, and rough seas were already hindering search efforts on Monday. Search teams had not yet found the main portion of the plane underwater and were searching for the black box. Personal items, including a cellphone, backpacks and wallets, were recovered from the crash site in the sea, the Associated Press reported.
As the search continued, Indonesian authorities said it was unlikely anyone on board had survived the crash.
"We need to find the main wreckage," said search and rescue operational director Bambang Suryo. "I predict there are no survivors, based on body parts found so far."