Indonesia Punishes Coronavirus Quarantine Violators By Locking Them in 'Haunted Houses'
A local Indonesia politician found a unique way to punish quarantine violators amid the coronavirus pandemic.
Kusdinar Untung Yuni Sukowati, head of Sragen Regency, has begun locking those disregarding the quarantine inside abandoned houses that are believed to be haunted.
Sukowati noticed that many people traveling to Indonesia's densely populated Java Island were disregarding orders to isolate themselves for at least two weeks after arriving. So, the regency head decided to rely on local superstitions and fear to punish violators, according to Agence France Presse (AFP).
"If there's an empty and haunted house in the village, put people in there and lock them up," Sukowati told AFP on Tuesday.
Villagers were ordered to convert abandoned homes into temporary detainment centers. Locals have a widespread belief that the buildings are haunted, a superstition connected to Indonesian folklore.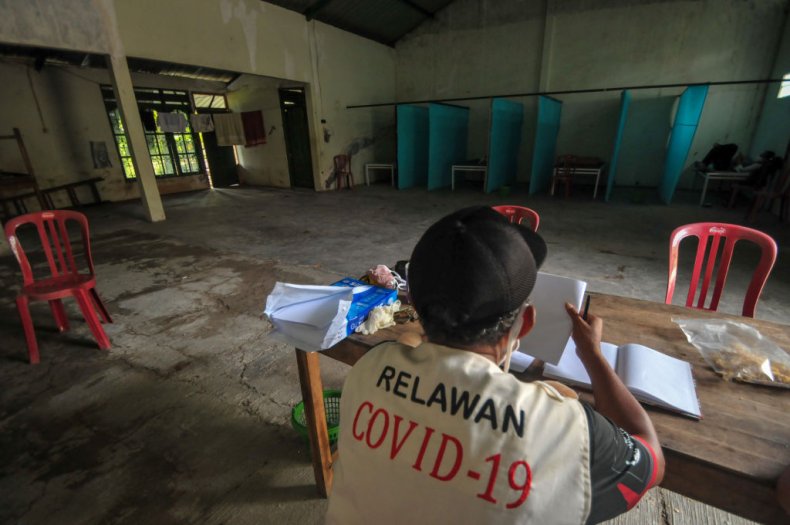 Heri Susanto, who came to Java from neighboring Sumatra, was locked up after disobeying the quarantine rules. He told the AFP that he'd learned a valuable lesson, although he hadn't yet encountered any ghosts.
"But whatever happens, happens," Susanto said. "I know this is for everyone's safety. Lesson learned."
Whether playing on superstitions is a successful strategy to curb the spread of the coronavirus remains to be seen. But others on Java have attempted to use local folklore traditions to get residents to follow social distancing rules.
Kepuh Village, located on Java, has been patrolled by "ghosts" this month in an attempt to scare people into staying home, Reuters reported. A local youth group and the police coordinated together to have people patrol the streets as "pocong," ghostly figures wrapped in white fabric. The ghosts powder their faces white and then put black coal around their eyes.
"We wanted to be different and create a deterrent effect because 'pocong' are spooky and scary," Anjar Pancaningtyas, head of a village youth group that coordinated with police, told Reuters.
Those disguised as ghosts patrol the streets and jump out of the shadows at unsuspecting passersby in an effort to scare them home.
"Residents still lack awareness about how to curb the spread of COVID-19 disease," Priyadi, head of the village, told Reuters. "They want to live like normal so it is very difficult for them to follow the instruction to stay at home."
Home to about 270 million people, Indonesia still has a relatively mild outbreak of the coronavirus, but there are concerns that the virus could spread rapidly throughout the country. As of early Tuesday morning, the Southeast Asian nation had 7,135 confirmed cases of the coronavirus, according to a tracker updated by Johns Hopkins University. Of those confirmed cases, 616 people have already died.