Indonesia Riots: U.S. Embassy in Jakarta Warns Citizens of Deadly Clashes Following Presidential Election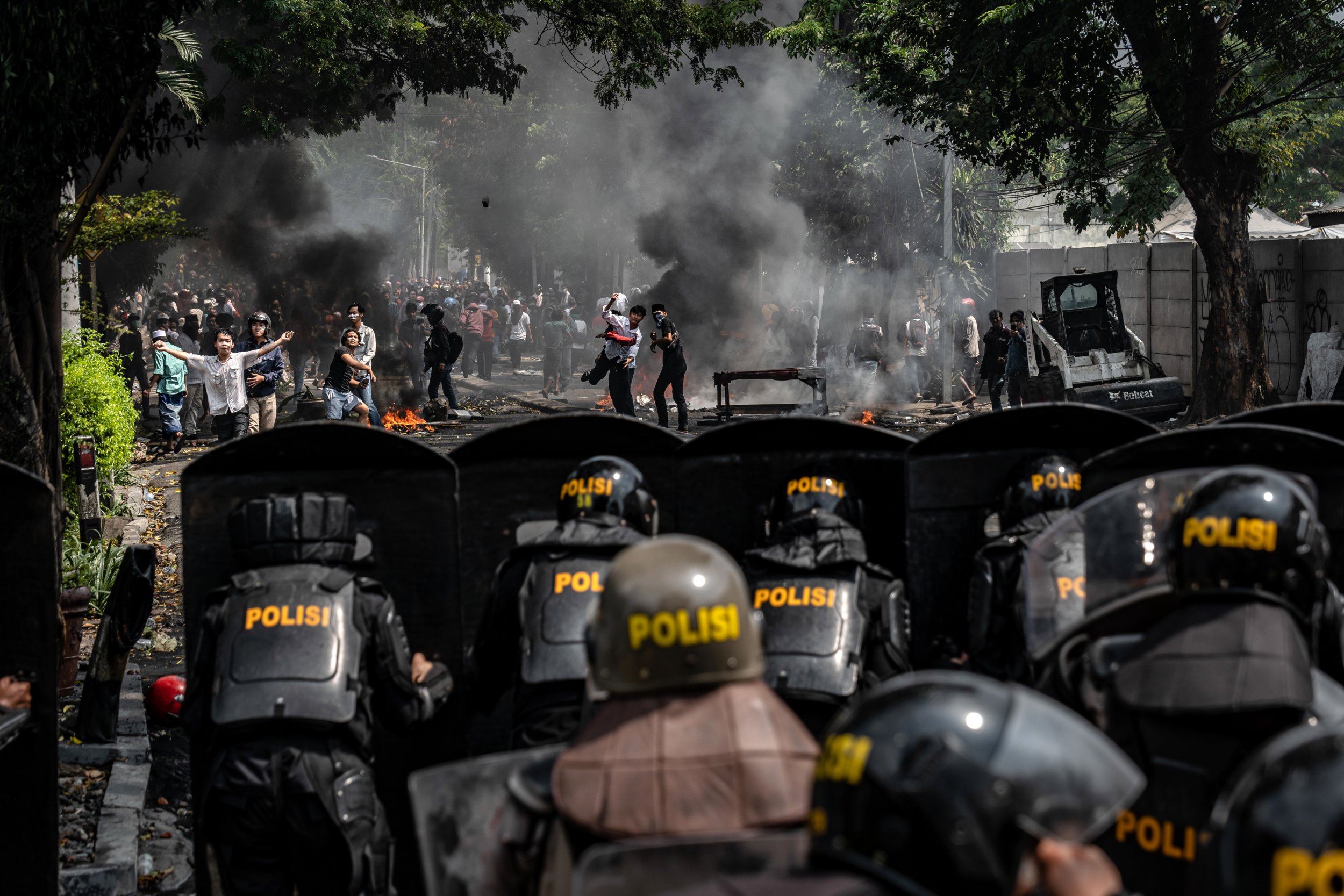 The U.S. Embassy in Jakarta, Indonesia, issued a safety alert to citizens in the capital as deadly post-election demonstrations turned city streets into battlegrounds.
At least six people were killed on Wednesday as protesters vented their anger at the results of last month's presidential election. The General Election Commission announced Tuesday that President Joko Widodo had secured a second term, defeating challenger and former general Prabowo Subianto.
After an overnight face-off, violence erupted between Prabowo's supporters and police early on Wednesday. Police said they expected more demonstrators to head to the city and swell the ranks of the rioters as night fell. Some of those arriving carried wooden sticks and had put toothpaste around their eyes to try counteract tear gas, Reuters reported.
More than 200 people had been wounded so far, Jakarta Governor Anies Baswedan told TVOne on Wednesday. Jakarta Police Chief Tito Karnavian said evidence showed those who died had been hit by gunshots or blunt intstruments, according to The Associated Press. Police spokesperson Dedi Prasetyo said security forces had not been armed with live ammunition.
Police said officers used tear gas and water cannons to disperse the protesters, who were armed with rocks, Molotov cocktails and burning projectiles, The Guardian reported.
The U.S. Embassy in Jakarta urged all American citizens to steer clear of multiple sites in the center of the city where violence had broken out. The notice also advised Americans to exercise caution if close to any large gatherings and to follow media updates on the ongoing rioting.
President Widodo told a press briefing he would not "tolerate anyone disrupting the security…or unity of the country, or those who disrupt the democratic process." The president said the situation was now under control.
As many as 100 people have already been arrested, and police suggested the violence might have been pre-planned. Security services have blocked access to certain social media sites in an effort to quell the violence, the AP noted.
Police said most of those arrested came from outside the capital, and that some were found to possess envelopes containing money. National police spokesperson Muhamad Iqbal said the violence was "not a spontaneous incident, this is something by design. There are indications that the mobs are paid and bent on causing chaos."
Prabowo urged "people who are expressing their aspirations, the police, the military and all sides to refrain from physical abuse," though the retired general has contested the election results. He claimed there was "massive cheating and irregularities," Reuters said, and vowed to challenge the results in court.
The Election Commission said Tuesday that Widodo had won 55.5 percent of the votes counted, while Prabowo trailed with 44.5 percent. This is the fourth time Prabowo—who was once married to the daughter of former President Suharto who ruled the country for 31 years—had lost a bid for the presidency.
Prabowo ran a populist campaign and played to Indonesia's powerful Islamist parties in his attempt to unseat the reform-minded Widodo, who in the past had been compared to former President Barack Obama.