Indonesia Tsunami: Death Toll Hits More Than 1,400 and 92 People Are Arrested for Looting as Security Is Increased
More than 1,400 people are now confirmed dead as police arrest 92 suspects for looting following the earthquake and tsunami that struck Indonesia last week.
The death toll in the Southeast Asian country slightly climbed to 1,424 people, Sutopo Purwo Nugroho, a spokesman from the country's national disaster agency, announced at a press conference on Thursday.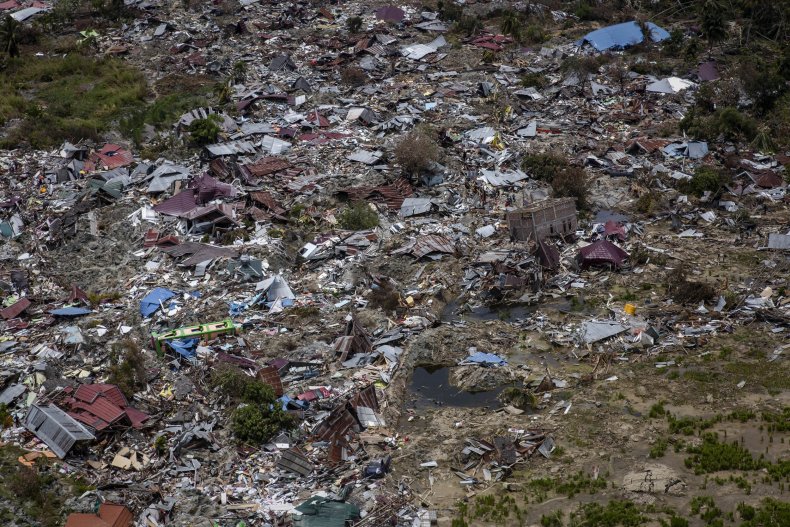 Thousands more have been injured, and many of them lost their homes after the catastrophe.
"It's hard to imagine a more frightening situation for a child. Many children are in shock and traumatized, alone and afraid. Young children searching for surviving relatives will have witnessed and lived through horrific experiences which no child should have to see," Zubedy Koteng, the child protection adviser from Save the Children, said, according to Al Jazeera. The official added that many of 600,000 children affected by the earthquake are now homeless and sleeping on the streets.
As if dealing with an earthquake and tsunami wasn't enough, the Soputan Volcano erupted on Wednesday morning. However, no casualties have been reported after ash shot more than 13,000 feet into the air.
Authorities said that they have arrested 92 people for looting in one of the hardest-hit areas, and soldiers have been told to shoot at those who continue stealing goods.
"If there is looting again, we will quickly fire a warning shot and then shoot to immobilize," Ida Dewa Agung Hadisaputra, a local military colonel told Agence France-Presse, mentioning that police first stood by as people looted in search of items like water and gasoline because stores were closed.
"We could tolerate it (looting) on the first and second day because they needed those things. But on the third day, they started looting things like electronic equipment," he continued.
Eighteen countries, along with the United Nations, have offered to help the government as it continues to struggle without running water, food, shelter and fuel.
"The government of Indonesia is experienced and well-equipped in managing natural disasters, but sometimes, as with all other countries, outside help is also needed," the U.N. Under-Secretary-General for Humanitarian Affairs and Emergency Relief Coordinator Mark Lowcock said in a statement, announcing $15 million in funds for aid, CNBC reported.
Nugroho said that Singapore, South Korea, the United Kingdom, Malaysia and India pledged the deployment of 11 transportation aircraft, in addition to the two from Japan and Qatar that await clearance.