Indonesia Tsunami in Pictures: Deadly Wave of Destruction Along Sunda Strait Coast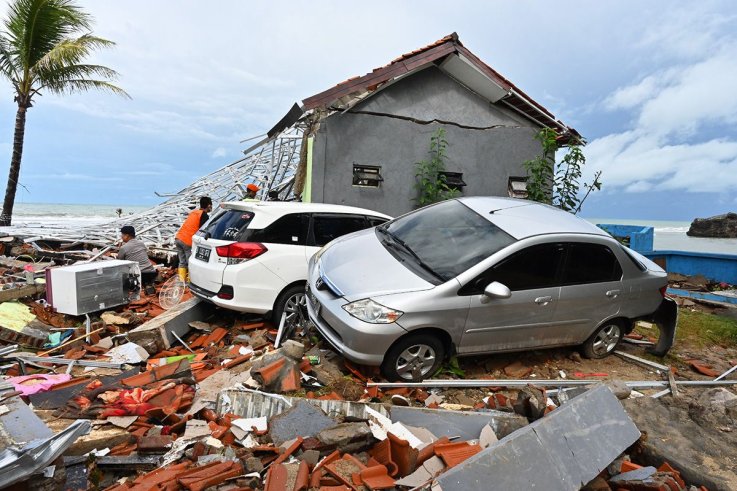 The death toll from the tsunami that hit the Indonesian islands of Java and Sumatra after a volcanic eruption has risen past 280, and is expected to increase further once authorities reach all affected areas.
The tsunami struck without warning at 9:27 p.m. on Saturday, sweeping people into the sea and shattering beachside buildings along the Sunda Strait.
Photos of hard-hit coastal areas reveal the immense force of the wall of water, which destroyed or damaged hundreds of homes and nine seafront hotels. Once popular beach resorts are now debris fields, littered with chunks of concrete and splintered wood. Crumpled vehicles stick out of piles of rubble or are half buried under collapsed roofs.
Rescue workers use heavy machinery, shovels and their bare hands to search the rubble for bodies or survivors. Relatives weep as they identify their loved ones' remains in the yellow and orange body bags laid out in the muddy streets.
Read more: Who is Seventeen? Indonesian rock band swept off stage by tsunami
The exact cause of the disaster is as yet unknown, but it can be traced to the eruption of Anak Krakatau volcano. Scientists say the tsunami may have been triggered by an undersea landslide during volcanic activity or by the collapse of part of the volcano's flank. They also cite abnormally high tides during the full moon.
The waves arrived without warning. There hadn't been an earthquake, so there were no alerts, no evacuations. Coastal residents barely had time to register the waves of 1-3 meters (3-10 feet) before the wall of water slammed into them.
Yuni, a resident of Lampung in Sumatra, told Reuters she was watching TV at home when she heard a rumbling sound. "I thought it was the wind, she said. "After I opened the door," she said, "water came in quickly and dragged me out. When I saw outside, the sea was receding."
Sixteen-year-old Azki Kurniawan told the Associated Press a one-meter (3.3 foot) wave hit him as he was running into a hotel parking lot to try to reach his motorbike. "I was thrown into the fence of a building about 30 meters (100 feet) from the beach and held onto the fence as strong as I could, trying to resist the water, which felt like it would drag me back into the sea. I was afraid I would die," he said.
Residents have been advised to keep away from the coast because the ongoing volcanic eruption may trigger more tsunamis.
Read more: Locals warned of more waves after volcano begins erupting again
Richard Teeuw of the University of Portsmouth in England told Agence France-Presse: "The likelihood of further tsunamis in the Sunda Strait will remain high while Anak Krakatau volcano is going through its current active phase because that might trigger further submarine landslides."