Indonesian Sriwijaya Air Flight, a Boeing Plane, Goes Missing Shortly After Takeoff
A plane with 62 people onboard and operated by Indonesia's Sriwijaya Air has crashed into the sea soon after it took off from Jakarta, the country's transport minister has said.
Budi Karya Sumadi confirmed flight SJY-182 crashed near Male Island, as reported by local news outlet Detik.
The Boeing 737-500 had plunged 10,000 feet in less than a minute as it flew over the Java Sea, minutes after take-off from Soekarno–Hatta International Airport, according to tracking website Flight24, which followed its flight path to just off the coast north of the capital.
The plane was on an estimated 90-minute flight to Pontianak, the capital of West Kalimantan province on Indonesia's Borneo island and lost contact at 2.40 p.m local time on Saturday.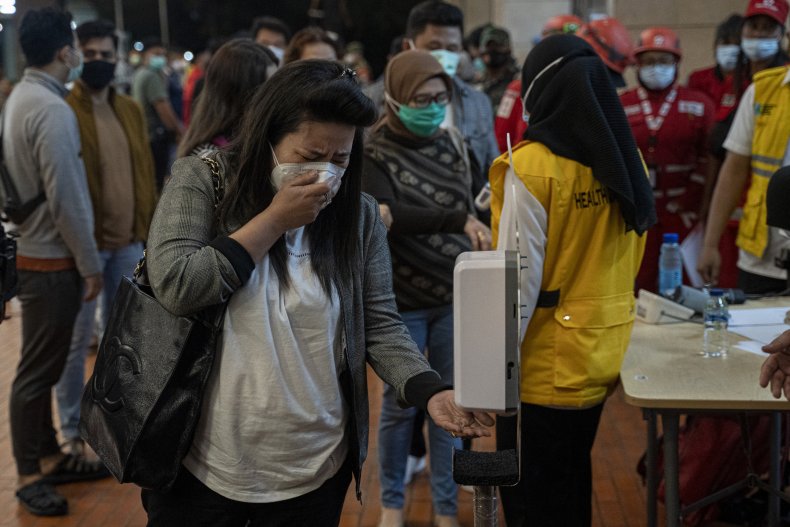 Passengers onboard comprised 43 adults and seven children. There were also 12 crew members.
Indonesia's search and rescue agency, Basarnas, had earlier said the plane crashed between the islands of Laki and Lancang, in the Thousand Islands chain. The Indonesian Navy has deployed five warships and diving troops to scope the area.
Witnesses have described how they heard an explosion and found objects in the water believed to be from a plane. One fisherman told the BBC that "the plane fell like lightning into the sea and exploded in the water."
Sriwijaya Air said that it was "in contact with various related parties to get more detailed information" and would "immediately issue an official statement" pending further information.
The low-cost airline is Indonesia's third largest carrier. Its website says it carries more than 950,000 passengers per month from its Jakarta hub to 53 destinations within Indonesia and three regional countries.
The plane, registered PK CLC, is a 26-year-old Boeing 737-500, which is not to be confused with the much more modern 737 Max.
That model was grounded after two accidents in the last two years, including one off the coast of Indonesia, where Lion Air Flight 610 crashed into the Java Sea in October 2018, killing all 189 on board.
Boeing said in a statement: "We are aware of media reports from Jakarta, and are closely monitoring the situation. We are working to gather more information."