NYC Restaurants in 'Dire Situation' With Indoor Ban and Snow Closing Outdoor Dining
New York Governor Andrew Cuomo already knew that the timing was bad to bar indoor dining in New York City again beginning on Monday, to prevent the continuing spread of COVID-19. The two-week closure leaves restaurant owners struggling to afford to keep their businesses open while workers face losing their jobs, all during the holiday season.
What Cuomo couldn't have predicted was what meteorologists believe will be a major winter storm on Wednesday night and Thursday morning, one that could dump a foot or more of snow onto the city. That forecast resulted in the city issuing an active snow alert Monday evening that suspends outdoor dining starting on Wednesday.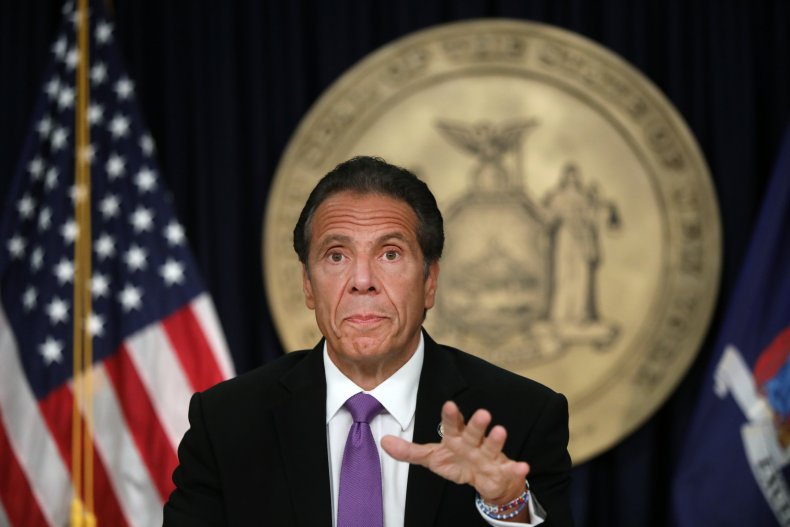 "With the cold weather, we don't even have the benefit of outdoor dining. And if it snows, then you have to shut down the outdoor dining," Andrew Rigie told Newsweek. Rigie is the director of the New York City Hospitality Alliance, a not-for-profit association that represents, serves and advocates for restaurant and nightlife establishments. He continued, "So you have no outdoor dining, no indoor dining. That means nine months later, we're back to square one."
Monday evening's snow alert already means most outdoor dining will not be an option for at least part of this week. Under the alert, an outdoor dining suspension goes into effect Wednesday at 2 p.m. To make room for snow plows, New York's Department of Sanitation requires businesses to remove or secure outdoor dining furniture and put away electric heaters, while also encouraging them to remove tops of structures and awnings. (Businesses with pre-existing sidewalk dining and backyard patios are permitted to stay open at their own discretion.) The Department of Sanitation estimates the outdoor dining closure could last until Thursday night and likely into Friday.
Cuomo first put widespread restrictions on restaurants into place in March, limiting the businesses to takeout and delivery. Outdoor spaces were expanded throughout the city to accommodate sit-down dining, but indoor dining only resumed in New York City at the end of September, and only allowed for 25 percent capacity. The new closures come, as Rigie said, while most restaurants and bars are "teetering on the edge of survival."
Meanwhile, many restaurant owners feel as though their industry is being unfairly targeted. They point to statewide contact tracing data that shows of the roughly 46,000 COVID-19 cases in New York between September and November, only 1.43 percent were linked to restaurants and bars, while 73.84 percent came from private gatherings. The health care system was the second-largest source of cases at 7.81 percent, followed by higher education students at 2.02 percent, and education employees at 1.50 percent. Restaurants and bars were the fifth-highest source of cases, according to the data.
However, as Cuomo said when recently announcing the re-closing of indoor dining, restaurants and bars are "one of the few areas that we think we can actually make a difference."
Not everyone agrees with the closures, and especially not with the plan of doing it now.
"The timing couldn't be worse for this decision," said Stratis Morfogen, the restaurateur behind Brooklyn Chop House and the author of Damn Good Dumplings. "I say that on many fronts. We're in a season right now that people are used to having holiday parties. He [Cuomo] should have waited until after New Year's. Do you really think people are going to quarantine like they did in March, April and May? No way! Everybody's going to have parties at home, and the spread is going to be tenfold what it is now. The rate is going to increase with restaurants closed."
Many of Morfogen's peers share the feeling that Cuomo's decision is rushed. A lot of restaurant owners invested thousands of dollars on HEPA filters to better protect indoor diners, while many others spent substantial sums of money on plastic shields and heaters for outdoor dining that will go unused during a snowstorm.
"I'm not going to pretend to be Dr. Fauci. I'm not going to tell you that I know the answers here, and I certainly don't want to put people at risk," said Eytan Sugarman, the owner of several establishments, including the White Horse Tavern, Hunt and Fish Club NYC, and Southern Hospitality. "I also don't think the answer is to just make these judgments [about closing indoor dining] that are essentially going to change the landscape of New York from a social perspective for quite a while. If half the restaurants of the city go out of business—on top of the loss of jobs—it's going to change the climate of the city. I think we're already seeing a mass exodus of New Yorkers moving to other cities. I think this will just further that."
"Everyone understands that public health and safety has to be paramount, but you also need support. And people are not being provided adequate support," said Rigie. "The federal government must enact the Restaurants Act, which is a bipartisan revitalization fund that helps small business owners pay for rent, payroll, vendors and other expenses. PPP, the Paycheck Protection Program, is woefully inadequate."
As things stand now in the city, Rigie said, "It's an absolutely dire situation for restaurant owners and workers."