Indoor Dining Will Close Again in New York City Unless COVID Hospitalization Rate Improves This Week
New York City restaurants could face partial shutdowns next week, as officials warn indoor dining services will close again if COVID-19 hospitalization numbers do not improve quickly.
New York Governor Andrew Cuomo announced new measures aiming to mitigate the coronavirus' spread on Monday morning, as the state joins others across the U.S. seeing cases and hospitalizations rise. Potential restrictions apply to food service establishments statewide, although a majority of regions will still be permitted to offer indoor dining on a very limited basis.
"In NYC, indoor dining would close entirely. In the rest of the state, indoor dining would be reduced to 25% capacity," Cuomo tweeted Monday, as he discussed the state's updated COVID-19 response during a news conference at which the United States' top infectious disease expert, Dr. Anthony Fauci, also appeared. Each New York region's hospitalization figures will be monitored individually over the next five days, and officials will implement dining restrictions accordingly.
The latest regulations come just weeks after New York effected a nightly curfew that requires restaurants, bars and fitness centers to close at 10 p.m. New York City's public school students returned to classrooms on Monday after officials suspended in-person instruction roughly two weeks ago due to rising test-positivity rates.
Cuomo said upcoming restaurant closures in New York could affect indoor dining operations in neighboring states. Earlier during the pandemic, governors in Pennsylvania, Connecticut, New Jersey and other northeastern states situated in close proximity to one another, including New York, formed a coalition that allowed for coordinated COVID-19 mitigation policies and shared resources.
"If I'm going to close restaurants, I try to coordinate it with New Jersey, Connecticut, etc.," Cuomo explained during Monday's news conference. "Because if I close a restaurant, but you live in Brooklyn and you can drive to New Jersey, then all I did is increase the traffic in New Jersey."
While New York's COVID-19 hospitalizations are climbing, the governor emphasized that current rates are not as severe as those recently reported in other parts of the country. However, the recent increase in patient admissions—exceeding 4,600 current COVID-19 hospitalizations, and more than 870 ICU patients, on Monday—remained a point of concern.
"It's tricky because relative to everyone else we're doing well, but the real question is, it's not a relative contest at the end of the day. It's how you're doing in your state," Cuomo said. The state's daily fatality toll linked to COVID-19, which reached 80 deaths on Monday, was its highest in months and trailed several weeks of increasing numbers.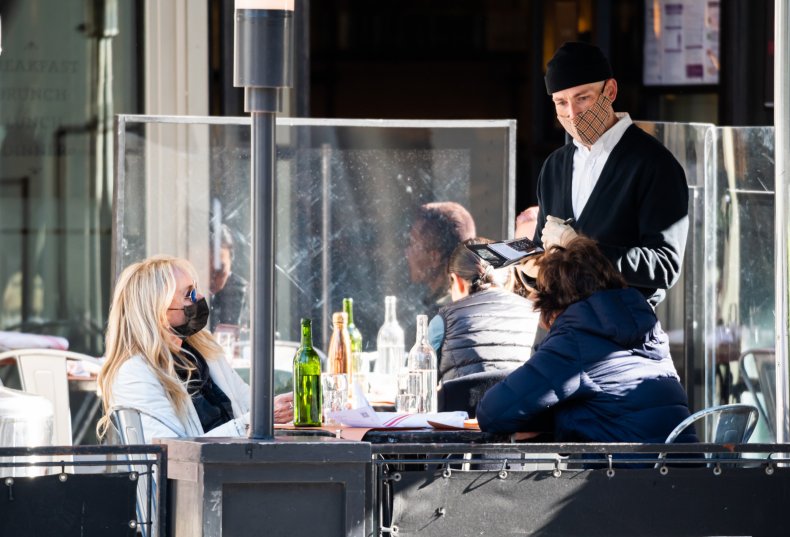 Hospitals in New York will increase their respective bed capacities by 25 percent, a directive the state health department is expected to formally announce later on Monday. The state is additionally calling on retired nurses and doctors to return to work if they are able, the governor said. Cuomo estimated that New York could add 20,000 medical workers to its health care system with retired professionals' assistance, hopefully reducing the likelihood of staff shortages as medical facilities admit patients in higher numbers.
Newsweek reached out to Cuomo's office for further comment but did not receive a reply in time for publication.