Indoor Marathoning World Records Set at New York Armory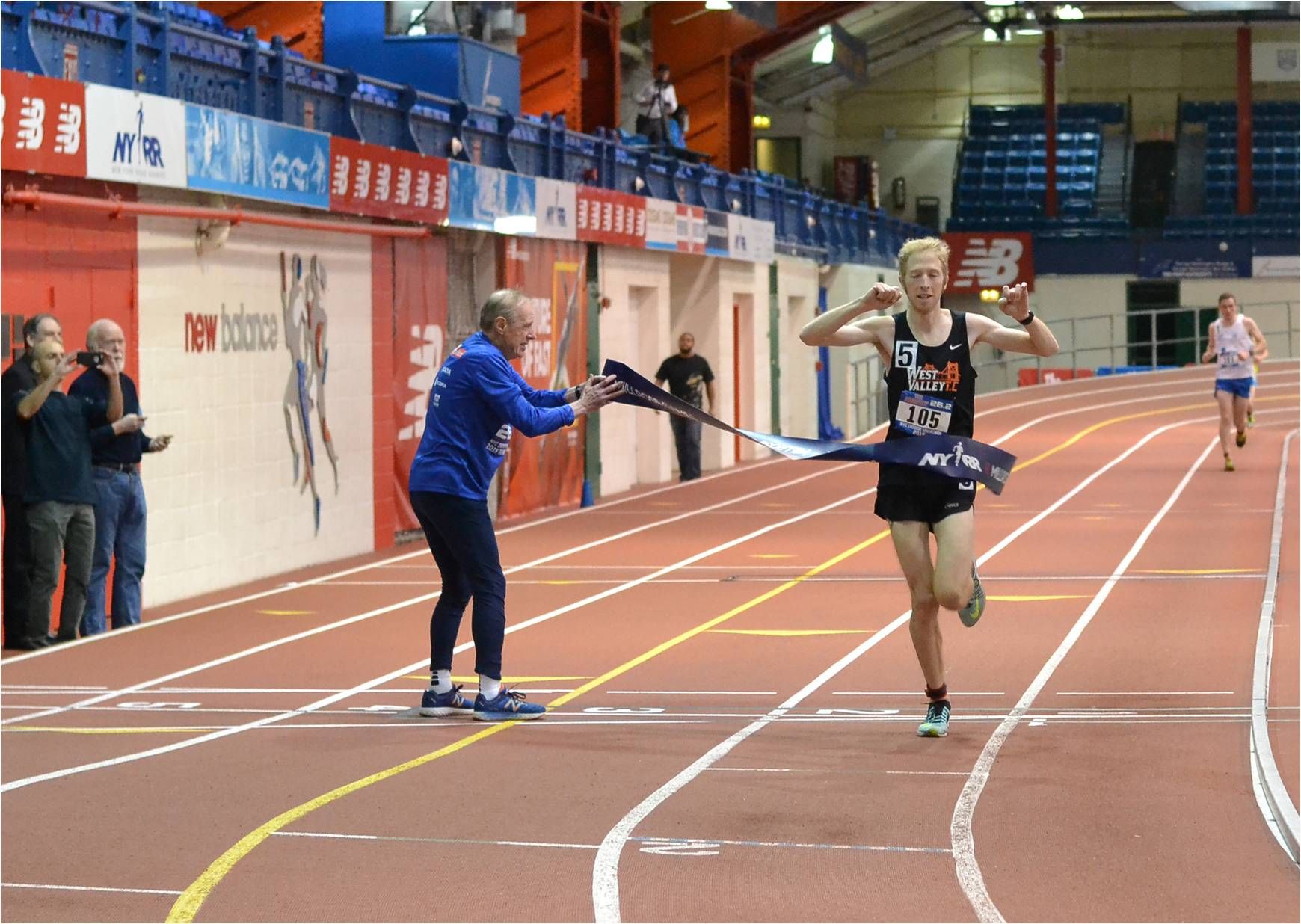 Last Saturday in New York City, as the temperature strained to reach 40 degrees and the wind and rain battled for eminence, seven intrepid runners stretched their calves and hamstrings to prepare to run a marathon. The elements would not test their mettle, though. Boredom would. Call it "marath-ennui."
Seven marathoners, six men and one woman, circumnavigated a 200-meter banked oval 211 times to complete the first Armory Indoor Marathon in upper Manhattan. Two of them, Malcolm Richards, 33, and Allie Kieffer, 28, set world records for indoor marathoning for their respective genders (2:21:55 for Richards and 2:44:44 for Kieffer).
"Almost to keep yourself from being too bored, you'd start taking every 400 split just to give yourself something to do," says Richards, who finished 18th in the U.S. Olympic marathon trials in Los Angeles in February. "You can only look at the lap counter so many times. It got down to '105,' and you think, I'm only halfway done."
Indoor marathons are nothing new, particularly in New York City. The first one was staged in 1908 in Madison Square Garden. On Thanksgiving eve, the two heroes of the previous summer's Olympic marathon, American Johnny Hayes and Italy's Dorando Pietri, raced solely against each other.
Four months earlier, in London, Pietri had crossed the tape first before 90,000 spectators at White City Stadium in the final event of the 1908 Summer Games. However, Pietri's glory was short-lived, as he had broken the tape under the assistance of the race's medical officer, Michael Bulger, and its secretary, Jack Andrew. A young British journalist by the name of Arthur Conan Doyle described the scene: "I do not think in all that great assembly any man would have wished victory to be torn at the last instant from this plucky little Italian."
And yet it was. Hayes, an orphan child of New York City who worked as a "sandhog"—someone who dug subway tunnels—crossed the line unassisted in second place. He was later awarded the gold medal; Pietri was disqualified due to his having accepted help.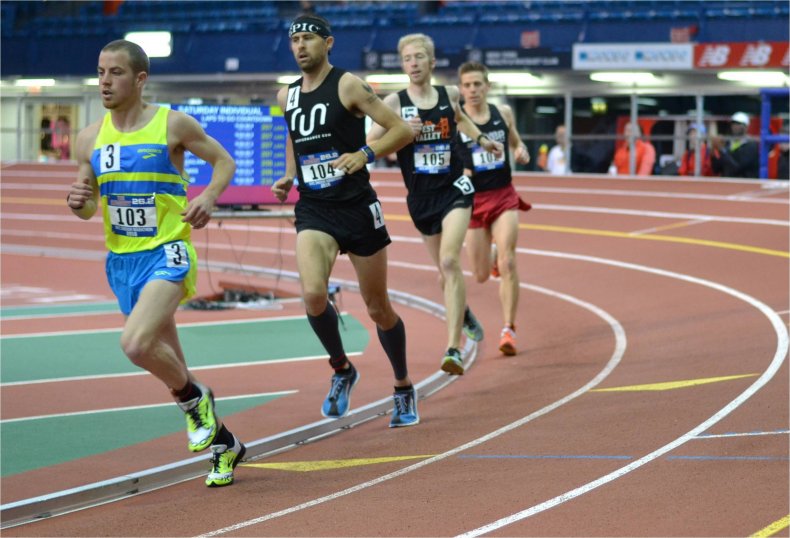 A rivalry was born that July day in London. On November 25, 1908, the two harriers squared off to run on a one-10th-mile track inside Madison Square Garden, 262 laps, before a sellout crowd. It was an era of far fewer leisure activity options. Pietri won the rematch by 43 seconds, finishing in a time of 2:44:20.
Fast-forward 107 years to last December, when Dr. Norbert Sander, the executive director of the Armory Foundation in upper Manhattan, was having lunch with Jonathan Schindel, the foundation's vice president. "What do you think of running a marathon on our indoor track?" Sander wondered.
"It sounds like a horrendous idea," replied Schindel. "But then, the Chase corporate challenge [a notoriously stressful 5K in Central Park] is a horrendous idea, and they get 35,000 people to do that."
And so the Armory Indoor Marathon began. This year, there were actually seven indoor marathons run at the Armory between Friday and Sunday, the other six being relays involving teams of runners. Kieffer, who lives in New York and ran at Wake Forest, registered just five days prior to the event. "I saw that there was a first-place prize of $1,000 and a $5,000 bonus for setting the world record," she says. "I was very confident that I could get the indoor world record. Who doesn't want to get a world record and win $6,000?"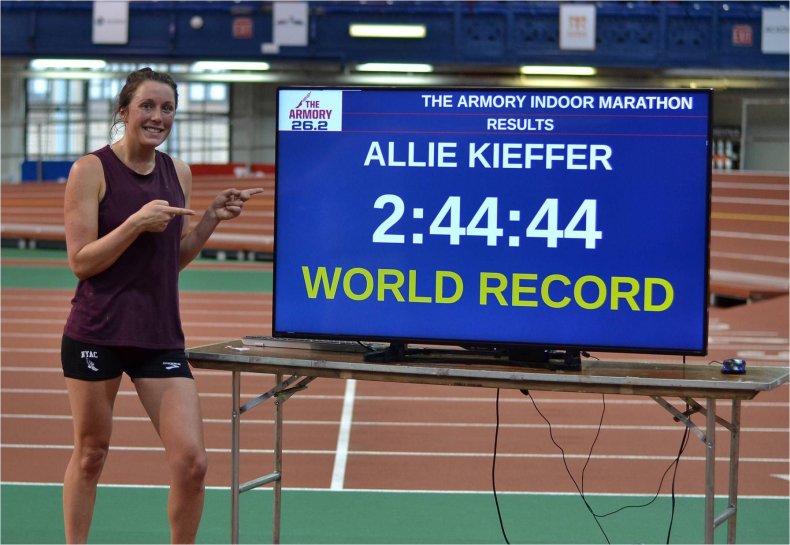 Richards, a fourth-grade elementary school teacher from San Francisco, had a similar motivation. "I was looking around for spring races, and this seemed like something where I could do well," he says. "As it got closer to the date, I was having second thoughts. This sounds kinda crazy."
It kinda was. The septet of runners took off going clockwise around the track for one hour, then reversed course so as not to invite hip or knee ailments. A deejay played music throughout the event while legendary New York race announcer Ian Brooks called the action for dozens of spectators. The playlist included Bruce Springsteen's "Born to Run" and Mark Ronson's "Uptown Funk," though Ratt's "Round and Round" or Talking Heads' "Road to Nowhere" would have been more appropriate.
"I've called 85 Rock 'n' Roll Marathons and, of course, a few New York City Marathons in my time, but I've never called anything like this," says Brooks, a beloved fixture in the New York running scene. "I confess to taking two beers, Amstel Lights, during the event."
Any marathoner will tell you that along with the physical challenge of running 26 miles and 285 yards comes the mental test. Changes of scenery or throngs of cheering crowds are not just helpful but almost necessary for the marathoner to endure the rigors of this race. The seven runners at the Armory Indoor had no such advantage.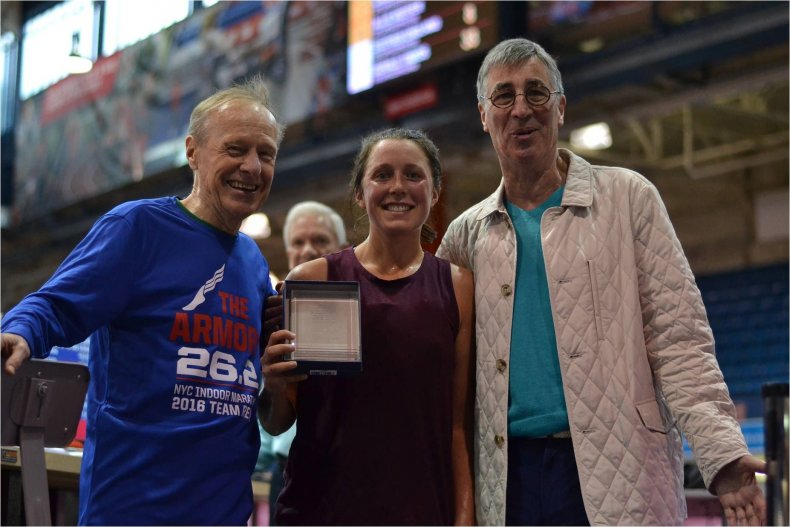 "You couldn't let yourself succumb to the boredom or the pain," says Kieffer, who had run only one previous marathon, the January 30 Miami Marathon, and won it in 2:55. "I went into it dreading how boring this would be, but I actually had a great time."
More than a race, this was a marathon of monotony. A testament to tedium. Then again, the first few New York City Marathons were staged entirely inside Central Park. That event also started as a race of multiple laps (six) before blossoming into one of the world's most popular running events. "Overall, I was pleased at how not-awful it was," says Richards. "And I'm happy that I wasn't injured."
Neither Richards nor Kieffer reported any ill effects from their Saturday jaunt. But two days later, Brooks, who called all seven marathons during the weekend, was bedridden and convalescing. "I'm so tired I don't know what to do with myself," moaned the gallant Englishman. "How much fun can one have?"