Indoor Masking Returns to Michigan Before Thanksgiving as State Battles COVID Spike
Health officials in Michigan are recommending residents wear masks while indoors throughout the holiday season as the state battles its latest surge of COVID-19 cases.
The Michigan Department of Health & Human Services (MDHHS) announced its latest indoor masking recommendation on Friday, the week before Thanksgiving.
Every individual over 2 years old is advised to wear a mask while attending indoor gatherings "until further notice," according to the department's advisory. The recommendation is for both vaccinated and unvaccinated individuals. Businesses were also advised to create a process or policy "to ensure that all persons entering or seeking services, including employees, wear a mask."
Health officials cited rising cases of COVID-19 and the flu as the reason behind the advisory and encouraged residents who haven't yet gotten vaccinated against either contagion to do so.
"The increases in case counts, percent positivity and hospitalizations have us very concerned," MDHHS Director Elizabeth Hertel said.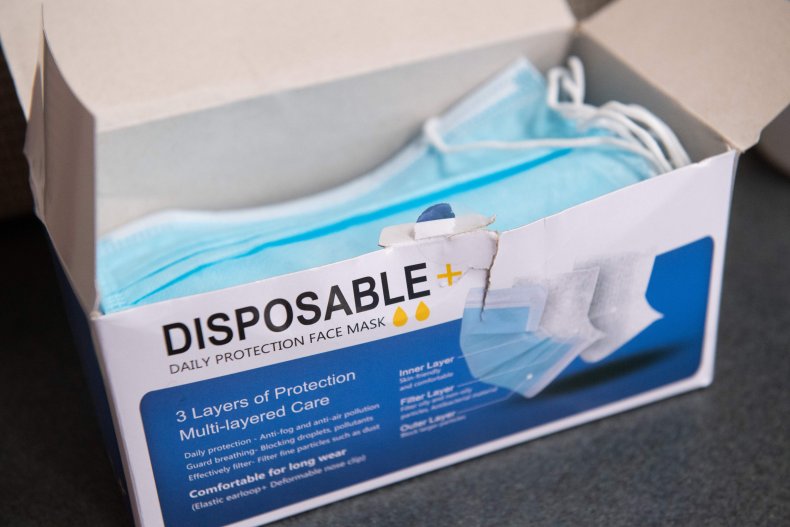 Earlier this week, it was reported that Michigan was leading all other U.S. states in terms of the number of new COVID-19 infections per 100,000 people. Data from the U.S. Centers for Disease Control and Prevention (CDC) on Friday showed Michigan still in the lead with its percentage of positive cases over the last seven days falling between 15 and 19.9 percent.
"COVID-19 cases are high as we head into the holidays, and we must take every measure we can to keep our families and loved ones safe—which starts with getting vaccinated," Natasha Bagdasarian, the state's chief medical executive, stated.
As of Friday, just over 70 percent of Michigan residents ages 16 and older had received at least one dose of a COVID-19 vaccine, according to state data.
The MDHHS pointed to the CDC's guidelines for celebrating the holidays as the pandemic continues. The guidelines, which were last updated in October, encourage people to get vaccinated against the virus, wear masks indoors in areas with high levels of COVID-19 transmission and avoid gatherings while feeling under the weather. Unvaccinated individuals were encouraged to wear masks while attending indoor gatherings and those who had been exposed to the virus were urged to get tested.
Both the MDHHS and the CDC also recommended wearing masks indoors around those who are immunocompromised or who otherwise have weaker immune systems. Health officials further recommended individuals who travel to attend holiday gatherings get tested for COVID regardless of their vaccination status.
While health officials last year discouraged travel during the holidays due to the winter COVID-19 surge, the American Automobile Association (AAA) predicted travel numbers this season were likely to rival those reported before the pandemic began. AAA experts, according to a report released by the organization earlier this month, expected more than 53 million people to travel for Thanksgiving—an estimated 13 percent increase over the travel reported during the same time last year.
MDHHS officials said in the department's release that wearing masks indoors can help prevent the further spread of both COVID-19 and the flu as residents visit with family, as well as alleviate some of the stress placed on hospitals around the state during the late fall and winter seasons.
"The holidays can be a time to spread great cheer and we recommend taking measures including wearing a mask indoors to not spread COVID-19 to loved ones," Bagdasarian said in the press release.
Newsweek reached out to MDHHS Services for further comment.