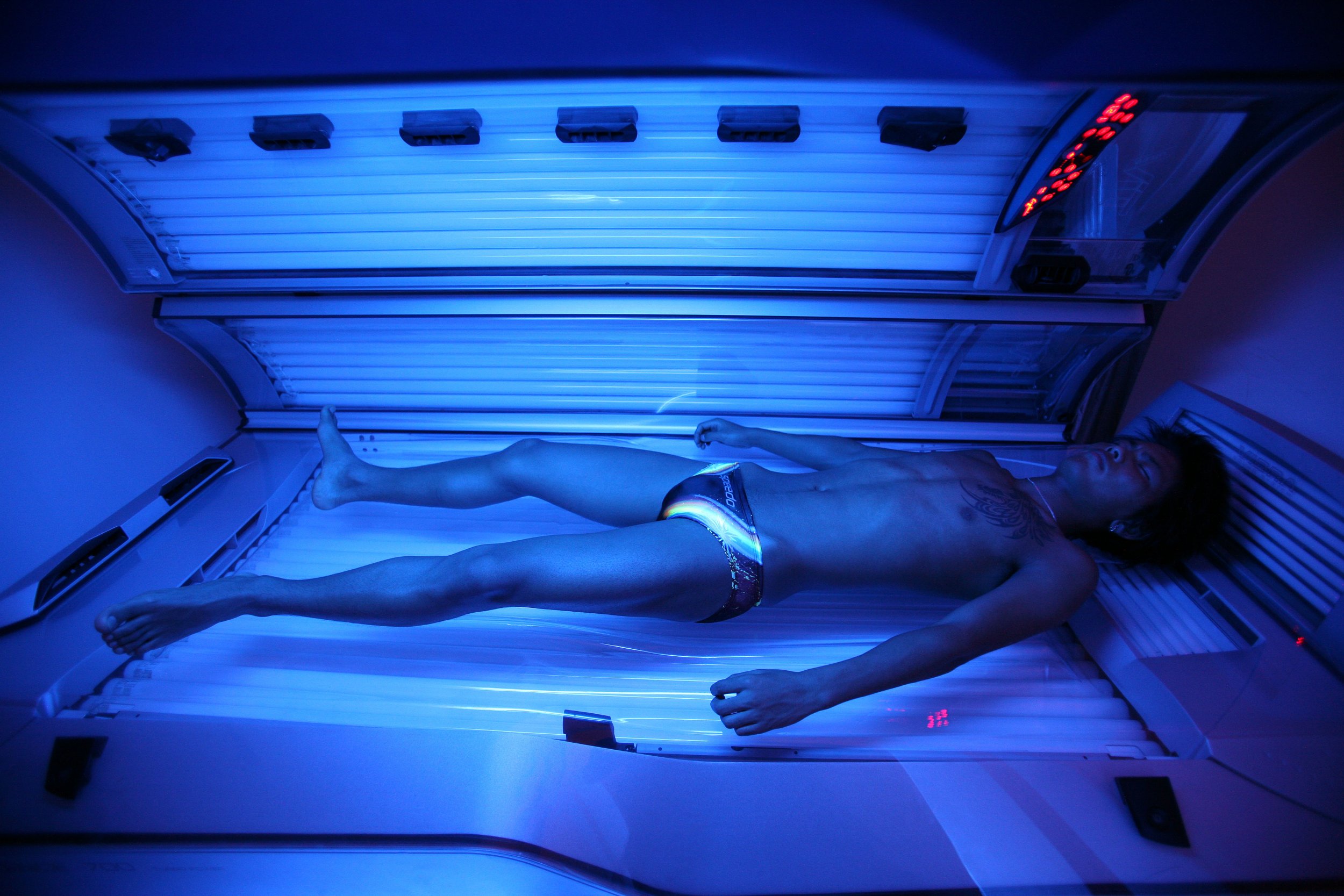 A new study published Wednesday in JAMA Dermatology finds that use of indoor tanning salons—and skin cancer—are on the rise among gay and bisexual men.
The study, based on a nationwide data set and one from the state of California, involved 78,487 heterosexual men, 3,083 gay and bisexual men, 101,976 heterosexual women and 3,029 gay and bisexual women. The researchers found the prevalence of skin cancer was higher among gay and bisexual men than among heterosexual men, both in California (4.3 percent versus 2.7 percent) and nationwide (6.7 versus 3.2). Gay and bisexual men were more likely to have visited indoor tanning salons in the last 12 months: 7.4 percent versus 1.5 percent. Additionally, gay and bisexual women were slightly less likely than heterosexual women to develop skin cancer (1.6 versus 3.1 percent) and visit a tanning salon (4.2 percent versus 6.5 percent).
Dr. Sarah Arron, associate professor of dermatology at the University of California San Francisco and a co-author of the study, says the findings were a surprise. "We were shocked to find the skin cancer incidence has drastically increased among these men," says Arron. "It's well known that indoor salons have centered on young women and the culture around indoor tanning has centered on college-age women. But no one has thought to look and target gay and bisexual men to reduce that behavior."
Approximately 5 million people in the U.S. are treated each year for some type of skin cancer. The disease is preventable by limiting sun exposure, wearing sunblock and, of course, avoiding the tanning bed—which the World Health Organization classifies as a known human carcinogen.
Though sunburns don't typically occur with indoor tanning, the risk for skin cancer is tied to the cumulative exposure to UV rays. According to the American Academy of Dermatology, a young person who gets five or more blistering sunburns in a lifetime has an 80 percent greater risk for melanoma skin cancer and a 68 percent greater risk for nonmelanoma skin cancer. Nonmelanoma skin cancer is the most common form of skin cancer. If caught early, it's highly treatable.
Ultimately, Arron says, tanning is about attaining a certain beauty ideal, a concern that often figures into gay male culture. "There is literature on sexual minority men having an increased body awareness and concerns about body image," notes Arron. Some research finds gay men tend to report less satisfaction with their bodies than straight men.
There are also studies that suggest frequent use of indoor tanning is a form of body dysmorphic disorder, in which a person focuses on perceived physical flaws—what some experts refer to as "tanorexia," because it often strikes people who also struggle to maintain a healthy attitude about their physique and body weight. One study published in Psychiatric Quarterly looked at tanning behaviors of people who were diagnosed with anorexia. The study involved 200 people with anorexia; 25 percent were found to have a tanning disorder linked to body dysmorphic disorder, and 52 percent of these tanning addicts had seen a dermatologist for some type of skin treatment related to tanning.
Other users of indoor tanning believe the practice helps boost overall health, often citing it as a way to stave off vitamin D deficiency. "I think there is a very, very strong industry which promotes the idea of a healthy tan and a tan that is something you do to look your best," says Arron. "There is no healthy tan, but it's very challenging to argue against the strong commercial lobby of the indoor tanning industry."
Arron says physicians who see gay and bisexual men should ask about their tanning practices and also check their patients for skin cancer. Up to this point, she added, public health campaigns have mostly targeted young and straight men and women who are part of the "gym, tan, laundry" culture. The term, coined by Mike "the Situation" Sorrentino from the MTV reality television show Jersey Shore, refers to the activities some people do each day to stay fresh and youthful looking.
But everyone, regardless of gender or sexual orientation, would benefit from less UV exposure. Under current regulations, the U.S. Food and Drug Administration requires that manufacturers of tanning beds include a warning sign to prevent people under 18 from using the devices. Lawmakers in a number of states have also passed (or say they're considering) laws to further regulate tanning bed use by young people. However, Arron says that probably still isn't enough to curb use. "I personally think indoor tanning should be banned."