'Industry' Show Creators on the True Stories That Inspired the HBO Show
Industry is coming to HBO this November, and tells the story of a number of new recruits to a London investment bank in the world after the global financial crash. The show, which starts on HBO on Monday, November 9 and on the BBC on November 10, was created by Mickey Down and Konrad Kay, both of whom have experience working for an investment bank before letting their experience inspire this new show.
Speaking to Newsweek, Down said: "Me and Konrad have been writing together for six years. We met at University. We both went into quite short careers in finance before deciding to write together.
"We were working with the production company called Bad Wolf on another project when its CEO, Jane Tranter, discovered that she had two guys that used to work in finance working for her. She said, 'Have you ever tried to make a show about it?' And we told her we had [but it] was just disastrous in terms of how bad it was.
"And she said, 'have you ever thought about writing around your experiences? Have you ever thought about writing from the people at the bottom?' and that was the sort of key that unlocked the show."
Down himself worked in the department that we see Gus (played by David Jonsson) working in in Industry's first episode, which he described as "the quieter, nocturnal culture, mergers, and acquisitions part of the business."
This experience has led directly to how the show looks, with a more diverse cast than viewers may expect from a financial industry often portrayed as 'male, pale and stale' in TV and film.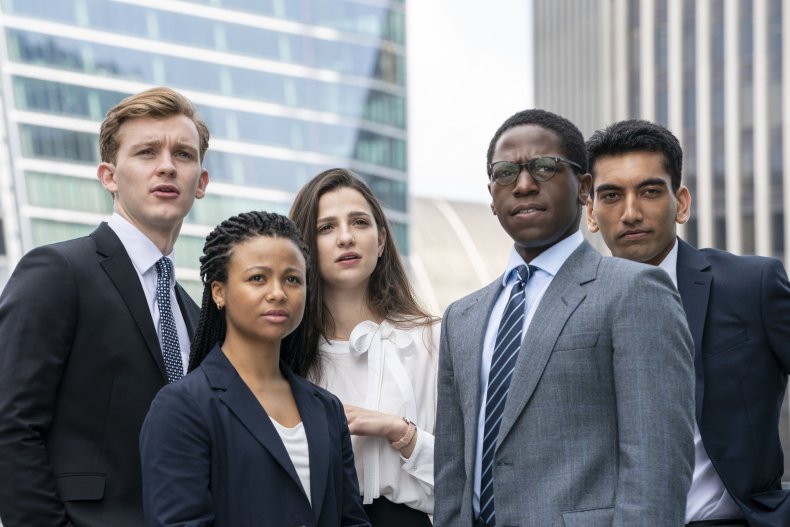 "You would expect these placed to be full of straight white men [but] from my experience, these places are quite diverse...they are international places and then you get people from all around the world coming to them. So they are a little bit more multicultural than maybe people give them credit for."
The show is also one of the first financial dramas to have gay characters at its center. Kay said of this: "Homosexuality in banking is, from my experience of anywhere, like professional sports in that it is one of the few places that are still a little bit regressive in terms of how many people feel comfortable being out."
Though the pair worked in finance, they also brought in a consultant from Morgan Stanley to ensure that the jargon-heavy dialogue is accurate. Kay explained: "It was very important to me and Mickey that everything that was happening on a numerical level was absolutely spot-on, so we basically used this guy as a kind of almost a backstop.
"It was very important to me and Mickey that a finance person could watch this show. Even if it is like a tiny percentage of the audience they can be like, 'Oh wow, slightly sensationalized, a little bit heightened, but the essence of the world is almost totally correct."
The pair also made a decision to not spoon-feed its audience when it came to Industry's use of financial jargon—there is not Margot Robbie in a bathtub here to explain any tricky terminology.
Explaining why this was important to them, Down said: "If we'd been able to get away with it we would have had even more opaque language! We always thought that as long as you can understand the emotion behind the stuff that is happening people will let you have technical language.
"We also thought we never wanted to talk down to the audience. We also thought audiences prefer it when they feel like they are having to catch up a little bit more than if they feel they are being spoon-fed."
With all of these efforts being made to keep Industry as close to the real industry as possible, HBO viewers may be surprised to know the show was not filmed on a real trading floor in London's financial district, but in Wales, close to where HBO filmed a very different show that is airing on the same night on the network this fall, His Dark Materials.
"The production company that made the show, Bad Wolf, have their own studio space in Wales where they also filmed Discovery of Witches and His Dark Materials," Kay explained. "So we had this massive, basically, aircraft hangar-sized space and we spent a fair amount of our budget building a kind of perfect replica scale trading floor.
"Me and Mickey and the production designer were obsessed with trying to make it—trading floors are very dirty places with very busy desks, food everywhere and the bins are always full. We were obsessed with replicating that...We have friends in the business and a couple of them did a couple of set visits and they just could not believe how real it looked because I mean, we effectively did build an almost fully functional trading floor."
Interview quotes condensed and edited for clarity.
Industry airs Sundays at 10 p.m. ET on HBO in the U.S. and 9:15 p.m. GMT on BBC Two in the U.K.