'Infamy Is Just As Good': Pro-Trump Rioter Arrested After Incriminating Herself Online
Gracyn Dawn Courtright, a 23-year-old senior at the University of Kentucky, has been arrested after sharing since-deleted Instagram and Twitter video posts which showed her participating in the January 6 insurrection on the U.S. Capitol.
During the insurrection, supporters of President Donald Trump ransacked the federal building while seeking to prevent Congress from certifying the victory of President-elect Joe Biden.
In her social media posts, Courtright stated that she couldn't "wait to tell my grandkids I was here," adding, "Infamy is just as good as fame. Either way, I end up more known."
She now faces a possible prison sentence after being charged with knowingly entering or remaining in any restricted building or grounds without lawful authority; knowingly engaging in disorderly or disruptive conduct in any restricted buildings or grounds; violent entry and disorderly conduct on Capitol grounds, and theft of government property.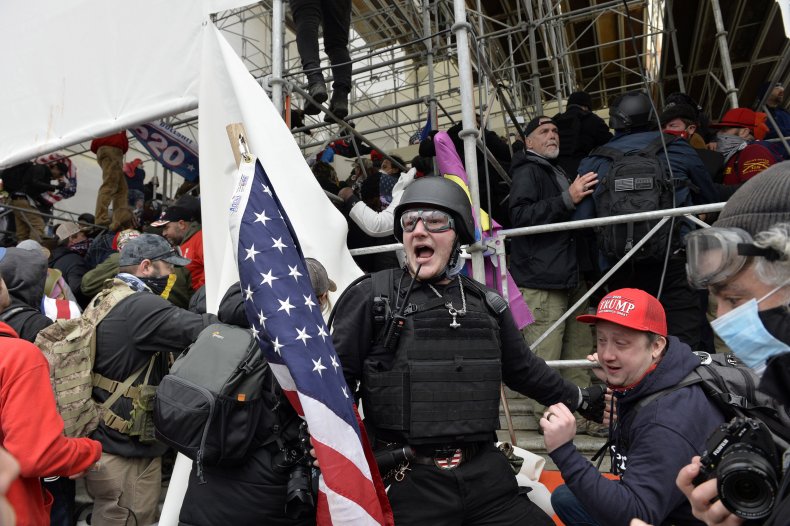 Courtright had also posted since-deleted videos on Twitter showing herself and other mob members chanting, "Whose house? Our house," while inside the Capitol.
After being contacted by authorities, she confirmed that she thought she had entered the U.S. Senate chamber during her participation. Authorities also contacted her father who she stayed with in West Virginia home. Her father confirmed that she had participated in the Capitol riots.
In her Twitter posts, Courtright said that none of the insurrectionists were being violent and she told CNN and Fox News to "think for themselves," while posting an image of herself walking alongside similarly minded rioters. She has since deleted her Instagram and Twitter accounts.
The attack left five dead, including a Capitol officer. Dozens of officers were also injured in the insurrection, including one that was beaten by an American flag.
A Reuters photojournalist has said they heard insurrectionists inside the Capitol actively hunting for Vice President Pence with the goal of killing him for refusing to oppose Biden's election victory. At another point, rioters seized the gun of Capitol police officer Michael Fanone and encouraged its new owner to kill him with it.
Insurrectionists also shattered windows while trying to access congressional chambers, smeared feces in the hallway and stole computer equipment, potentially constituting a national security breach.
Newsweek contacted the FBI for comment.