Infant Carriers Sold at Target, Amazon Recalled Over Safety Fears: Is Your Product Affected and How to Claim a Replacement
Infant carriers sold at Target and Amazon have been recalled due to a safety issue. The Consumer Product Safety Commission (CPSC) has recalled the baby carriers as it has been discovered that the buckles could break, risking the baby falling from their carrier.
Approximately 14,000 of the Infantino Go Forward 4-in-1 Evolved Ergonomic, Flip Front2back and Up Close Newborn infant carriers were sold at stores nationwide, including at Target, and also online on Amazon. They were sold from November 15 to December 20, 2019, for between $30 and $50.
The CPSC said that no injuries have been reported but it urges customers to stop using the Infantino carriers immediately and to contact Infantino for further information on how to claim a free replacement carrier. Similar products were not affected, so customers should check the lot code on their carrier to see if their particular item has been recalled.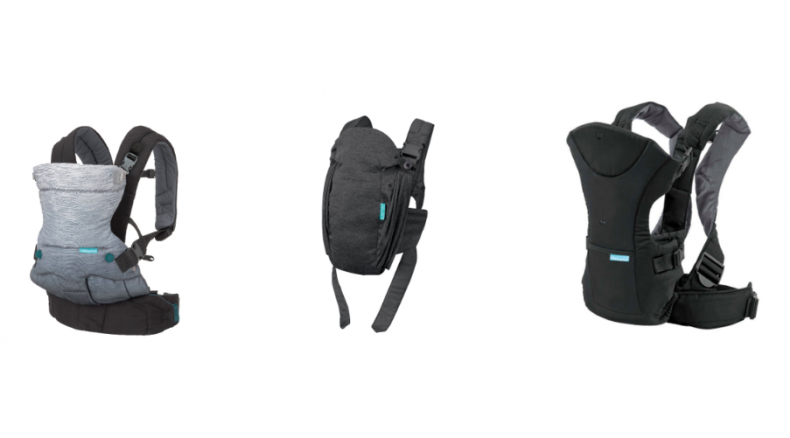 The items and lot codes of the affected infant carriers by Infantino are:
Go Forward 4-in-1 Evolved Ergonomic Carrier: Lot codes: 2018 0619 and 2018 0719
Flip Front2back Carrier: Lot code: 2018 0719
Up Close Newborn Carrier: Lot code: 2018 0719
To claim your free replacement, customers should cut a piece of the waist belt and mail it to Infantino. Once this is received, a new carrier will be mailed to the customer in three to four weeks. For more information, read the instructions on Infantino's website.
If you have cut the tags off the carrier and are unsure if your item is affected, call Infantino's support number for more information.
To contact Infantino, call 800-840-4916 from 11 a.m. until 7 p.m. ET Monday through Friday, email at Recall@infantino.com or go to the Infantino website and click on "Recalls" for more information.
Other items for newborn babies have been recalled in the past month, including the Graco Little Lounger Rocking Seat, the SwaddleMe By Your Bed Sleeper inclined sleeper, the Delta Incline Sleeper with Adjustable Feeding Position for Newborns, and various other sleepers. These items were all recalled on January 29.
For more information and to see which products have been recalled, head to the CPSC website.
The CPSC protects the public from the risk of injury or death caused by consumer products. According to CPSC: "Deaths, injuries, and property damage from consumer product incidents cost the nation more than $1 trillion annually. CPSC is committed to protecting consumers and families from products that pose a fire, electrical, chemical, or mechanical hazard.
"CPSC's work to ensure the safety of consumer products – such as toys, cribs, power tools, cigarette lighters, and household chemicals -– contributed to a decline in the rate of deaths and injuries associated with consumer products over the past 40 years."