Watch This Infant Break Down When She Hears Her Mother's Voice for the First Time
A baby born deaf cracks a subtle smile when her hearing aid is activated for the first time, then appears to valiantly hold back tears as a range of emotions play over her face when her mother expresses love.
The original video, titled "My baby hears me for the first time and is almost moved to tears!" posted by Christy Keane in October 2017, has more than 47 million views. Her baby, Charly, used hearing aids beginning at two months old and was the recipient of a cochlear implant when she was ten months old.
Keane, Charly's mother, called the video "one of the most special moments in our life."
Now, Charly's adorable reaction is finding new life on Reddit, where it made an explosive re-debut on a subreddit called r/Aww, which specializes in everything cute. The post "Baby hears her mothers voice for the first time and is almost moved to tears" garnered more than 23,000 upvotes on Thursday.
Because Keane continues to share Instagram and YouTube videos of her three children, describing herself as a "multi passionate mom navigating motherhood and raising and deaf and hearing kiddos," people can see what the ultra-viral baby is up to now that she's a few years older.
While Charly, short for Charlotte, has regular speech therapy, she has also learned American sign language, beginning with the sign for 'milk,' which she began signing before first speaking.
"It is really important to me that, regardless of her cochlear implants, that Charly has a strong deaf identity and ties to the deaf community," Christy told Good Housekeeping in 2018. "We appreciate everyone's love and support from around the world and we can't wait to see what amazing things Charly will accomplish in her life."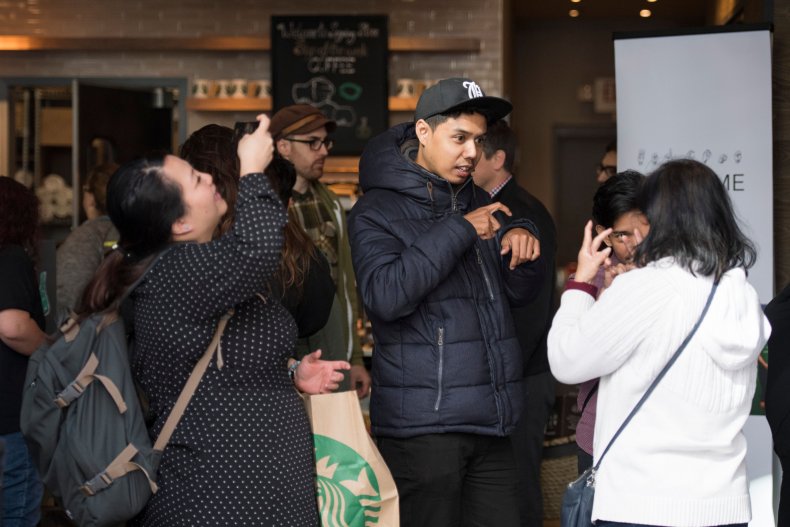 In her most recent video, posted in August, Keane addressed some of the most common questions she's heard about Charly's cochlear implants, which include both an external sound processor that attaches to the side of Charly's head with a magnet, and an under-skin implant connected to what Keane describes as an "electrode array" placed in her inner ear.
"My experience and what we chose for our family might not be what somebody else would choose for their family, and I completely understand that. I'm not here to judge anybody," Keane says in the video. "As long as you are giving your child love and language you are doing a great job."
Now that she's three-years-old, Charly has been playing with makeup, cuddling her younger sibling and acting like a classic picky eater:
Newsweek reached out to Keane via email to learn what Charly has been up to since, but did not hear back by time of publication.