Baby on Life Support After Being Found With Injection Marks, Testing Positive for Heroin
A 2-month-old baby girl is on life support in a Texas hospital after she was found with injection marks and tested positive for heroin, police said.
Officers responded to a residence in the 2200 block of Webster Avenue in the city of San Angelo after receiving a report of an unconscious infant early Saturday morning, the San Angelo Police Department said in a news release.
When officers arrived at the residence, they found the two-month-old infant unresponsive. They administered life-saving measures while transporting the girl to Shannon Medical Center for treatment, police said.
There, hospital officials assessed the baby and told police they had found injection sites on the girl's head and extremities. They also told police that the infant's urine had tested positive for heroin.
Police said that due to the severity of the infant's condition, she was transported to Cook Children's Hospital in Fort Worth, Texas. According to police, she remains there on life support as of Tuesday.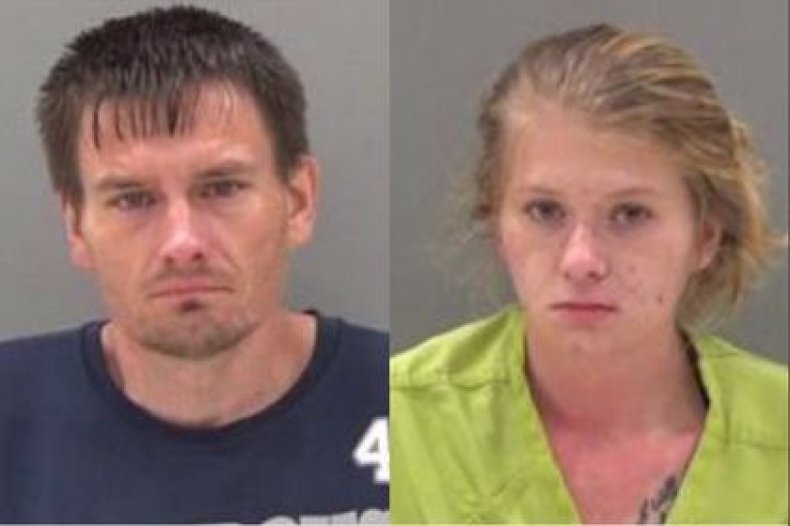 Police said detectives with the San Angelo Police Department's Crimes Against Children Unit learned that the baby's mother, Destiney Harbour, 21, had given birth to the girl at home in August.
They also discovered that the baby had not received formal medical care since she was born.
Harbour, her boyfriend and her mother were taken into custody. They each face a charge of serious bodily injury to a child, a first-degree felony, San Angelo police said.
Investigators said Harbour's mother, Christin Bradley, 37, and Bradley's boyfriend, 34-year-old Dustin Smock, had helped with the infant's care inside the home.
While they were executing a search warrant inside the house, investigators found drug paraphernalia, as well as a small quantity of suspected heroin, methamphetamine, marijuana and pills, police said.
Police added that the investigation is ongoing and that all three may face additional charges. Harbour's bond was set at $100,000, while Bradley and Smock had bond set at $50,000.
A spokesperson for the Texas Department of Family and Protective Services confirmed to Newsweek that it is investigating the case alongside police. The agency said it had not previously received any reports of abuse or neglect regarding the infant.
Dr. Jamye Coffman is the medical director of the CARE Team—the child abuse program—at Cook Children's Hospital told WFAA that the team is seeing an increase in severity of cases of late.
"We're unfortunately going to exceed the number of deaths from 2019," Dr. Coffman told the station. Her team reported five child abuse deaths in 2019. There have already been six through October this year.
The police department and Cook Children's Hospital have been contacted for additional comment.
To report a suspicion of abuse or neglect, call 1-800-252-5400 or visit www.txabusehotline.org.
This article has been updated with comments from a spokesperson for the Texas Department of Family and Protective Services.