'Infinity War' Trailer Sparks Spider-Man Fan-Girling over Tom Holland
Thanos may be the scariest part of Marvel's final Infinity War trailer, which debuted on Friday morning, but the internet decided that Spider-Man is the dreamiest superhero in the line-up.
In 2015, Marvel announced that a young British actor, Tom Holland, would be the first teenager to play Spider-Man in a live-action film. Holland made his debut in 2016's Captain America: Civil War, and he appeared a month later in his solo film, Spider-Man: Homecoming, which director Jon Watts insisted should be set at an ethnically diverse high school. "Peter Parker is from Queens, one of the most diverse places in the world," Watts told The Los Angeles Times, explaining that he had created a look-book of students attending high school in the New York area, to pitch a diverse cast to Marvel.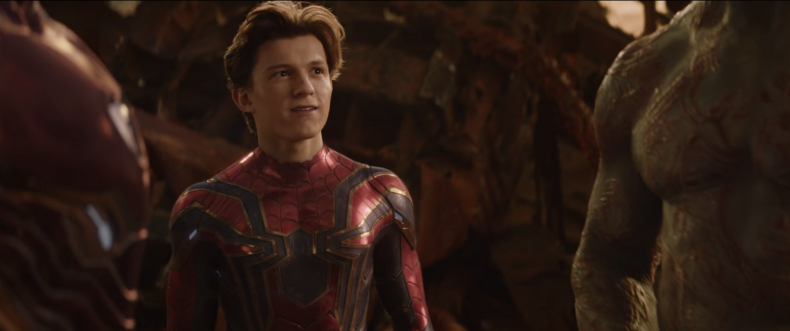 Spider-Man, aka Peter Parker, has always been depicted as a teenager in Marvel comics, but the actors who have played him before have always been older. Tobey Maguire was 27 when he played the teen-from-Queens in 2002's Spider-Man; Andrew Garfield was 29 when he appeared in 2012's reboot, The Amazing Spider-Man.
It was a combination of his youth, and a new superhero suit from Tony Stark (Robert Downey Jr.), that prompted renewed excitement over Holland on Twitter—despite fairly brief cameos in the final Infinity War trailer.
Holland, a Broadway alum, is both a talented dancer and gymnast and does many of his own stunts. In July 2017, he stunned the world with both his athleticism and his comfort with his own sexuality, appearing in drag opposite his Homecoming co-star Zendaya on the Paramount Network's Lip Sync Battle.
In the trailer, we watch Holland try on his Spider-Man cowl while riding on the side of a school bus, swing on his webs over the surface of the East River and gape in surprise when Starlord (Chris Pratt) dares to question his mentor, Iron Man. The real Holland money-shot comes at the end of the trailer, where Marvel typically places a funny "button" moment.
When introducing himself to Benedict Cumberbatch's character, he says, "I'm Peter, by the way." Cumberbatch responds, "Dr. Strange," which is his character's actual and superhero name. "Oh, we're using our made-up names!" Holland exclaims, adding, "Then I'm Spider-Man."
In fact, Holland's star power is so strong that Letitia Wright, who plays T'Challa's younger sister Shuri in the MCU, had to comment on his new, grown-up look.
Avengers: Infinity War premieres everywhere April 27.