Inflation Concerns Cloud Prospects for Post-Pandemic Recovery
Massive government spending in response to the COVID-19 pandemic and the Federal Reserve's optimistic view of an economic rebound could lead to "entrenched inflation," a financial advisor said.
Andrew Parlin, founder and chief investment officer at Washington Peak Investment Advisors in Princeton, New Jersey, said Fed Chairman Jerome Powell underestimates the inflation threat.
Powell is betting that a 6.5% annual growth rate, a 4.5% unemployment rate and inflation at about 2% will allow the nation's central bank to keep interest rates low through 2024.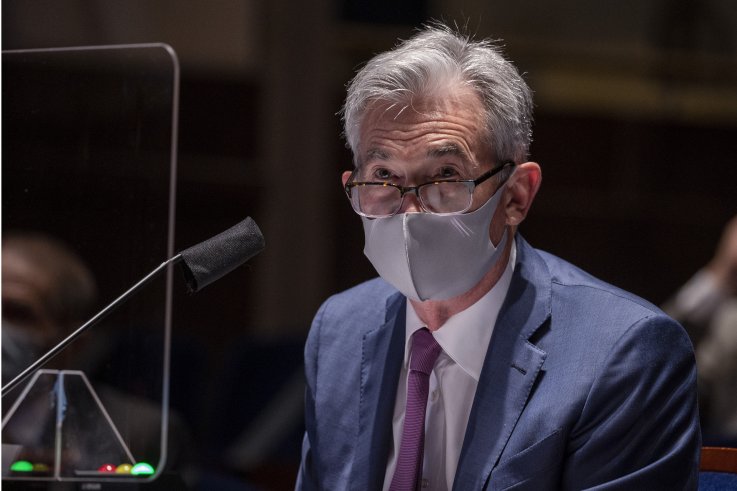 Federal Reserve Chair Jerome Powell testifies before the House Financial Services Committee on Capitol Hill on June 30, 2020 in Washington, DC.
Tasos Katopodis/Getty Images
"If this policy stance seems incongruous, that's because it is," Parlin said in an opinion column published in Britain's Financial Times. "If Powell is right, it is unclear what the reward will have been. The downside, however, is incalculable: an entrenched inflation such as we have not known in decades and the need to slam on the brakes through aggressive rate tightening."
Inflation would hurt small savings, and typically drives up the cost of the basics—housing, food, clothing and fuel.
Parlin didn't address Bitcoin in his essay, but many investors have flocked to it as a hedge against inflation.
In early 2017, Bitcoin changed hands at less than $1,000. By December of that year, it had climbed to about $20,000. But by February 2018, the price had fallen to about $7,000. This year, Bitcoin hit an all-time high of $61,556.59.
Bitcoin changed hands at $58,685.94 in mid-day trading Tuesday. Despite a pullback from its recent high, Bitcoin is still up 101.88% for the year, CoinDesk reported.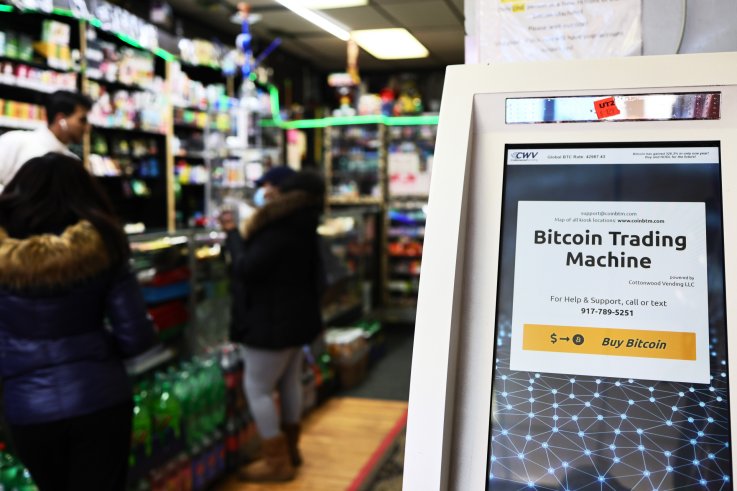 NEW YORK, NEW YORK - FEBRUARY 08: A bitcoin ATM is seen inside the Big Apple Tobacco Shop on February 08, 2021 in New York City.
The market appears to be anticipating a new round of inflation as evidenced by increasing yields on 10-year U.S. Treasury bonds. On Tuesday, yields rose to 1.744% from 1.721%. Yields had been as low as 0.915% at the start of the year. That's a 90.6% increase.
"Total pandemic spending, inclusive of the just-passed $1.9 trillion package, now exceeds $5 trillion, five times the amount of fiscal spending directed at the recession of 2008-2009," Parlin wrote.
That downturn was caused by the collapse of the subprime housing market.
Unemployment peaked at 10% in October 2009. During the COVID-19 shutdown, unemployment peaked at 14.7% in April 2020, the U.S. Bureau of Labor Statistics reported.
Increased government spending in response to the coronavirus pandemic puts the economy in uncharted territory, but Parlin fears there will be inflation ahead.
"How does one incorporate into forecasts the impact of the biggest peacetime fiscal stimulus in American history, equal to 25% of gross domestic product?" he asked in his column.
"Because there is no precedent, it is extremely hard to do with any precision," he wrote. "Common sense suggests risk of a mighty boost to inflation, far above the Fed's 2.4 per cent projection for 2021. Does this incredibly elevated level of economic uncertainty not call for maximum policy flexibility?"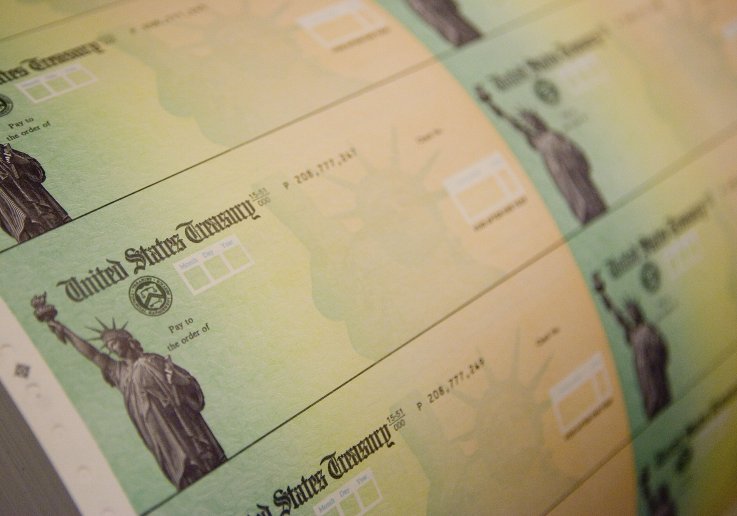 Economic stimulus checks are prepared for printing at the Philadelphia Financial Center May 8, 2008, in Philadelphia.
Jeff Fusco/Getty Images
Parlin claimed that Powell misjudged the inflation threat in 2018—and he argues that should lead the Fed to reconsider its current thinking on inflation and determination on holding interest rates low.
"With so little known about the dynamics of consumer price changes, there is no need for the Fed to make multi-year promises to hold rates at zero," he wrote. "It's time to start the conversation about monetary tightening."
Monetary tightening, often called "slamming on the brakes," would mean higher interest rates to curb the inflation Parlin fears will be sparked by massive government spending.
Inflation, or even the threat of higher inflation, would probably drive Bitcoin's price higher—and that's the bet many investors are now making on the cryptocurrency.
Market Pulse
Government aid has pushed bankruptcy filings to the lowest level since 1985, a report by a British consulting firm said.
The $2.2 trillion Coronavirus Aid, Relief, and Economic Security Act (CARES), signed into law by former President Donald Trump in March 2020, provided stimulus checks, extended unemployment benefits and permitted deferral of mortgage and student loan payments.
But bankruptcy filings could soar from about 560,000 in 2020 to more than 1 million this year as government support ends for many, Epiq, a London-based consulting firm said in a report.
The increase in bankruptcies is expected to hit individuals as well as small and medium-sized businesses.
Insolvencies under Chapter 7 (liquidation) of the U.S. Bankruptcy Code fell 22% last year compared with 2019 and individual filings under Chapter 13 (elimination of qualified debt through a 3- to 5-year repayment plan) dropped 46%, Epiq found.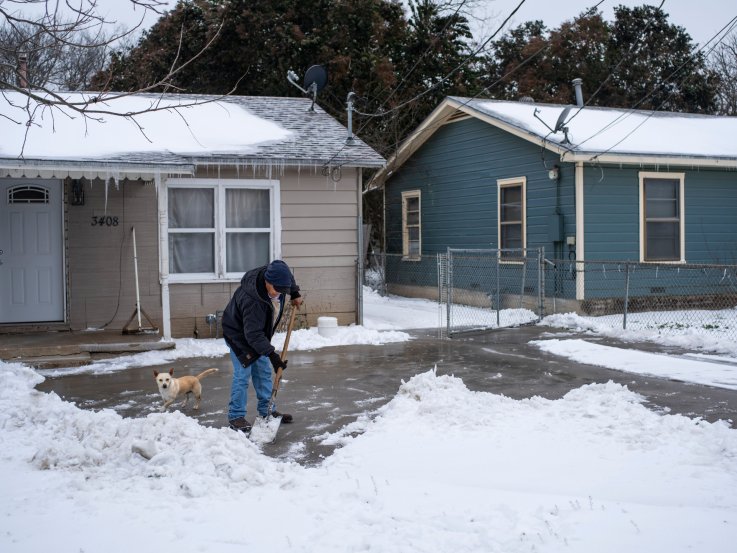 A Texas power co-op filed for bankruptcy on Monday after being hit with a $2.1 billion bill due to severe winter weather. Here, a Waco, Texas, resident clears snow from his driveway alongside his dog on February 17, 2021 as winter storms forced road closures and power outages over the state.
MATTHEW BUSCH/Getty
But commercial filings under Chapter 11 (reorganization) increased 29%.
"For organizations that were already struggling prior to the pandemic, this economic downturn has been the final chapter," Epiq said.
The price of West Texas Intermediate Crude, the benchmark for U.S. oil prices, briefly turned negative as demand collapsed when businesses shut down as part of the effort to curb the spread of COVID-19.
"So far this year, more than 70 energy companies have already filed for Chapter 11 bankruptcy protection," the report said. "Other industries greatly impacted include retail, restaurant chains, travel, and hospitality."
Healthcare may be next.
"Without continued aid from the government, many healthcare facilities will struggle to keep their doors open next year," the report said.
The expected increase in personal and business bankruptcy filings "will make consulting with legal and financial bankruptcy professionals a crucial component to transitioning into this new economy and our post-COVID environment," the report said.