Inflation Is Forcing Americans To Skimp on Milk, Switch to Half Gallons
Rising prices are starting to alter how Americans shop—notably for milk, one of the most basic of family staples.
Soaring inflation in milk prices has meant shoppers are now both switching to value brands, and buying in smaller amounts. Ironically, this means Americans are spending more per fluid ounce.
C. Douglas McMillon, CEO of Walmart, said in a company earnings call this week that "we see some switching from brands to private brands, and we see switching from gallons of milk to half gallons of milk."
The problem for customers is that a half gallon of value brand milk at Walmart costs 3.5 ¢/fl oz, whereas the cost when buying a full gallon of the same milk is 2.9 ¢/fl oz—in other words, 20% more expensive.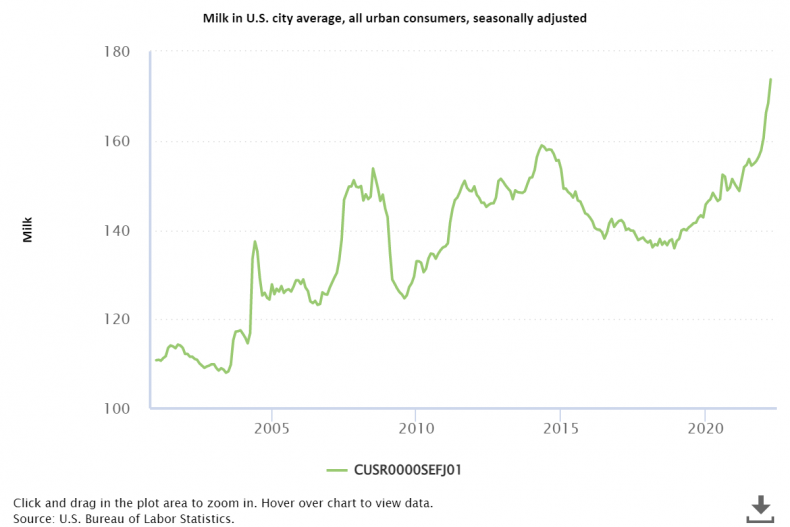 According to prices available online on Thursday on Walmart.com, "Great Value 2% Reduced Fat Milk, 128 Fl Oz" was selling for $3.74, while "Great Value 2% Reduced Fat Milk, Half Gallon, 64 fl oz" is $2.24.
According to the Bureau of Labor Statistics, milk prices went up 14.7% year-on-year for all urban consumers in April, up from 13.3% in March.
As McMillon said in the Walmart call, "Not all of [Walmart customers] can afford to absorb this and they need our help."
City Variations in Milk Price
Data from the United States Department of Agriculture, which issues the monthly Retail Milk Prices Report, showed three cities in the tracked dataset have prices of over $5 per gallon: Kansas City, MO, Philadelphia, PA, and Pittsburgh, PA.
Some cities are seeing a big leap in prices.
According to the USDA report, prices for a gallon of whole milk in Minneapolis went up from $3.96 to $4.79 from March to April, a leap of 21%.
Other cities have seen a big jump in prices: St. Louis, MO and Portland, OR, have seen prices go up by more than 10% from March to April.
The Retail Milk Price tracks prices in three locations in each city or metropolitan area: the largest food store chain, the second largest food store chain, and the largest dairy/convenience store chain. The same outlet is surveyed each month.
The increase in milk prices is partly due to supply chain problems that have affected lots of markets since the pandemic, as well as higher input costs for farmers in terms of feed and transportation.
The number of cows and farms has also decreased. According to the USDA, the number of milk cows on farms in the U.S. was 9.4 million, 98,000 less than April 2021.
The annualized rate of inflation in the U.S. in June and July last year was 5.4%, as the economy emerged from tight restrictions imposed due to the COVID-19 pandemic.
Now, some 300 days after President Biden's comments the higher prices would be "temporary," prices are continuing to rise and the annualized rate of inflation in April stood at a near-record high of 8.3%—levels not seen since in 40 years.