Inflation Is Hitting Every Aspect of American Life
U.S. consumer prices have risen at their fastest annual rate for three decades, with figures revealing that Americans are paying more for energy, shelter and food.
The U.S. Bureau of Labor Statistics (BLS) said that the Consumer Price Index (CPI), which takes into account a basket of products, was 6.2 percent higher in October compared with the same time in 2020—the biggest spike since 1990.
Energy prices have been a major driver of inflation and have gone up 30 percent compared with a year ago. There was a 4.8-percent spike in October alone, according to the BLS. Gasoline prices are up 49.6 percent from a year earlier.
Over the last year, the biggest price rises occurred in fuel oil (59.1 percent), gasoline, gas utilities (28.1 percent) and even used vehicles (26.4 percent).
"Used cars have gone up tremendously because the new cars couldn't meet the demand because of chip manufacturing failures in Asia," Dallas-based financial consultant, Bill Dendy told Newsweek.
But putting food on the table will be a preoccupation for most and grocery inflation has worried many.
Food at home went up by 5.4 percent with higher prices at the checkout for virtually every form of protein.
Steak is nearly a quarter more expensive (24 percent), bacon costs a fifth more (20 percent) while consumers have to spend around a tenth more on fish (11 percent), chicken (9 percent) and eggs (12 percent), The Washington Post reported.
There have also been considerable rises in pork chops (16 percent), milk (6 percent) coffee (6 percent) and flour (5 percent), the Post reported.
"Energy price increases have been so great it impacts everything because everything has to be moved from one part of the country to another," Dendy said.
"A lot of folks are saying that our traditional Thanksgiving Holiday is going to be the most expensive Thanksgiving on record," he said. "We are going to see the impact of the price rises at the dinner table."
Meanwhile, excluding the volatile food and energy components, core inflation in October went up 4.6 percent year on year and increased by 0.6 percent from the previous month.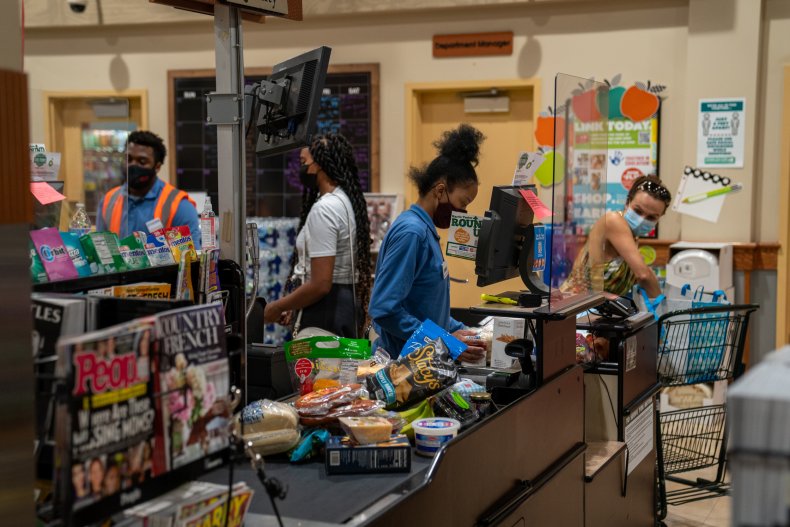 Shelter costs, which are considered to be a more structural component of the CPI and comprise around a third of the overall index, went up 3.5 percent in the last year, and rose 0.5 percent in October.
This was the most in four months as higher rents and home prices made their effect felt, Bloomberg reported.
Americans are also paying more for house furniture (12 percent) televisions and new vehicles (both 10 percent) and clothes (9 percent).
"When we were shut down for COVID, people were updating their homes. People wanted to have nice furnishings," Dendy said.
"So they spent money doing the projects and making the home the place they wanted it to be and housing prices went up accordingly—so did the costs of the goods that you buy."
With spending power on the wane, the political cost is increasing too for President Joe Biden who said Wednesday that reversing the inflation trend would be his administration's "top priority."
Biden's proposed Build Back Better Act could also be in danger, amid concern centrist Senator Joe Manchin (D-WV) will not back the bill with inflation so high.