Inflation Is Making Poverty in the U.S. Even More Difficult
Americans trying to get by on low-incomes have been hit hard, as the price of basic necessities like food, energy and housing skyrocket.
Experts are concerned that inflation is forcing the poorest Americans to make impossible financial trade-offs.
"The problem we are talking about here is that people who are on fixed incomes or who are living paycheck to paycheck, they are spending most or all of what they are earning on food, gasoline, rent, heating — basic necessities," U.S. Federal Reserve Chair Jerome Powell said in response to a question about the impact of rising prices on the poorest Americans.
"Inflation, right away, forces people like that to make very difficult decisions," he added.
Despite commitments from the Fed to slow it down, the national inflation rate has continued to rise, reaching 9.1% in the latest Consumer Price Index report, a four-decade high.
Prices for food, housing and energy — the three biggest expenses for Americans — have increased 10.1%, 14.1% and nearly 50%, respectively. These rising costs have far outpaced the average growth of wages and savings, leaving most American households with less money than they had last year.
But their effects are not felt evenly.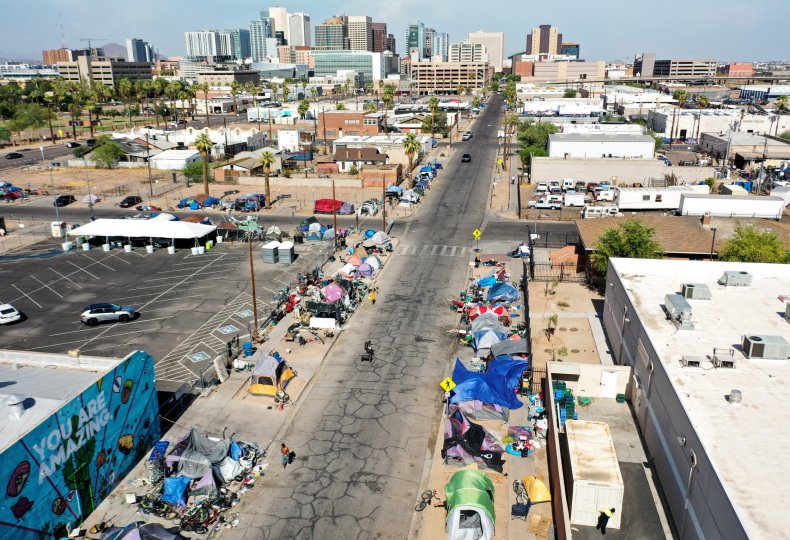 "The recent increase in food and energy prices could disproportionately impact the poorest households," said Indermit Gill and Peter Nagle of the Brookings Institute.
While rising prices can be simply inconvenient for those with moderate or higher incomes, they are crushing for those living near or below the poverty line, who typically have far less financial flexibility.
"High-income households can easily switch from higher-quality goods to lower-quality goods in times of economic crisis," Gill and Nagle wrote. "They can also take greater advantage of discounts on bulk purchases and sales. Poor households ordinarily don't have those options."
With a tighter budget, low-income households often pay higher prices because they cannot travel to cheaper stores, take advantage of seasonal discounts or buy essential items in bulk — a phenomenon that researchers call the "Poverty Tax."
A study by the University of Michigan Professor Yesim Orhun and doctoral student Mike Palazzolo found that on-average, low-income families will spend 5.9% more on a roll of toilet paper than their wealthier counterparts.
Another study by the University of California's Nutrition Policy Institute found that shoppers purchasing fruits and vegetables in low-income neighborhoods typically pay more for them than shoppers looking for produce in other areas.
That said, this 'poverty tax' has been exacerbated by inflation, forcing families to make difficult compromises, going without items they might have comfortably afforded just one year earlier.
"It is outrageous how much everything has gone up," Jacqueline Rodriguez, a fast-food cashier, told The Washington Post.
"I go to the supermarket to buy chicken, and I have to make a decision on what meal I'm going to cook based on the prices," she said. "I'm not going to buy anything luxurious. Everything is more expensive."
Low-income families like hers that successfully manage their rising food and energy costs are often left defenseless when it comes record-high housing and shelter costs.
Nationwide rental prices have skyrocketed this year, up nearly 14.1%, according to the July 2022 Apartment List National Rent Report. That said, many low-income tenants looking for rentals, or just trying to renew their current agreements, have found new housing prices to be simply unaffordable.
That is what happened to Rodriguez, who said that her landlord recently raised the monthly rent for her Florida apartment from $1,200 to $1,500 per month.
While the Department of Housing and Urban Development advises renters to spend less than 30% of their monthly income on housing costs, The Guardian estimates that given current prices, the lowest-earning 10% of Americans would need to spend closer to 55% of their income to pay for the average one-bedroom rental.
Diane Yentel, president and CEO of the National Low Income Housing Coalition, told Newsweek that these prices are unsustainable, and will lead to a rise in evictions and homelessness,
"With the exorbitant rent hikes lately," she said, "more and more of the lowest income people will fall into homelessness."
"The housing market is like a game of musical chairs," Yentel said, "and when the music stops, it is always the people with the lowest or with no incomes that are left standing without a home."
Others share her concern that rising housing costs, combined with persistent inflation, might leave many Americans homeless, and millions more fearing they will soon become so.
Research from the Government Accountability Office shows that for every $100 increase in the median rent price in a community, there is an associated 9% increase in homelessness.
With nationwide rent prices increasing by more than $200 a month since last July, shelters across the country are reporting an increased number of people looking for help.
And while officials such as President Biden and Federal Reserve Chair Jerome Powell promise that slowing down inflation is their "top priority," Yentel urges national leaders to take more decisive action to address this critical issue.
"The thing that many people do not realize is that communities, organizations, and families are already ending homelessness, on an individual level, every day," she told Newsweek.
"But what we cannot stem is the bigger tide causing people to fall into these tough financial situations in the first place,"Yentel added. "So frankly, the scale of the problem requires a more meaningful federal response."