Inflation Rate Higher Than Predicted, But Worst Might Be Over
Inflation in the U.S. increased more than what was predicted in April, but some indicators point to the worst possibly being over.
The Bureau of Labor Statistics (BLS) on Wednesday reported that the price of goods was up 8.3 percent from last year at this time, according to CNBC, higher than the 8.1 percent that was predicted. In April, the Consumer Price Index (CPI) increased .3 percent, according to the BLS report.
The biggest reasons for April's increase, according to the BLS report, were prices of "shelter, food, airline fares, and new vehicles." Other areas that saw a price increase last month were medical care and recreation, as well as household furnishings and operations, the report said.
While Wednesday's report from the Bureau of Labor Statistics still showed inflation was higher than expected, according to World Stock Market, there are encouraging signs.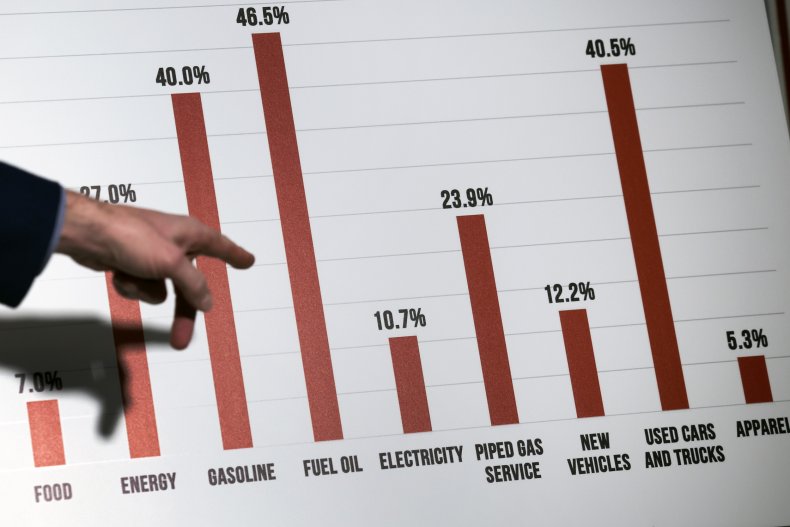 It said that while the inflation increase was higher than expected, the rate of increase slowed last month for the first time since August of 2021. Inflation increased 1.2 percent in March, according to the BLS.
The BLS showed that from March of 2021 to March of 2022, prices for consumers increased 8.5 percent, making it the biggest 12-month increase in more than 40 years.
The price of gasoline fell more than 6 percent, while the price of energy fell 2.7 percent.
Prices for used cars dropped 4 percent in April, but new car prices increased 1.1 percent.Supply chain issues, primarily due to the availability of semiconductors, have been a key reason for an increase in vehicle prices.
One economic expert pointed to the slight increase inflation might actually help the economy.
"The slight moderation in inflation will likely provide some needed boost in consumer confidence," Jeffrey Roach, a chief economic for LPL Financial, told Forbes. "Investors and policy makers both know inflation will likely stay above target for a while, but both will focus on the direction of the change."
But another economic expert had a different opinion on the signs of the slowing rate of inflation.
"The pace of price increases moderated, but not as much as expected. Excluding a decline in energy prices—which appears outdated by this point—the increases remain widespread," Greg McBride, a chief financial analyst with Bankrate.com, told NBC News.
"With the annual rate ticking down from 8.5 percent to 8.3 percent, it can be tempting to say we've seen the peak, but we've also been head-faked before as was the case last August."
Newsweek reached out to the Bureau of Labor Statics for comment.