Inflation Spikes Mean Bad News For Democrats in Midterms
The economy is top of mind for voters heading into the 2022 election cycle, polls have repeatedly shown.
The findings are bad news for Democrats with inflation hitting a 40-year high in January, a troubling statistic for the party as they aim to keep majority control in Congress after the midterms.
"I'm feeling it myself," North Carolina State Senator Natalie Murdock, a Democrat, told Newsweek. "I'm a renter. I also can see gas prices going up, grocery prices going up. I feel it, and definitely hear it from my constituents all the time."
A survey released Thursday from Redfield and Wilton Strategies found 57 percent of voters listed the economy when asked about issues that are most likely to determine how they cast their ballot in November. The next top issue was healthcare and coronavirus, with roughly a third of voters saying it would influence their decision at the polls.
A new CNN poll also showed the economy was the number one issue for voters, with 59 percent of respondents stating it was "extremely important" to their vote for congressional races. Fifty-five percent of voters said inflation will also be important to their congressional vote later this year.
The Labor Department reported Thursday that the Consumer Price Index rose 0.6 percent in January, and 7.5 percent during the last year—the largest 12-month increase in 40 years.
Price indexes for food and energy rose 0.9 percent in January; indexes for household furnishings and operations rose 1.3 percent; prices for used cars and trucks jumped by 1.5 percent.
"We have to acknowledge the pain that people are feeling every day," Murdock said.
Murdock also said providing relief to families, whether it be through expanding the Child Tax Credit or tax relief, should be a "no-brainer."
"When they go back to vote, I'm just hopeful that we're able to provide some direct relief to people here in North Carolina and nationwide before elections this fall," the state senator said.
President Joe Biden said the Labor Department's report was a "reminder that Americans' budgets are being stretched in ways that create real stress at the kitchen table" but that he expects inflation to fall over the coming months.
The White House also touted successes in employment and wages. The U.S.recorded 6.6 million new jobs in 2021, and wages rose 5.7 percent during the 12-month period.
"While today's report is elevated, forecasters continue to project inflation easing substantially by the end of 2022," Biden said Thursday in a statement. "And fortunately we saw positive real wage growth last month, and moderation in auto prices, which have made up about a quarter of headline inflation over the last year."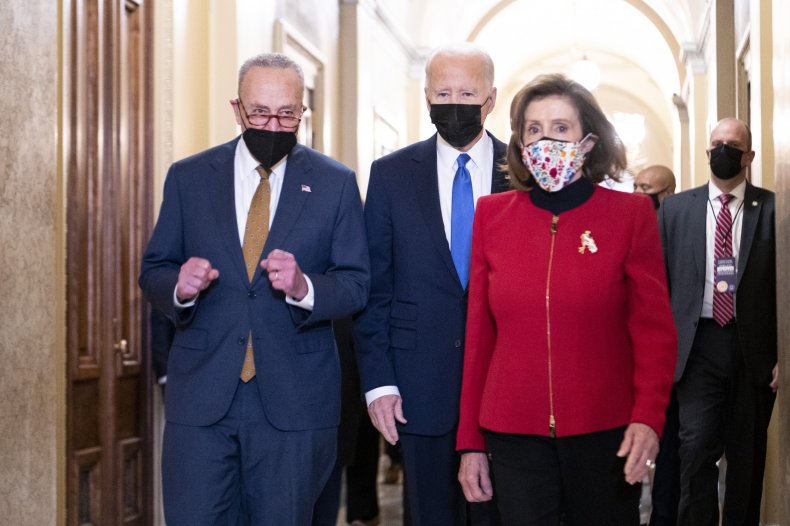 Biden later called a reporter a "wise guy" for asking about inflation rates.
"I think it was back in July, you said inflation was going to be temporary. I think a lot of Americans are wondering what your definition of temporary is," NBC's Lester Holt asked Biden during a news conference on Thursday.
"Well, you're being a wise guy with me a little bit," Biden replied before going on to blame inflation on supply chain issues exacerbated by the coronavirus pandemic.
Republicans are already taking aim at Democrats over inflation and the economy. Senate Minority Leader Mitch McConnell told Punchbowl that he thinks it's the Democrat's "biggest liability" heading into the election cycle.
"They've allowed Republicans to really drive the narrative," Michael Starr Hopkins, a Democratic strategist, told Newsweek.
"It shows what a historically bad job Democrats, and the White House specifically, has done communicating their efforts around the economy," Hopkins added.
"When you look at the job numbers, we're having historic rates of unemployment, when you look at activity within the job market, we're seeing people returning at historic rates in the middle of a 100 year pandemic. But if you kind of listen to just the average water cooler conversation, you would have no idea and I think that's a failure among the White House."