Inflation Sticks, Gives Democrats Midterms Headache
Inflation, one of the last major economic indicators before the midterm elections, was higher than expected for September, giving the Biden administration little to cheer about.
The headline figure for September was 8.2 percent, following the previous month's reading of 8.3 percent. The expected figure was 8.1 percent. Month on month, prices rose 0.4 percent from August, higher than the previous two months' data.
Food at home (grocery shopping rather than eating out) is now 13 percent more expensive than last year. Breakfast will cost consumers more, as cereals and bakery products increased 16.2 percent over the year and the index for dairy and related products rose 15.9 percent.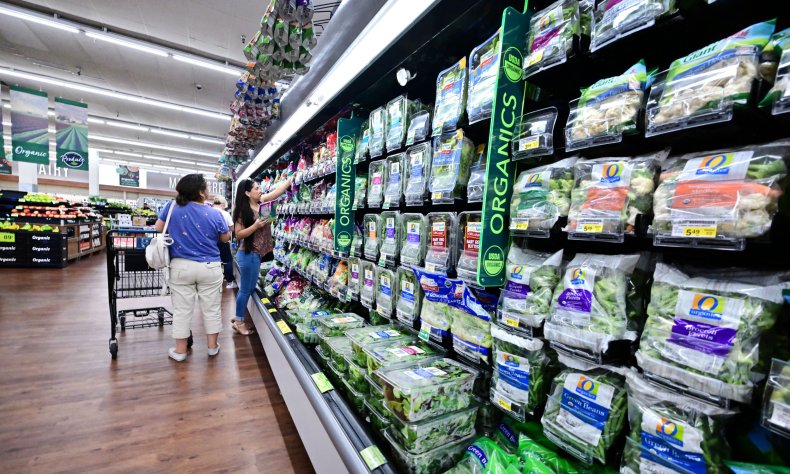 According to the Bureau of Labor Statistics:
The all items less food and energy index rose 6.6 percent over the last 12 months. The energy index increased 19.8 percent for the 12 months ending September, a smaller increase than the 23.8-percent increase for the period ending August. The food index increased 11.2 percent over the last year.
According to polls by both Gallup and Pew Research, the economy is one of the main concerns for voters as the midterm elections approach on November 8.
Gallup's Most Important Problem index, shows "High cost of living/Inflation" is the second-biggest category with 17 percent of respondents picking it as the most important problem facing America in September. This was second only to "The government/Poor leadership."
Pew Research data from May 2022 showed that 70 percent of Americans view inflation as a very big problem for the country, followed by the affordability of health care (55 percent) and violent crime (54 percent).
There are three more important indicators and events before the midterm elections: on October 27, the GDP for the third quarter is released; on November 2, the Federal Reserve will announce the latest interest rate increase; and on November 4 the latest nonfarm payrolls figure is published. A shock in any of those could dent some of the hopes for the Democrats in key electoral races.
Currently, forecasts for GDP are positive, after two quarters of economic decline (or negative growth in economic parlance). The Federal Reserve Bank of Atlanta's GDPNow forecast has GDP at 2.9 percent, although it has been proven to be a bit off in terms of accuracy in previous quarters.
The Federal Reserve Bank of Philadelphia's panel of economic forecasters predicted in August that third-quarter GDP would be 1.4 percent. The panel of 35 forecasters revised down previous predictions, but still sees the economy growing rather than contracting.
The Federal Reserve will, according to estimates, probably raise interest rates again in November, attempting to cool inflation. Higher rates have pushed the dollar up relative to other currencies, which makes U.S. imports cheaper.
John Luke Tyner, a fixed income analyst at Aptus Capital Advisors, told Newsweek: "[This] locks in a 75bps hike in November even with the midterms and chaos going on across the pond. This would mark the fifth straight 75 basis point hike in a row."
However, the constant economic indicator that Americans see almost daily is gas prices. Overall, prices at the pump have dropped below the $4 threshold for most U.S. states, but a sharp increase before election day is possible. President Biden's popularity dipped around the middle of this year, when gas prices were at their highest, and has since improved a bit as prices have fallen back.
Andrew Hunter, a senior U.S. economist at Capital Economics, told Newsweek: "We've seen gasoline prices having a huge impact on consumer confidence over the past year. It looks like that boost could go partly into reverse between now and the midterms, however, given that crude oil prices have rebounded sharply on the recent production cuts by OPEC, suggesting that gasoline prices will also pick up again over the coming weeks."
He added: "Obviously Democrats' fortunes could also be swayed by any big news headlines arising from the payrolls or GDP reports, for example another negative or weak GDP quarter or a sharp downturn in jobs growth would clearly be unhelpful for them. But I suspect inflation is going to remain the number one issue."