InfoWars App Remains Active on Google Play Store, Despite Big Tech Backlash
Google's official app marketplace is one of the last mainstream platforms hosting content shared by InfoWars, the news outlet managed by Texan talk show host Alex Jones.
The Play Store, where Android users download software, has declined to remove the app despite widespread condemnation from other technology and social media companies.
It lists InfoWars as one of its trending news and magazine services. The application, which has more than 100,000 downloads, contains rebroadcasts of programs including The Alex Jones Show—known to peddle unsubstantiated news-style reports and conspiracy theories.
YouTube, the Google-owned video platform, dealt a blow to the media empire in August after banning channels linked to Jones and Infowars, which had both amassed millions of followers. And despite claims from the host to the contrary, an investigation by The New York Times this month found his internet traffic had suffered a downward spiral immediately after the bans.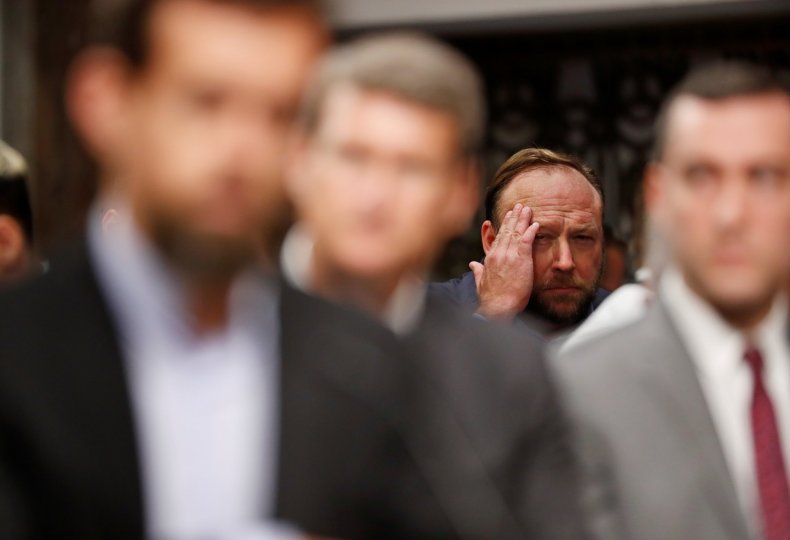 Facebook, Apple, Twitter, Spotify and others have concluded in recent months that InfoWars used their services to share policy-breaking material, later curbing his social media reach.
Google declined to comment on why the app remains available on the Google Play Store.
"While we don't comment on specific apps, we can confirm that our content policies are designed to provide a great experience for users and developers," a Google spokesperson told Newsweek on Tuesday via email. "If an app violates our policies, we take action."
Twitter took action against Jones last week, the day after the host was pictured trying to approach CEO Jack Dorsey following an appearance before U.S. politicians in Washington, D.C. The site had faced criticism from some of its own staffers for being slow to scrub his accounts.
"We will…evaluate reports we receive regarding other accounts potentially associated with @realalexjones or @infowars and will take action if content that violates our rules is reported or if other accounts are utilized in an attempt to circumvent their ban," Twitter tweeted.
The next day, Apple permanently banned InfoWars from its mobile store. The California company declined to comment, but indicated the app had broken the market's guidelines, which are designed to reject apps featuring "defamatory, discriminatory, or mean-spirited content."
Jonathan Albright, research director at Columbia University Tow Center for Digital Journalism, this week suggested that some InfoWars shop accounts are still thriving online. He found that 1.5 million referrals had been sent from Facebook to the store's website in July and August.
"Targeted Facebook advertising likely represents the largest single source of InfoWars' online store traffic and the bulk of its product referrals," Albright tweeted on Monday.
He said the "seemingly indiscriminate removal of accounts" had actually been "preferential and discriminate" and called it "more corporate PR exercise than actual policy implementation."
Albright continued: "Facebook has banned at least seven of Jones' pages—all while leaving the InfoWars' Store Page, long the main revenue stream, untouched.
"A targeted campaign on Facebook, active right now, has driven (and still drives) millions of clicks to InfoWars' online store. The 'ban' has left the store, long understood as the company's main revenue stream, untouched. The controversy has arguably promoted it, boosting traffic."
The Google Play Store app also contains links to the InfoWars store, currently pushing alleged nutritional supplements, including "Ultimate Bone Broth" and "Ultimate Female Force."