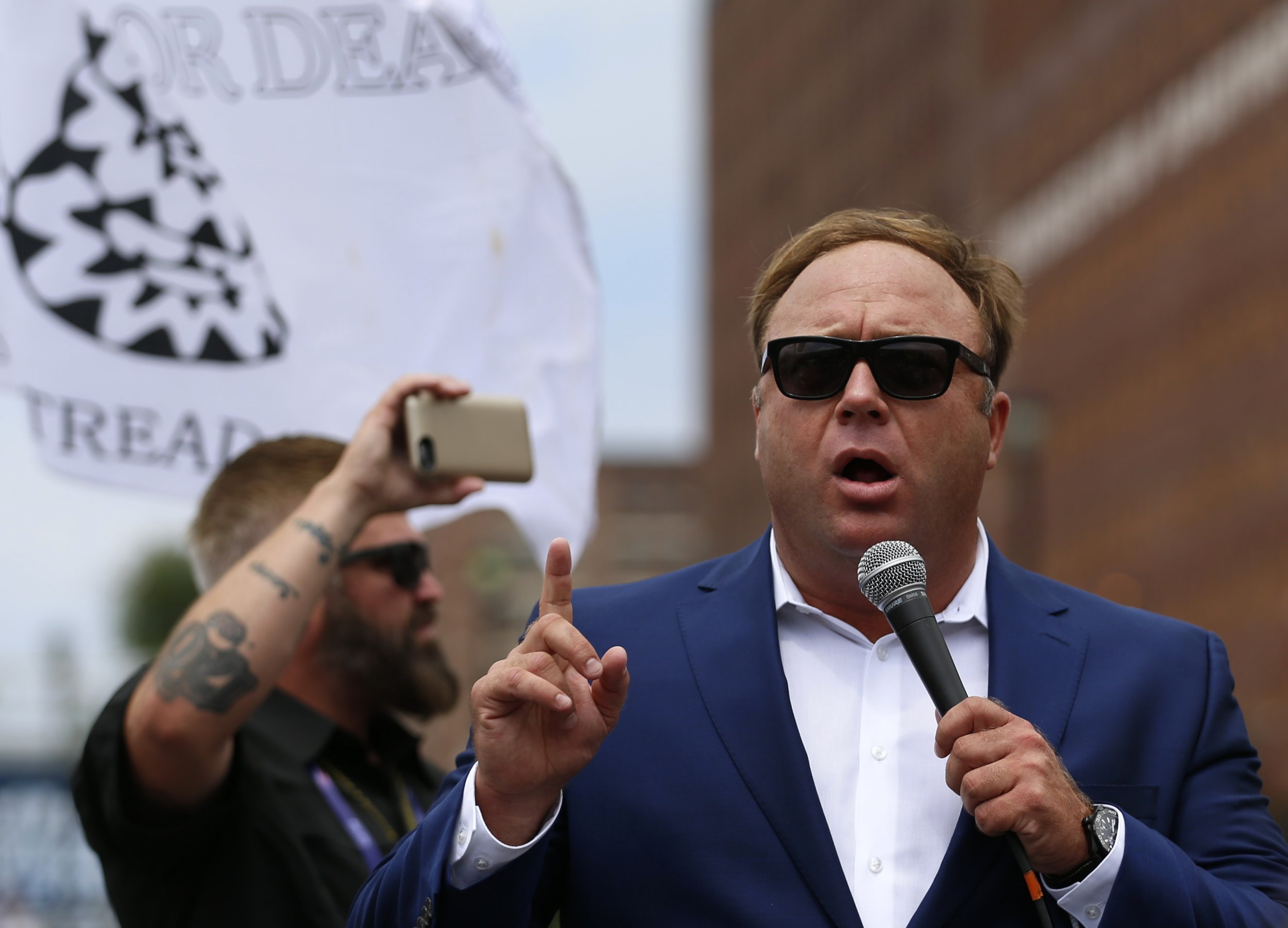 Alex Jones, head of the conspiracy-theory-laden website Infowars, seemed to criticize the victims of the horrific attack in Manchester, England, that left 22 people dead, including children as young as 8 years old. The Islamic State militant group, also known as ISIS, has claimed responsibility for the apparent suicide bombing outside of Manchester Arena.
Jones related the attack to President Donald Trump's recent visit to Saudi Arabia.
"And less than 24 hours after President Trump finishes that speech, a big bomb goes off at a pop star's rock concert bombing a bunch of liberal trendies," Jones said in a video posted to YouTube. "The same people, god love 'em, on average who are promoting open borders, bringing Islamists in."
Jones went on to claim Trump was blocking such people from making their way into the U.S.
"But he's coming with an olive branch trying to get Saudi Arabia to work with him and their response is what we just saw," Jones said in the video. "Whether it's the government, whether it's the king doing it, the big issue here, the thing we have to focus on and face, is that this is what's coming out of Saudi Arabia one way or the other. And this is the response a day later is to blow up a bunch of trendies, who've already run a white flag up to the black flag of Wahhabism. A bunch of liberals who've already run up the white flag to the Islamists and this happens."
Jones has promoted ideas such as the United Nations plans to kill off 80 percent of the world population and that the September 11, 2001 attacks were an inside job. He has claimed that the 2012 shooting at Sandy Hook Elementary School in Newtown, Connecticut—in which 20 children were killed—was a hoax. These sorts of false accounts can increase anger and confusion among survivors of the attack, experts say.
"After these types of events, there will be individuals that will start posting that this didn't really happen," Melissa Brymer, director of the terrorism and disaster programs at the UCLA-Duke National Center for Child Traumatic Stress, told Newsweek. "Those kinds of stories are difficult for adolescents to understand and to navigate."
Infowars, once on the fringes of right-wing media, has increasingly made its way into the mainstream under Trump, who once appeared on Jones's radio show. Infowars' Jerome Corsi claimed Monday he was given White House presidential credentials on a weekly basis, but other reporters said it was only a daily pass.