A lawyer for Infowars' Alex Jones wants the addresses and birth dates of Sandy Hook parents made public—despite those parents claiming they have received death threats from Jones's supporters.
The suggestion from Jones's lawyer comes amid a defamation lawsuit brought against the radio host by several Sandy Hook parents, who claim Jones's conspiracy theory that the 2012 massacre at the Newtown, Connecticut elementary school was a hoax has led to harassment and death threats from his band of loyal fans.
Mark Enoch, who is representing Jones, has said a Texas law stipulates the plaintiffs need to file the personal information in order for their declarations to stand up—and suggested the case be thrown out unless they do.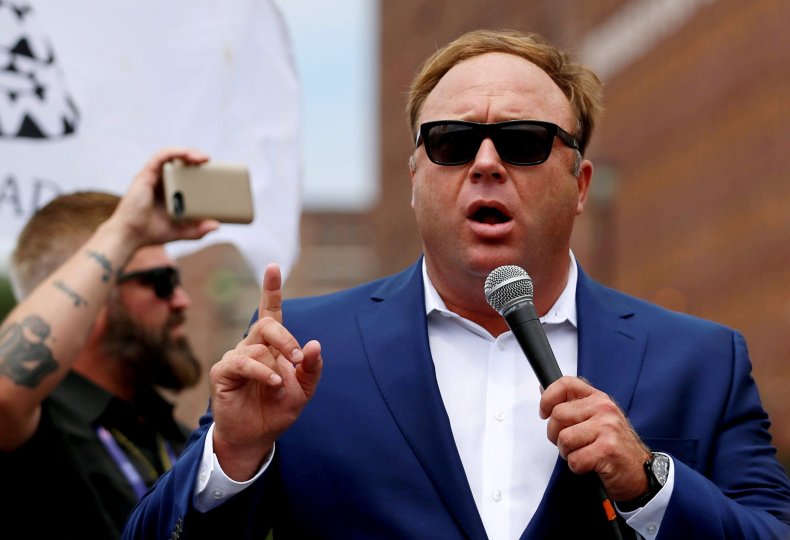 But a lawyer for Leonard Pozner and Veronique De La Rosa, who lost their six-year-old son in the 2012 shooting, in which 19 other children and six adults also died, described the suggestion as "sick," telling the HuffPost: "They're using an old, outdated law to intimidate these people."
"There are obvious reasons why these Plaintiffs are extraordinarily hesitant about filing public documents containing their personal information, such as their address or date of birth, and they will not publish that information absent a legal obligation to do so," the parents' lawyer Mark Bankston responded to the request, explaining: "Information such as date of birth, addresses, etc., have been used in the past by InfoWarsfollowers to locate and harass the Plaintiffs."
Jones has previously claimed that the shooting was a hoax, and that the victims were crisis actors.
"We've clearly got people where it's actors playing different parts of different people," Jones said on 14 March, 2014, according to the lawsuit.
"I've looked at it and undoubtedly there's a cover-up, there's actors, they're manipulating, they've been caught lying and they were pre-planning before it and rolled out with it," he added.
The lawsuit from Pozner and De La Rosa comes alongside one other lawsuit filed against Jones in Texas by a sandy Hook parent, and other lawsuits filed by Sandy Hook families and two teachers in Connecticut.
"Jones is the chief amplifier for a group that has worked in concert to create and propagate loathsome, false narratives about the Sandy Hook shooting and its victims, and promote their harassment and abuse," the lawsuit filed on Wednesday in Connecticut states, CNN reported.
The suggestion from Jones's lawyer comes in a week that has seen the radio host banned from several social media platforms on the grounds of "hate speech," the BBC reported, although Twitter has opted not to do so and is facing a backlash over its decision not to delete Jones's account.