Infowars Brought in $165M in 3 Years as Alex Jones Claims He Can 'Barely Pay the Bills'
Conspiracy theorist Alex Jones has made over $165 million in three years of sales from his InfoWars store, but he recently told a caller on his radio show, "We can barely pay the bills."
Jones' InfoWars store—which mostly sells dietary supplements, survival equipment and various right-wing apparel—made $165 million in sales from September 2015 to the end of 2018, according to court documents obtained by HuffPost.
Jones supplied the financial documents as part of a discovery request for a defamation court case involving the 2012 Sandy Hook Elementary School shooting. The Dec. 14, 2012, massacre left 26 people dead, including 20 children ages 6 and 7.
HuffPost found that some of the InfoWars store's most profitable days occurred when Jones pushed false and defamatory theories about the shooting.
The store made $100,000 on Nov. 18, 2016, after Jones claimed that the people speaking out about the shooting were "actors." The store made $90,000 on April 22, 2017, when Jones published an Infowars video titled, "Sandy Hook Vampires Exposed."
Despite the store's cash haul, Jones told a caller during the Thursday installment of his radio show, "As much begging as I do, we can barely pay the bills."
He made the statement while promoting the show's online store, adding, "I'm not going to stop growth and let them push us backwards. I need your help, Frank. I need your help."
Jones regularly tells listeners that his show will quickly shut down without their financial support. His show's financial documents suggest otherwise.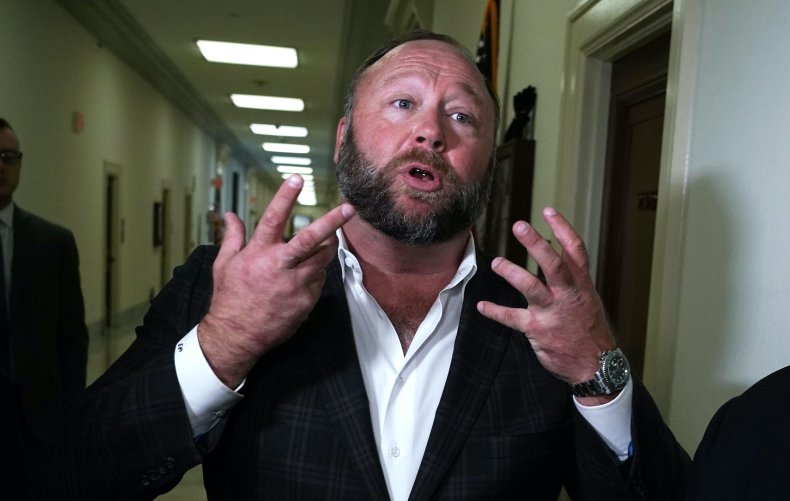 Shortly after the Sandy Hook massacre, Jones claimed that the shooting was a "false flag" hoax organized by the government to justify the confiscation of people's firearms. He said scenes from the shooting were re-created using "green screens" and that the children who died in the shooting and their parents were all fake "crisis actors." The parents soon faced harassment and death threats from Jones' followers.
In early October 2021, a Texas court found Jones and the InfoWars website liable for defamation against the families. The judge based the decision on Jones' repeated failure to turn over financial and analytics data, even though he had been asked numerous times by the Sandy Hook family plaintiffs.
It was the third Sandy Hook defamation case in Texas that Jones lost. On Nov. 15, 2021, a Connecticut court also found Jones and the InfoWars website liable for defamation against Sandy Hook families for similar circumstances.
Juries in all four cases are currently deciding what damages Jones may have to pay to the families. Jones' attorneys have pledged to file appeals.
In August 2018, Jones and InfoWars were both banned from YouTube, Apple, Facebook and Instagram (which is owned by Facebook) for repeatedly violating their policies forbidding hate speech and glorifying violence. Twitter banned him a month later for "abusive behavior."
Jones said his banning was political censorship because the mainstream is afraid of "the truth."
Jones has claimed on InfoWars that the government is controlling the weather; Democratic politician Hillary Clinton runs a child sex ring out of a D.C.-area pizza restaurant (something known as Pizzagate); that the transgender rights movement is a plot to allow people to have sex with their cars; and that millions of undocumented immigrants illegally voted in the 2016 presidential election (echoing a baseless claim repeated by then-President Donald Trump).