InfoWars Host Owen Shroyer Calls For Barack Obama to be Lynched: 'Find the Tallest Tree and a Rope'
InfoWars host Owen Shroyer called for the lynching of "treasonous" former President Barack Obama on his latest show, telling viewers to "find the tallest tree and a rope."
Discussing a story on far-right news site Breitbart, "Emails Show Obama's State Department's Role in Anti-Trump Coup Cabal," Shroyer launched a tirade against the former president on the conspiracy site's livestream on Tuesday. He accused him of trying to bring down Trump and being a traitor to the nation, before suggesting that he should be killed.
"Folks, Obama was emailing Hillary Clinton on her illegal server under a secret name, that came out in emails. And he claimed he didn't know she had it. Barack Obama is a treasonous...he belongs in jail. He belongs in Guantanamo Bay. I mean look, I'm not saying this should happen but Barack Obama, you know, find the tallest tree and a rope."
Shroyer, who hosts an InfoWars show called "War Room," InfoWars founder and owner Alex Jones and InfoWars itself are banned from YouTube—but at the time of reporting versions of the video uploaded by other users are available to watch on the platform.
YouTube's violent or graphic content policies prohibit videos that incite others to commit violent acts against individuals or a defined group of people. YouTube did not respond to a request for comment from Newsweek at the time of reporting.
When journalist Judd Legum pointed out on Twitter that the InfoWars host had called for Obama to be lynched, Shroyer responded by saying, "Do you support free speech?"
InfoWars and Jones were banned by YouTube, Apple and Facebook in August 2018 and Twitter the following month for repeatedly violating each company's policies against online hate speech.
According to Twitter's hateful conduct policy, the company prohibits content that makes violent threats against an identifiable target. Twitter did not respond to a request for comment from Newsweek at the time of reporting.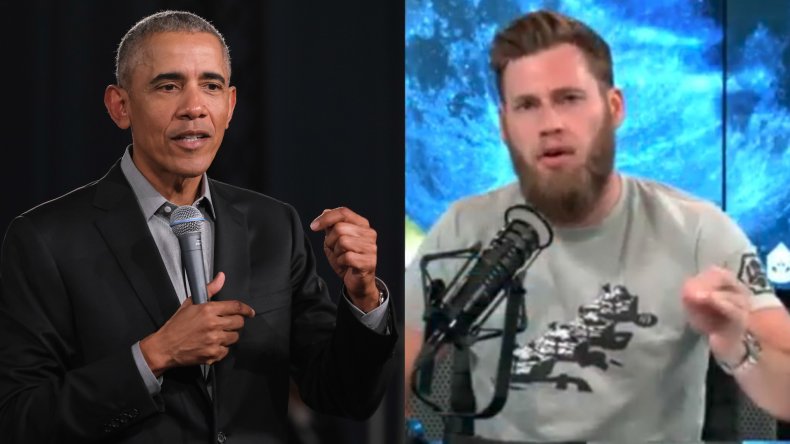 Both Shroyer and Jones were sued for defamation by the parents of two children killed during the 2012 Sandy Hook school massacre after they claimed on InfoWars the mass shooting was a "false flag" event intended to push public opinion towards increased gun control. Shroyer was named in the suit for suggesting that one of the parents, Neil Heslin, lied about having held his dead son in his arms.
On Monday the lawyers representing the families in the lawsuit said that Alex Jones sent them documents containing child pornography. Earlier this year Connecticut Superior Court Judge Barbara Bellis ordered Jones to turn over InfoWars documents. Consultants for the law firm representing the family, Koskoff, Koskoff & Bieder, claim they discovered child porn among the documents, leading them to notify federal authorities.
A filing stated: "During that process, the consultants identified an image that appeared to be child pornography. They immediately contacted counsel, who immediately contacted the FBI. The FBI directed counsel to give control of the entire document production to the FBI, which was done. The FBI advised counsel that its review located numerous additional illegal images, which had apparently been sent to InfoWars email addresses.
"When the FBI indicated it had completed its review, plaintiffs' counsel advised Attorney Pattis of the matter and arranged a joint telephone call with the United States Attorney's Office," the remarks continued. "It is worth noting that if the Jones Defendants had engaged in even minimal due diligence and actually reviewed the materials before production, they would have found the images themselves. Because the Jones Defendants did not do that, they transmitted images to the plaintiffs that if they were knowingly possessed is a serious federal crime."
The court filing comes after Norm Pattis, the lawyer representing Jones, said on Friday that child porn had been planted on InfoWars' servers.