Alex Jones Says Being Transgender Is Like Calling Oneself a 'Giraffe With Purple Spots'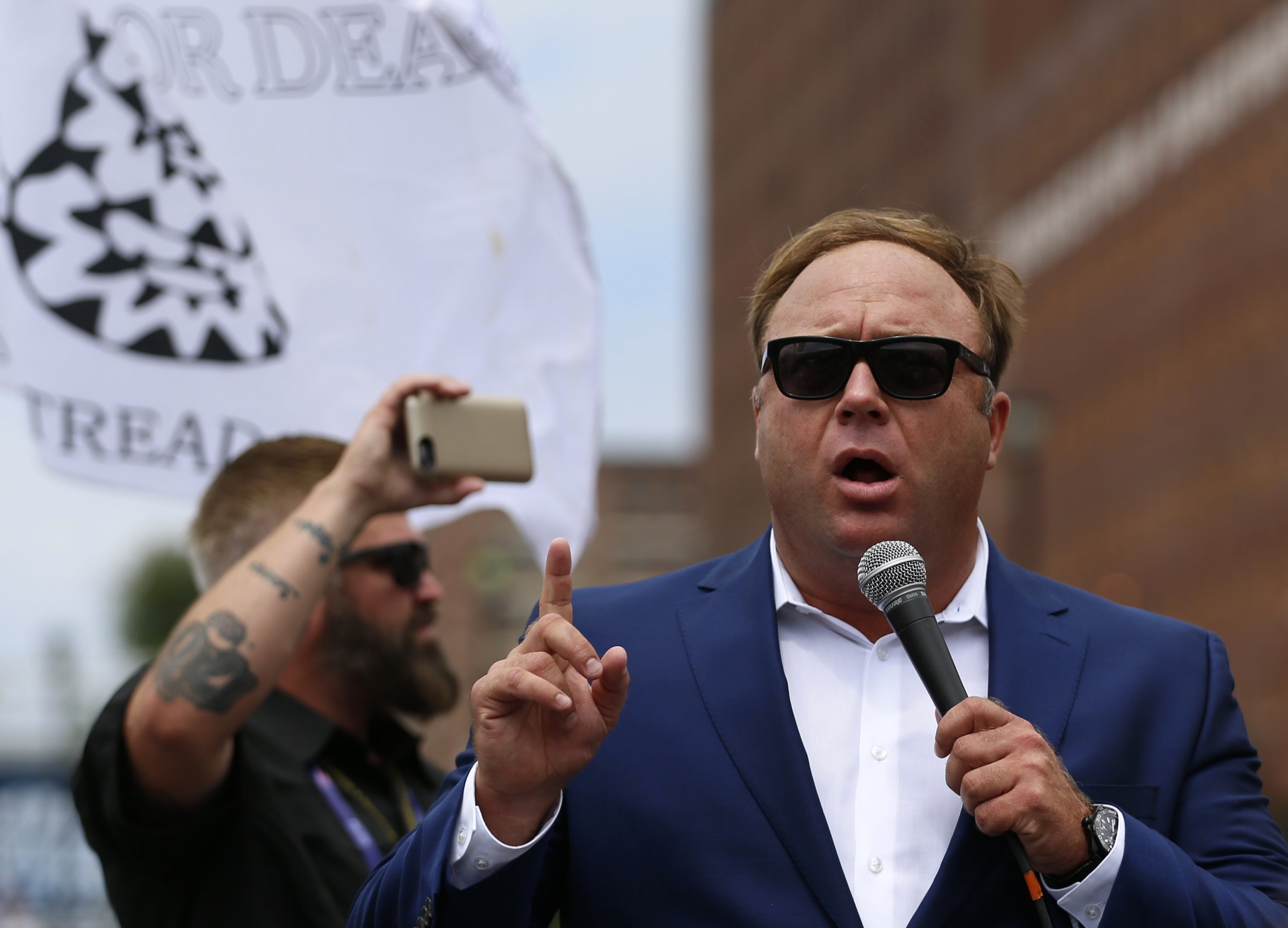 Conservative provocateur Alex Jones said Wednesday that when a person identifies as transgender, it is like calling oneself a giant, colorful giraffe. Jones also likened transgender identity to mental illness.
Claiming that his main objection to transgender issues is the use of taxpayer money to pay for transition surgeries, InfoWars host Jones apparently was discussing the recent story of a transgender man named Trystan Reese who gave birth to a boy weeks ago. The Washington Post reported on the birth Wednesday.
The story quickly garnered national attention and drew fire from transgender critics like Jones and conservative outlets like The Weekly Standard, which offered a sarcastic take on the Post story.
"Why right here, he said that a man that had a baby wasn't a man," Jones said, according to Media Matters. "Because it said it was a woman that thought she was a man that then got pregnant. She's a woman! You don't put a blue bow on a whale that's a male and say it's a female. You don't look at a male walrus and say it's a female, or vice versa. You don't have a female walrus saying she's a male."
Jones went on: "I mean this is mental illness, but then they sit there and look at it and they say, 'No you're crazy. Look how crazy Jones is, he said this woman that thought she was a man had a baby,' but they said this man did have a baby. This man is a—was a woman that identifies as a man. It's like magic talk."
LGBT issues were thrust back into the national spotlight following President Donald Trump's unexpected ban on transgender people serving in the U.S. military. On July 26, the president stated in a three-tweet chain: "Our military must be focused on decisive overwhelming victory and cannot be burdened with the tremendous medical costs and disruption that transgender in the military would entail."
Jones, who is a supporter of Trump's and had him as a guest on InfoWars during the presidential campaign, also likened transgender identity to other animals and mythical creatures.
"'I'm a 20-foot giraffe with purple spots, and when I go to the bathroom, Lucky Charms come out, golden rainbows," Jones said. "I'm a 50-foot red, purple, striped giraffe, and when I go to the bathroom, I give birth to leprechauns. And if you don't agree to that, you're insane, you're crazy, because I control things. I'm magical.'"