Infrastructure Bill Live Updates: Democrats Return to Capitol for Showdown Over Multi-trillion Dollar Funding Packages
Live updates for this blog have now ended.
Please head to the Newsweek website for all the latest news.
Former Secretary of State Colin Powell dies from 'COVID complications'
The General, 84, has died from complications as a result of contracting the virus.
"General Colin L. Powell, former U.S. Secretary of State and Chairman of the Joint Chiefs of Staff, passed away this morning due to complications from COVID-19," the Powell family wrote on Facebook.
"We have lost a remarkable and loving husband, father, grandfather, and a great American," they said, noting he was fully vaccinated.
FULL STORY: Colin Powell Dies From COVID Complications, Was Fully Vaccinated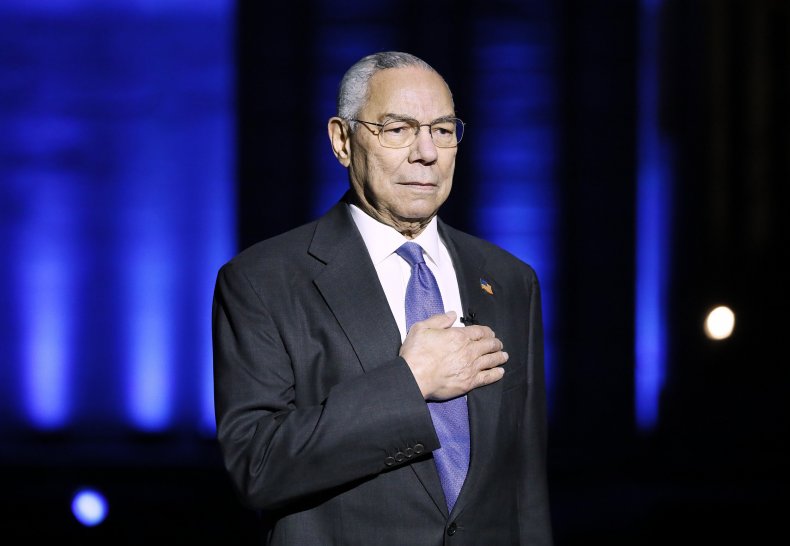 What other difficult decisions will Democrats face in the coming weeks?
Biden signed a short-term spending bill into law on September 30 to keep the federal government funded until December 3 - the new deadline for
Congress
to pass another funding bill that threatens a government shutdown.
The bill would require lifting the debt ceiling - a limit on the amount the federal government is permitted to borrow default - but Republicans are refusing to help and insist it is the "sole responsibility" of Democrats to push the measure through.
Tomorrow, a Democratic-controlled House select committee investigating the events of January 6 will vote on charges of criminal contempt against Trump's former top man Steve Bannon for defying a congressional subpoena - another source of controversy on an unsteady Capitol Hill.
'The tragedy is breathtaking': Biden delegate's say on Build Back Better climate plans sinking
Lindy Li, a progressive Democratic delegate in Pennsylvania, crunched the number on coal mines in moderate Joe Machin's state - West Virginia.
The tweet has been retweeted and likes over 15,000 times, shared widely among Biden supporters who want to see climate changes passed.
What are the main issues Democrats are fighting about?
While the majority of congressional Democrats agree on the need for a multi-trillion-dollar funding package to revive the U.S. economy and improve social security after the COVID pandemic, progressives and moderates still need to iron out sticking points in the larger package.
The main sticking point at the moment is funding to fight climate change, namely the $150 billion Clean Energy Performance Program which would pay utility companies that switch from fossil fuels to renewables and fine those that don't.
Another is the promise of health care expansion and limits on the price of prescription drugs. The bill, as proposed, will add vision, hearing, and dental benefits to original Medicare and include the ability for Medicare to negotiate drug prices, which are often criticized for being overinflated.
MORE: What Could Be Trimmed From Massive Social Safety Net Expansion Plan
Bernie Sanders insists there is not a divide among Democrats
The progressive leader and Representative Pramila Jayapal have insisted there is not a divide between moderate Democrats and progressives in Congress - pointing out that the vast majority of Democratic lawmakers support Biden's radical version of the Build Back Better plan.
If you have a caucus which is divided—you've got 25 people who want to do one thing, 25 people who want to do the other thing—you know what you do? You compromise.
Sanders said that "when you've got 48 people who want to do something and two who don't," then "it is not a 50-50 compromise".
FULL STORY: Bernie Sanders, Pramila Jayapal Insist There's No Divide Between Progressives, Moderates
'America has a better shot': Biden argues against complacency and for government intervention
The president's message to legislators and voters signals support for using big government to solve much of the crises the U.S. finds itself in after the COVID pandemic.
Biden will be hoping that his Democratic colleagues can find a solution to the impasse around the $3.5 trillion reconciliation bill - namely on climate change - before October 31 deadline is hit and leaves his political strategy out in the cold.
AOC lashes out at moderate Democratic colleague amid funding row
The progressive New York City representative took a swipe at moderate Arizona senator Kyrsten Sinema over sources of campaign funding, suggesting she "put corporate lobbyists over people" to secure financial support.
Figures Ocasio-Cortez retweeted, from the People for Bernie campaign, show that she was able to gain more funding through small donations by supporters.
The aggressive tweet signals a deep rift within the Congressional party - particularly over climate change measures.
Personal feuds between moderate and progressive Democrats go public
West Virginia's Joe Manchin reportedly told the White House on Friday he is strongly opposed to a clean electricity program that is central to the package's climate funding. He is set to win the battle and have it withdrawn from plans entirely, the New York Times reports.
Another opponent of the most radical elements of the bill is Arizona's Kyrsten Sinema, who last week threatened to vote against it unless the $1.2 trillion bipartisan infrastructure bill was passed beforehand.
The moves prompted sharp criticism from the pair's progressive colleagues, who accused Sinema of "putting corporate lobbyists before people" and suggested moderates are "allowing the planet to burn".
Biden looks on as Democrats scrap over final cost of his Build Back Better plan
Congressional Democrats will spend the next 10 legislative days struggling to unify their fractured caucus behind the $3.5 trillion reconciliation bill - the most expensive and most crucial part of President Joe Biden's 'Build Back Better' agenda.
But rows over which projects and causes should receive the most money - and how much to spend overall - are threatening to derail the plan and cause significant damage to the White House's political strategy ahead of the mid-terms.
Biden has hinted that he expects the bill to shrink to around $2 trillion in total - something progressives see as a cut too deep compared to the original plans.
FULL STORY: Window Closing for Democrats to Clinch Biden's Agenda as Congress Returns
Good morning and welcome to Newsweek's liveblog
Lawmakers will begin returning to Capitol Hill later this morning ahead of a series of major debates about multi-trillion-dollar funding packages and debt ceilings that could see a government shutdown just before Christmas.
Follow Newsweek's liveblog throughout Monday for all the latest.