Infrastructure Funding Expected to Help Tribal Communities Gain More Clean Water
Funding from the infrastructure law enacted last month is expected to help tribal communities gain more clean water.
The law contains $3.5 billion for the federal Indian Health Service, which provides health care to over 2 million Native Americans and Alaska Natives. There is also money from other federal agencies for water projects.
Approximately 3,300 homes in over 30 rural Alaska communities don't possess indoor plumbing, a 2020 report showed. On the Navajo Nation, the biggest Native American reservation, around 33 percent of 175,000 residents lack running water.
In these communities, residents must carry water, sometimes driving to communal water stations, to use for basic tasks, like washing and cooking. Many use outhouses or lined pails called "honey buckets" that are taken outside to empty instead of indoor bathrooms. Some shower and do laundry at community places called "washeterias," but the machines can have expensive fees and be undependable.
Many tribal communities possess indoor plumbing but have insufficient facilities and old pipe systems.
"You look at two billionaires competing to fly into outer space, yet we're trying to get basic necessities in villages of interior Alaska," PJ Simon, a former chairman of an Alaska Native nonprofit corporation called the Tanana Chiefs Conference, said.
Tribal leaders said the funding is welcome but it won't rectify decades of neglect from the U.S. government, which is responsible for securing clean water access to tribes under treaties and other acts. The Indian Health Service has a list of sanitation issues with over 1,500 projects, such as wells, septic systems, water storage tanks, and pipelines. Some projects would fix uranium and arsenic-contaminated water.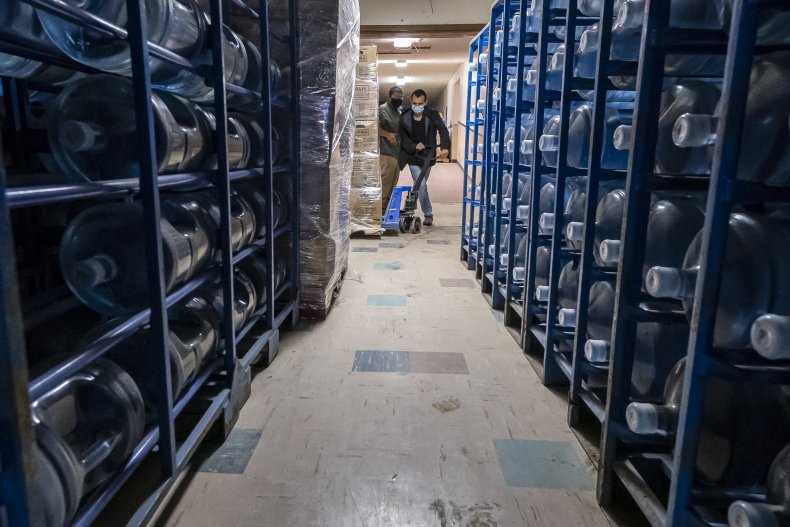 The coronavirus pandemic, which disproportionately hit Indian Country, further underscored the stark disparities in access to running water and sewage systems.
In Warm Springs, the water crisis has overlapped with COVID-19.
"During a worldwide pandemic, we've had a boil-water notice. How are we supposed to wash our hands? How are we supposed to sanitize our homes to disinfect, to keep our community members safe? How can we do that ... when our water isn't even clean?" said Dorothea Thurby, who oversees the distribution of free water to tribal members and food boxes to those who are quarantined.
A 2019 report by a pair of nonprofit groups, U.S. Water Alliance and Dig Deep, found Native American homes are 19 times more likely than white households to lack full plumbing. And federal officials note tribal members without indoor toilets or running water are at increased risk of respiratory tract, skin, and gastrointestinal infections.
On the Navajo Nation, Eloise Sullivan uses an outhouse and often drives before dawn to beat the crowd at a water-filling station near the Arizona-Utah border to get water for the five people in her household. They use about 850 gallons (3,200 liters) a week, she estimated.
Sullivan, 56, doesn't mind hauling water, but "for the younger generation, it's like, 'Do we have to do that?'"
"It's kind of like a big issue for them," she said.
She once asked local officials what it would cost to run a water line from the closest source about 2 miles (3.2 kilometers) away. She said she was told $25,000 and never pursued it.
Libby Washburn, special assistant to President Joe Biden on Native American affairs, recently told tribes the infrastructure bill included enough money to complete all the projects on the Indian Health Service list. The agency said it's consulting with tribes and won't make allocation decisions before that process is over.
Until now, tribes and outside organizations have worked to address needs with their own funding, donations, or federal money, including pandemic relief.
"If you live without running water, you understand the importance and the connection you have with it, deep down as a person, as a human being," said Burrell Jones, who sets up water systems and delivers water around Dilkon, Arizona, with Dig Deep's Navajo Water Project. "You can't exist without water."
In Oregon, tribal officials have handed out about 3 million gallons (11 million liters) of water — almost all of it donated — from a decommissioned elementary school on the reservation. A steady stream of residents pick up a combined 600 gallons (2,270 liters) of water a day from the building. Former classrooms overflow with 5-gallon (19-liter) containers and cases of bottled water.
"The infrastructure bill brought joy to my heart because now it gives me hope — hope that it's going to be repaired," said Dan Martinez, the tribes' emergency manager, who expects to receive federal funds to replace underground pipes and address the 40-year-old treatment plant.
"If you came to work one day and someone said, 'Hey, you need to go and find water for a community of 6,000 people.' ... I mean, where do you start?'"
The money won't provide immediate relief. Funding to the Indian Health Service is supposed to be distributed over five years. There is no deadline for its use, and projects will take time to complete once started. The money won't cover operation and maintenance of the systems, a point tribes have criticized.
The Associated Press contributed to this report.