Infrastructure Funds Can Transform Lonely Places into Convivial Cities | Opinion
In the 1958 Academy award-winning film Mon Oncle, Monsieur Hulot lives in an "older" Parisian quarter filled with the organized chaos of fishmongers, vegetable stands and flower vendors. Bands of children and small dogs run in dusty streets. Neighbors gab and squabble in cafés and on tree-lined sidewalks. By contrast, Hulot's brother lives in a modern neighborhood of honking cars, high rises and geometric gated homes filled with the latest "time-saving" machines; their constant beeping, buzzing and squeaking is the only sound the audience hears. Hulot's 9-year-old nephew, Gérard, prefers his uncle's convivial neighborhood to the isolating modern one, setting the stage for the brotherly conflict of the comedy.
Hulot's nephew was on to something. A growing chorus of social scientists, psychologists, neuroscientists and even economists contends that neighborhoods with high-quality social connections are essential to public health, democratic legitimacy and inclusive economies. Unfortunately, many residents now find themselves living in neighborhoods designed for efficient movement and consumption, not for human connections.
Leaders in Washington must pass an infrastructure bill that empowers mayors to reimagine our neighborhoods for conviviality. To do so, they first have to understand how our neighborhoods became so lonely.
Decades before Mon Oncle's release, the famed Swiss-French architect Le Corbusier, who believed that "a house is a machine for living in," issued a proposal to level the Jewish Marais district in downtown Paris, ironically called the Plan Voisin (the Neighborly Plan), and in its place build 18 identical cruciform glass towers. His plan failed, but across the Atlantic, New York City urban planner Robert Moses succeeded in using centralized power to enact a similar vision. Under his direction, the city demolished and divided established neighborhoods, especially black communities, and replaced them with high rises, motorways and impersonal public housing.
Moses' strongest opposition came when he proposed the Lower Manhattan Expressway, a 10-lane elevated highway that would divide SoHo and Little Italy, destroy Washington Park and displace small businesses and families. His famous opponent Jane Jacobs, a mother and resident of the West Village, used data, stories and community organizing to promote and preserve the "humane" and "organic" virtues of these older neighborhoods designed for human-scale interactions and connections. But although Jacobs won the battle, the technocratic planners won the war of mid-century urban planning in many American cities.
As a result, many neighborhoods today lack what social scientist Eric Klinenberg calls "social infrastructure," the "set of physical places and organizations that shapes our interactions, helps build relationships, and turns community from a vague, fuzzy concept into a lived experience." When we neglect these places, we become isolated and are "left to fend for ourselves." Many experts believe we face a tidal wave of loneliness—a documented source of social distrust, polarization and political violence. Closing down restaurants, bars and places of worship to fight COVID-19 may have exacerbated our alienation.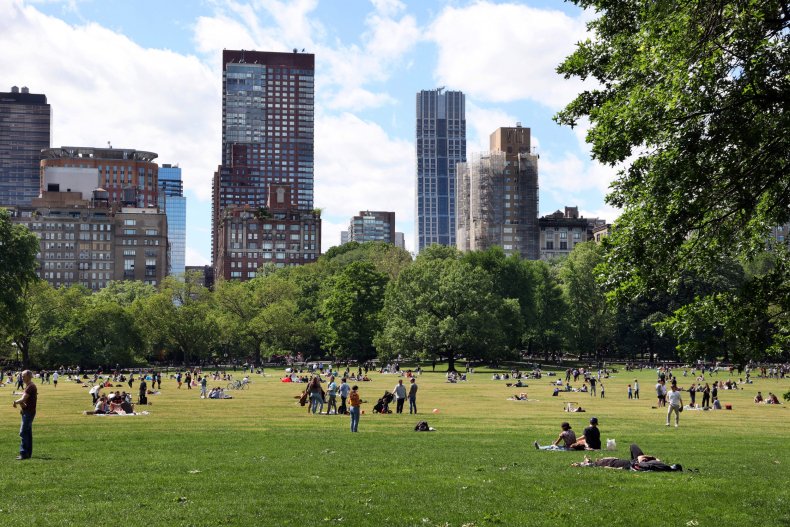 If an infrastructure bill passes Congress, another tidal wave will be coming— billions of dollars in federal funds. These funds will bring risk as well as opportunity. The risk: local leaders may lack the capabilities to build for conviviality and end up reinforcing the top-down, inhuman infrastructure model that has divided and alienated communities in the past. The opportunity: innovative local leaders could use these funds, paired with private investment, to restore the "social infrastructure" of their communities, build relational bridges across differences and disrupt the "distrust doom loop."
In his work A Pattern Language, architect and urban planner Christopher Alexander researched more than 250 cross-cultural patterns of building and urban design that lead to human flourishing. In particular, three of those patterns can help us rebuild our infrastructure for conviviality.
First, give voice and power to all neighborhoods to design their future. In Oklahoma City, Mayor David Holt led an inclusive approach to allocate $978 million for projects, including funds for neighborhood parks, playgrounds, community stages, sidewalks, bike lanes, public transit, community centers and a museum honoring civil rights leader Clara Luper. According to local journalist Steve Lackmeyer, the resident-driven project selection process marked "a healing of rifts that nagged the city for years."
Second, intersperse parks, public squares and promenades throughout the city to provide accessible, comfortable places for sociability. In Houston, community leaders worked with the city to transform abandoned lots into pocket parks. Neighbors could walk and bike to these locations, making it easier to create bonds and connections. Researchers have found proximity to nature directly correlates to improved individual and community well being.
Third, give neighborhoods power and resources to create public beauty that inspires a sense of belonging to somewhere special. In Philadelphia, city leaders worked with local artists to launch the Porch Light project to strengthen community well being by giving opportunities for those suffering from mental health challenges to paint beautiful murals throughout their neighborhoods. The Yale School of Medicine conducted rigorous, community-based research in Porch Light communities and found the public beauty initiative not only improved the neighborhood's aesthetic quality, but also increased trust and social cohesion.
We find purpose and meaning by caring for people and places. For all our residents to flourish, we of course need our neighborhoods to be efficient, clean and materially prosperous. More important, we need our neighborhoods to inspire people to actively care for them and their neighbors. As we emerge from COVID-19 and anticipate the passing of an infrastructure plan, we must prepare to rebuild our lonely places into convivial cities.
Ron Ivey is the founder of Rembrandt Collective and a Fellow at the Centre for Public Impact. Dan Vogel is the North America Director of the Centre for Public Impact. Ron Ivey and Dan Vogel are co-authors of Built for All: A Global Framework for Building Inclusive Economies.
The views expressed in this article are the writer's own.