New York to Chicago by train in under five hours.
It's not science fiction, but old-school tunneling—a critical, yet oddly ignored, part of President Donald Trump's forthcoming infrastructure plan that supporters say will cost the federal government virtually nothing, but experts say the proposal's deregulation approach amounts to a handout to Big Business.
The plan calls for creating new high-speed rail lines deep underground—the basic idea behind the English Channel tunnel, or Chunnel, that whisks travelers at 186 miles per hour from London to Paris in just two hours and 20 minutes. That's less time than the Amtrak from New York City to Washington, D.C.—even though the two U.S. cities are 40 miles closer.
Tunneling "is so superior and quick that you can do this relatively cost-efficiently and most importantly you can do it without a dollar of government funding," Trump's chief economic adviser Gary Cohn said at a forum sponsored by Axios in December. "The funding to do this in the private sector is there. We just need to deliver them the access and rights-of-way underground."
When asked to clarify, Cohn compared the process to selling mining rights. "People own mineral rights down, and they own property rights. We think those are very solvable issues."
But Cohn's casual talk of "access and rights-of-way" and "solvable issues" masks a far-more-complicated strategy that involves more than just digging.
The government can take privately held land under its power of eminent domain—as long as the land is used for a public benefit, like a road, hospital or even an economic development project. But eminent domain is controversial; many on the right consider it a government overreach, and many on the left say it benefits private corporations at the expense of the public.
It's also not free, as Cohn suggested. Private landowners must be reimbursed at a fair market value—though the value of property rights deep underground is unclear. That would be a matter for the courts.
Even if tunneling rights can be obtained cheaply, overseeing that process on behalf of private industry represents "an enormous contribution from the public sector," said Robert Puentes, president and CEO of the Eno Center for Transportation.
And there's no evidence to support Cohn's assertion that tunneling 70 feet down will be easy.
"You've got to get 70 feet underground through vertical access tunnels," said C. William Ibbs, head of the Construction Management program at University of California, Berkeley. "The question is where are you going to put the ports to get the tunneling machine and other utilities underground. Where you locate the ports may have to be on private land, you're going to have to get owner permission. If it's on government land, you're going to have to apply for permits. Access is always a problem during tunneling work."
A large part of Trump's infrastructure plan calls for deregulation that Republicans believe will get rid of government "red tape."
"The biggest single thing we can do for infrastructure in this country is we can shorten and improve the approval process," said Cohn. "We can streamline the approval process from years to weeks and months."
It's true that California's proposed underground high-speed rail system has been hindered for years by land acquisition issues, but experts say the challenges to rail continue long after the track is laid. Sustained government funding will be necessary.
"Most rail systems in the U.S. do not operate on a break-even basis," said Ibbs.
It's also unclear "how it will be funded and financed," added Puentes.
"We keep hearing about private money but there are no free projects and we don't know how these private companies will generate profits for their shareholders," he said.
White House spokesperson Lindsay Walters declined to give specifics, saying only, "Part of the president's infrastructure plan is dedicated to investing in bold new transformative projects that will change America's approach to infrastructure."
Trump has made cutting corporate regulations a keystone issue in his presidency. According to the White House, there have been 22 regulations eliminated for every new one—and the president says the economy is responding.
"You see the results, when you look at the stock market, the results of companies, and when you see companies coming back into our country," Trump said on December 14.
Deregulation can give a short-term boost to companies and shareholders, but ending rules intended to protect the environment or workers could lead to health and safety hazards down the line.
Trump, for example, has repealed a rule that required infrastructure projects using federal funding to withstand flooding or other impacts of climate change.
"An emphasis on deregulation can contribute to enormous economic dislocation, and this review of the studies of regulations in place finds little evidence of significant negative effects on employment," said Isaac Shapiro and John Irons in an Economic Policy Institute study.
Critics argue that some deregulation takes power away from voters and gives it to large corporations that are driven by their bottom lines—something that is more like "an oligarchy than a democracy," former President Jimmy Carter said in September.
The red tape and bottlenecks surrounding large-scale infrastructure project can be overwhelming. But it remains to be seen if this plan will ease them in a safe and thoughtful way or if it will be a handout to corporations that relies on a disproven trickle down effect.
It's worth nothing that Trump has a long history of using eminent domain to develop his own properties. He got officials in New Jersey to boot small businesses and families from land he wished to use to develop his Atlantic City hotels and casinos in the late 1990s.
"Cities have the right to condemn for the good of the city," he said at the time. "Everybody coming into Atlantic City sees this terrible house instead of staring at beautiful fountains and beautiful other things that would be good."
In April, Cohn spoke of tunneling in relation to Elon Musk's Hyperloop and Boring company, saying during a town hall meeting that he was soliciting Musk for information and ideas on how to bring high-speed rail to America. There Cohn told the crowd that Musk said he could "solve the problem" of fast railroads by "tunneling the whole way."
Musk believes that these tunnels will eventually used for Hyperloop, his high-speed travel concept that transits people and cargo in pods through an system of giant vacuum tubes.
Hyperloop spokesman Sam Teller told Newsweek that his company is "not seeking any government funding." He declined to comment on whether Musk or other company officials had met with the Trump administration.
Musk once sat on two White House advisory committees, but left them both this summer in protest of Trump dropping out of the Paris climate change treaty. But Musk has since spoken in favor of the president's plans to send Americans to the moon and Mars—other huge proposals that would be a boon to private industry.
In July, Musk announced on Twitter that he had received verbal approval from the government to begin building a tunnel for Hyperloop between Washington, D.C. and New York, but that announcement was premature, said Reed Cordish, who advises the White House on tech policy—though federal officials were on board.
"We'll all work together for actual government approval," Cordish told Axios.
But experts believe that Musk's plans are fundamentally flawed and that he will eventually need assistance.
"I was asked to look at Elon Musk's plan for high-speed rail from Northern to Southern California and he was claiming he could do it so inexpensively that the ticket cost was going to be $20 each way, but he was only considering construction costs not operational costs. He wasn't including utilities and maintenance and labor and I'm not sure if that was deliberate or inadvertent," said Ibbs.
"Tunneling very expensive process. You could build something for $1 above ground and it would cost $5 or $10 to build underground. It also takes much longer."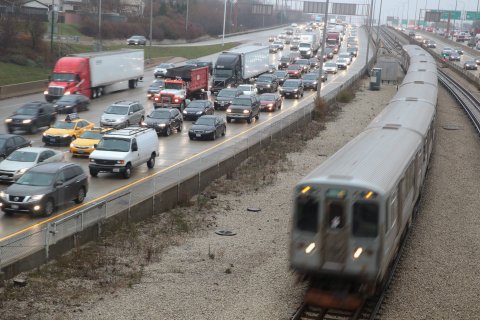 Still, by taking care of permitting and eminent domain issues, the federal government could make the building process faster and cheaper for Musk or any other company.
But the government won't be able to earmark money just for Musk, says Puentes.
"It's a lot more complex than the president thinks it is," he said. "It doesn't help so much to have these wild proclamations, it's time to stop focusing on moonshots and instead focus on what needs to be done to save our country's infrastructure."
Still, high-speed rail has been available for years in Europe and Asia and is built there at relatively low cost. President Barack Obama wanted the same, but encountered opposition from local officials and did not resort to the use of eminent domain.
Barring that kind of land appropriation, there is little federal officials can do in the United States, which lacks the kind of central political authority of small European nations or China.
Other countries are also able to build their railroads in a more cost-efficient manner, while the average unit price of high-speed rail in Europe is between $17 and $24 million per mile, the estimated cost for high-speed rail in California is about $35 million per mile. The cost difference is due to lower ridership as well as the far wider suburban sprawl on the landscape itself.
But Trump apparently thinks he can tunnel under all those problems.