Infrastructure Vote Delay Will Leave 3,700 Federal Transportation Workers Furloughed
The House's delayed vote on the bipartisan infrastructure bill will leave 3,700 federal transportation workers furloughed, the Department of Transportation confirmed on Friday.
An earlier contingency plan released by the agency this week had put the estimate at nearly 2,600 Federal Highway Administration workers and hundreds of federal employees will be placed on temporary leave after highway funding lapsed on Friday.
House Speaker Nancy Pelosi pulled a vote on the $1.2 trillion bill, which would have reauthorized key transportation programs and devote $110 billion for roads, bridges and other projects, on Thursday.
The proposed funding would represent a nearly 50 percent increase over the roughly $46 billion that the federal government typically spends on highways each year. It would also provide the most funding to Amtrak since the rail service was founded in 1971.
Since the Federal Highway Administration relies on Congress to authorize a trust fund to pay for its operations, the fund's expiration date of Thursday means road-building projects could grind to a halt.
Transportation officials have warned that while a temporary lapse in federal funding would have little impact on operations, a prolonged shutdown could cause greater delays for construction projects.
Pelosi vowed there would be a vote on Friday.
During a lapse, all federal-aid highway programs would cease and state funding would no longer be available starting October 1, according to the Department of Transportation's plan.
"Congress needs to pass both the surface transportation reauthorization bill and the reconciliation bill immediately," Transport Workers Union (TWU) President John Samuelsen told Newsweek. "This funding is absolutely vital to the future of transportation in this country, and after everything that essential workers have been through, Congress can't keep playing games with our livelihoods."
The Department of Transportation has said it is "continuing to work closely with Congress to swiftly reauthorize surface transportation programs."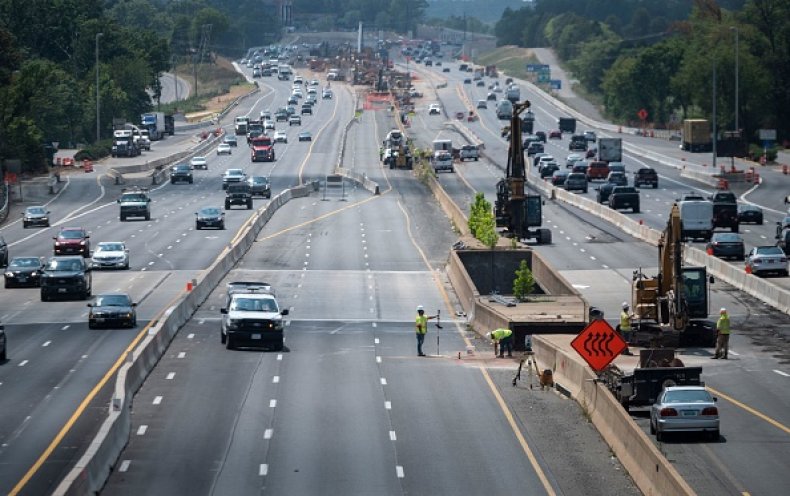 The Highway Trust Fund briefly lapsed in early 2010 after Republican Senator Jim Bunning objected to a $10 billion spending package and caused then-Transportation Secretary Ray LaHood to furlough 2,000 federal employees.
On Wednesday, House Transportation and Infrastructure Committee Chairman Peter DeFazio said lawmakers would pass a short-term extension on the agency's funding if the infrastructure vote failed, although it is unclear if lawmakers will do so pending Friday's vote.
"The reality today before us is this [infrastructure bill] is the only option with an evenly divided Senate and the stupid rules of the Senate, including the filibuster," DeFazio said on Monday. "It's this or nothing on the long-overdue investment in America's infrastructure."
Short extensions have been used as an option in the past. In 2014 and 2015, Congress passed five short-term extensions lasting for as little as a week or two before a five-year bill running through to September 30, 2020, passed.
Last year, lawmakers extended it another year to Thursday's deadline.
Representative Pramila Jayapal has argued that Congress could easily extend transportation funding, calling the September 30 deadline a "fake cliff."
Update 10/01/21 11:53 a.m. This story and its headline were updated to reflect a higher number of furloughed employees.