"Infrastructure Week" Symbol of Trump's Many Problems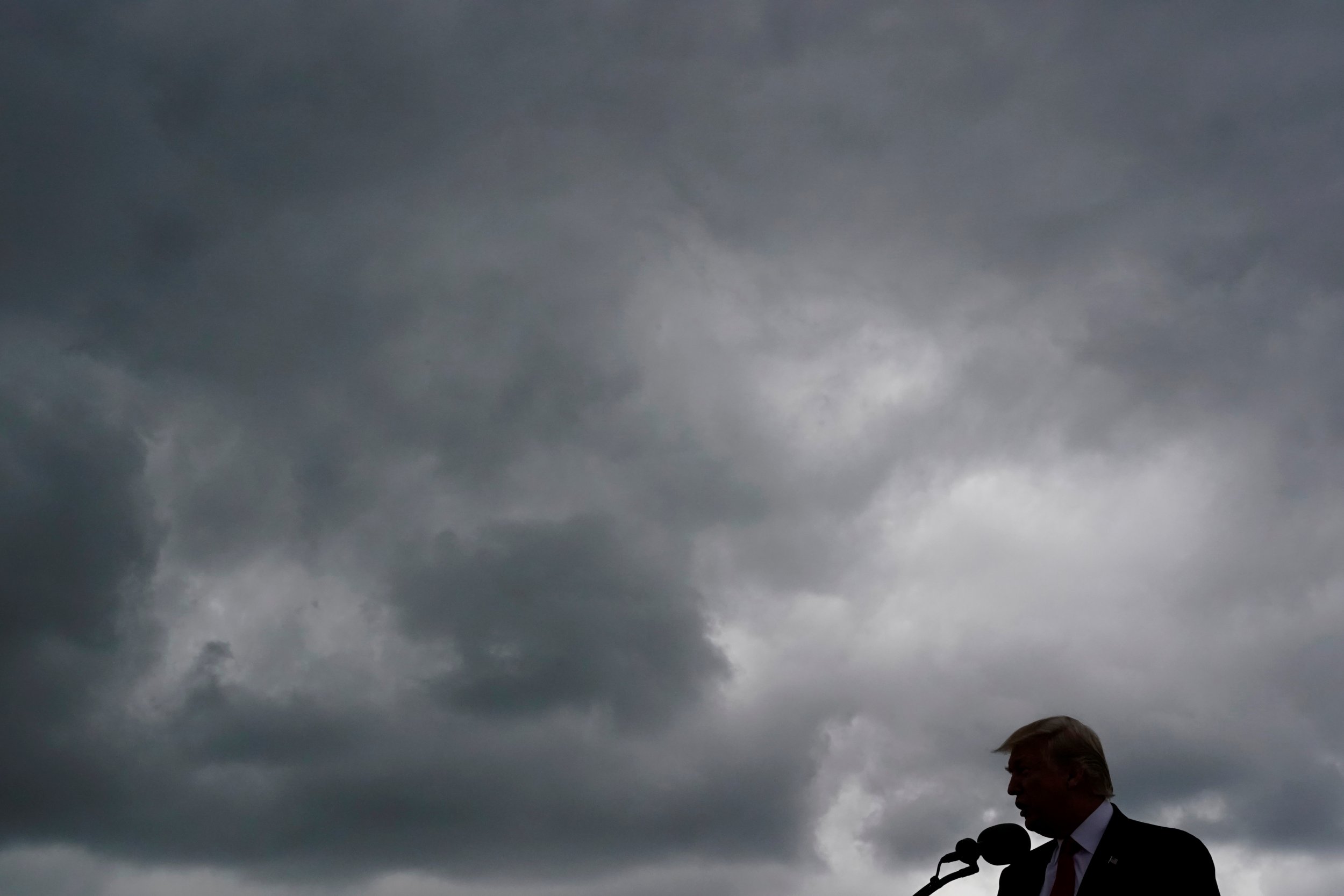 Infrastructure Week is over. Long live Infrastructure Week.
Future historians of the presidency of Donald J. Trump could easily use this week as a perfect illustration of the competing forces buffeting his presidency and of the challenges he continues to face — in large part after having created them himself.
Infrastructure Week — which, as you may have heard, was dominated by news not involving the challenges of civil engineering — is also a perfect example of Trump's squandered chance to work with Democrats he'd previously alienated.
Infrastructure repair was, after all, the narrow cliff perch to which liberals clung after Trump was elected president. They opposed him on health care, immigration, everything down to the decor of the Oval Office. But repairing the aging bones of the nation? And investing a trillion dollars in the effort? Why, that would play in blue America even better than it played in red.
Maybe that was the problem. A huge federal investment in infrastructure was never going to be popular in a Congress led by House Speaker Paul D. Ryan and Senate Majority Leader Mitch McConnell, who'd spent years promising the repeal of the Affordable Care Act and a tax cut package. At the same time, White House Chief Strategist and ultranationalist Stephen K. Bannon understood that Trump's far-right base would be more animated by honored promises of the campaign trail, including a ban on Muslim immigration (attempted twice, halted by the courts twice), a withdrawal from the Paris climate accord (done) and the repeal of as many federal regulations as possible with the single stroke of a pen in the Oval Office (done, too, though to questionable effect).
And so we arrived at Infrastructure Week with Trump's popularity at a historic low and a growing number of Democrats calling for his impeachment.
As for the plan itself? Well, there wasn't much of one, certainly not the kind of collective national effort Trump had envisioned on the campaign trail. On Tuesday there was, as Noah Bierman of the Los Angeles Times pithily deemed it, "a minimally detailed plan in Trump's budget to transfer control of the nation's air traffic control system to a private nonprofit group." Later in the week, during a speech in Cincinnati, he signaled that there would be a $200 billion investment to give America "the best, fastest and most reliable infrastructure anywhere in the world."
And that was it. Danielle Kurtzleben of NPR noted, "there's still not a detailed plan, nothing has been introduced in Congress and answers to some big questions remain elusive." After months of campaign promises and nearly six months into his presidential term, during a week the White House ostensibly devoted to infrastructure, Trump still had close to nothing.
Maybe he was distracted. There were the unseemly tweets over the weekend about the terror attack in London, as well as tweets about his own Department of Justice. Tweets about the media. Tweets, tweets, tweets. It was a now-infamous tweet from May 12 that suggested he'd taped his conversations with fired FBI Director James B. Comey that led Comey to leak his memoranda of conversations with Trump to the press. The fallout included Comey testifying on Thursday in front of the Senate Intelligence Committee, in a riveting episode some compared to the Watergate hearings.
Infrastructure Week was trumped by Comey Day.
Infrastructure Week also was a wonderfully wonky name, like something dreamed up by Michael Scott of The Office fame. But serious discussions of infrastructure stand little chance in a White House that's in the thrall of a chief executive who leads others through chaos and is himself plainly governed by egomania and paranoia. Instead of sober policy proposals, there are denunciations, screeds and complaints.
Infrastructure Week thus became a Twitter joke, yet another Trumpian meme.
In another version of the White House, Trump summons congressional leaders from both parties to the Oval Office the minute his inauguration festivities are concluded. He tells them they can't leave until they've hashed out the details of his promised $1 trillion infrastructure plan, one that can can pass both houses of Congress. He intends to introduce that plan on his first Monday on the job as a sign that he is the nonideological, business-minded leader Americans presumably wanted.
That didn't happen, of course. So we had Infrastructure Week.