Laura Ingraham 'Bullied' Closeted Gay Students at Dartmouth More Than 30 Years Ago, Former Classmates Say
Fox News host Laura Ingraham has not "changed her stripes" in the more than 30 years since she almost outed some closeted gay students at her alma mater of Dartmouth College, a former classmate of Ingraham's told Newsweek.
Long before Ingraham was publicly shaming a survivor of the Parkland, Florida, school shooting as the host of The Ingraham Angle, she was the editor of a conservative newspaper at Dartmouth in the mid-1980s that secretly recorded a meeting of closeted students who were seeking support from the school's small Gay Student Association (GSA)—and then released a transcript of the meeting.
"It was a profound form of bullying," said Jay Berkow, who was a leader in the student club and is now a professor of music theater performance at Western Michigan University.
The decades-old story of Ingraham vs. Dartmouth's gay student community resurfaced after she was accused of trolling or bullying high schooler and mass shooting survivor turned activist David Hogg.
In April 1984, Berkow, along with fellow GSA officer Jeff Sidell and other members, were asked by closeted students to form a support group where they could talk about their sexuality and coming out. They published a classified ad alerting the public to the meeting, which Berkow said was modeled after a "12-step program" with absolute secrecy. What was said in the room was supposed to stay in the room.
At the time, Ingraham headed up The Dartmouth Review, a conservative student newspaper. She reportedly sent fellow student Teresa Polenz to cover the meeting. Polenz went and, according to Berkow and Sidell, claimed she had been "questioning her sexuality."
But Polenz was actually recording the meeting for a report for the Review. She stayed at the meeting for either an hour or half an hour—Berkow was not sure how long—left and then came back. Afterward, Berkow, Sidell and others said they felt "suspicious" about Polenz.
They then went to her dorm room to confront her and Polenz confirmed she had recorded the meeting. They asked for the recording but were denied. Polenz did not respond to Newsweek's request for comment.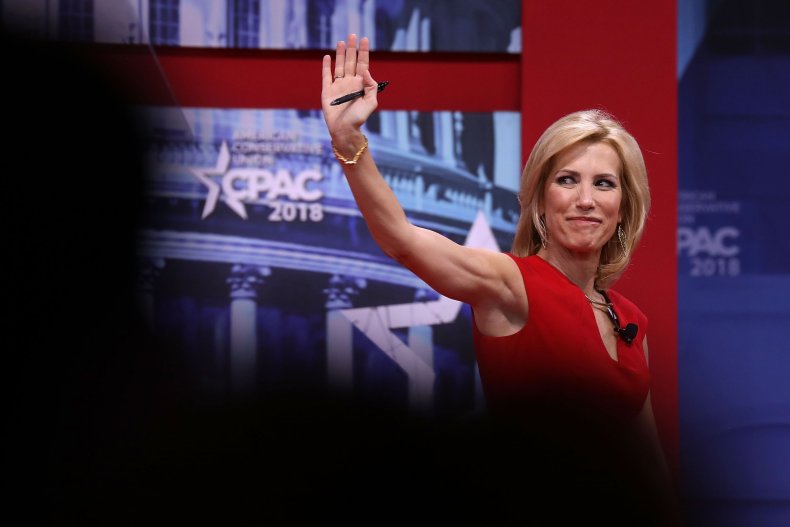 The Review published a transcript of the meeting but did not include the names of those who attended, only two GSA officers, Berkow and another, according to Berkow and Sidell. "They were trying to shame us by outing us," Sidell told Newsweek. "But we were like 'We're already out!'"
The intention of the meeting was to help the closeted students, not those who were already out, and the stakes were high for some if their names had been published. Berkow said one student was attending the Ivy League institution on a junior ROTC scholarship that could have been taken away if their name got out.
Newsweek submitted questions to Ingraham for this story through a Fox News spokesperson. She responded by pointing to her Washington Post piece written in 1997. In the op-ed, Ingraham discusses the relationship with her brother Curtis, who is gay, and his partner's battle with AIDS. She also explained the Review's reasoning for the story and ultimately how she came to better understand the gay community.
"Part of what we did was journalistically justifiable: The group received college funding but, unlike every other student group receiving a college grant, refused to make public its membership or budget," Ingraham wrote. "We wanted to find out how student funds were being spent and to demonstrate the double standard Dartmouth had created by funding the group. But in doing so, we adopted a purposefully outrageous tone—occasionally using, for example, the word 'sodomites' to describe campus gays."
She stated later in the piece: "I now regret that at Dartmouth we didn't consider how callous rhetoric can wound...not to mention how it undermined our political point."
The incident eventually sparked a criminal investigation for wiretapping and a violation of privacy rights by the New Hampshire State Attorney General. Ingraham claimed that since GSA advertised the meeting, participants had given up confidentiality and that it was a "freedom of the press issue," according to the Associated Press's report from July 1984. The paper also justified its work by stating that GSA had received funding from the school, and in turn was open to potential scrutiny.
GSA claimed Polenz did not identify herself as a reporter during the meeting and that the group had read aloud and taken an oath of confidentiality at the very beginning. Ultimately, the state's attorney general opted not to charge Polenz, who could have faced a felony wiretapping charge, according to the AP.
Berkow told Newsweek that he felt the actions taken by the Review, Ingraham and Polenz were "reprehensible" and "hurtful to the gay community and personally hurtful to me."
"In my opinion, there clearly seems to be some lack of humanity in this woman," Berkow said he felt at the time. He added Ingraham has every right to her political views.
Whether Ingraham should be judged now for her actions during an incident that took place more than 30 years ago is questionable, Berkow said. He added it was "hard" to say that what happened at Dartmouth reflected who Ingraham is now, but that the incident with Hogg suggests Ingraham had not learned from her college days' scandal.
The conservative pundit tweeted last month a story about Hogg, a Marjory Stoneman Douglas High School student, not being accepted by four colleges and said he "whined" about the rejections. "David Hogg Rejected By Four Colleges To Which He Applied and whines about it. (Dinged by UCLA with a 4.1 GPA...totally predictable given acceptance rates.)," she tweeted March 28, linking to conservative outlet Daily Wire's article on Hogg's school troubles. Hogg had said the rejections from four California schools were difficult to deal with in the aftermath of the shooting and all the work and he his fellow students had done to raise awareness of gun control issues.
Hogg has become a nationally recognized gun control activist following the shooting deaths of 17 people at his school in February. He responded to Ingraham's apparent attack by calling for a boycott of companies that advertised on Ingraham's primetime show. Fifteen companies pulled ads from the show, including restaurant chain Ruby Tuesday, weight-loss company Jenny Craig and streaming-service giant Hulu.
Ingraham later apologized and invited Hogg to again appear on her show. He declined the invitation. Fox News has stood by Ingraham.
"We cannot and will not allow voices to be censored by agenda-driven intimidation efforts," Fox News co-president Jack Abernethy told the Los Angeles Times in a statement Monday. "We look forward to having Laura Ingraham back hosting her program next Monday when she returns from spring vacation with her children."