Inhotim: Bernardo Paz's Botanical Eden of Sculpture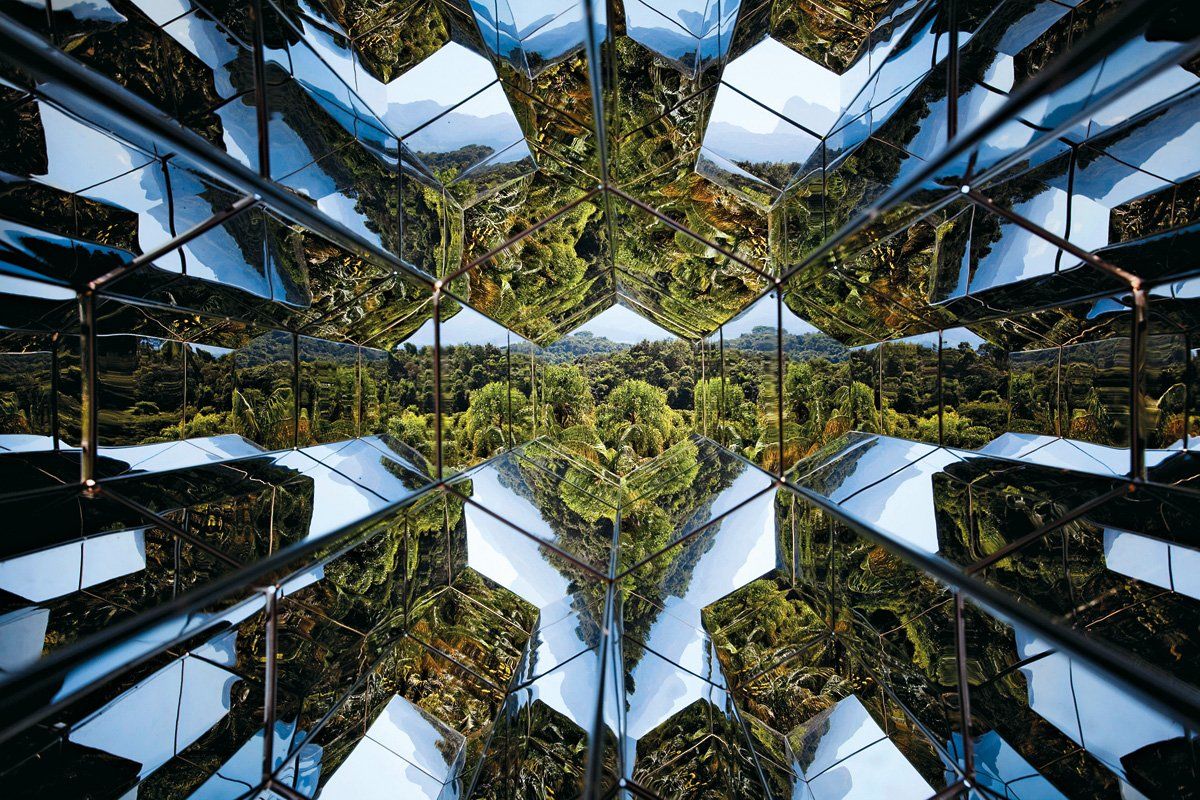 The slightly built man with a curtain of white hair steers an electric golf cart through a gauntlet of ferns, palm trees, and dagger-leafed bromeliads. In a black jacket, black shirt and pants, puffing on a Dunhill cigarette, Bernardo Paz is an inky contrast to the exuberant gardens that surround him. He is 62 but looks older—the toll, perhaps, of tending to one of the world's most ambitious contemporary art museums in the middle of the Brazilian nowhere. "People transform themselves here," he says in a raspy voice, waving smoke at the gardens behind him. "No one expects to find something like this in Brazil."
Or anywhere else, for that matter. The Instituto Inhotim is many things: a botanical garden; the world's largest open-air museum; a sculpture park; a laboratory for evolutionary biologists; and a retreat for battle-worn urbanites. Spread over 1 million square meters of rambling meadows and thick patches of Atlantic rainforest in Minas Gerais, in southeast Brazil, this museum without walls is one the biggest and certainly the boldest of its genre. The elegant Hakone Open-Air Museum of Japan, with its impressive collection of works by Picasso and Henry Moore, is a fraction the size of Inhotim, while Pedvale, the bucolic sculpture garden in Latvia, is tame by comparison. And yet Inhotim's founder, owner, and eccentric in chief wants his museum to be much more than just an outsized art park. "I see hotels, a convention center, think tanks," says Paz. "You have to think about transforming the museum into an entertainment park. You have to think of Disney World."
Rising from the outskirts of a fading mining town, Inhotim comprises 20 galleries and 23 outdoor stand-alone pieces, featuring 123 artists. Sculptures and hulking installations loom from hilltops or surge from lush tropical flora, a surprise at every turn. Each year, hundreds of thousands of visitors trek the flagstone paths or board the fleet of electric cars that shuttle between the pavilions, ponds, and galleries. And with 60 more pavilions already under contract, this is just the beginning of Paz's vision.
Artists jump at the chance to work on such a lavish canvas. Action sculptor Chris Burden deployed a building crane and a small construction crew to hoist enormous girders 40 meters into the air and then drop them vertically into a giant pit filled with wet cement. The result was Beam Drop, a steel forest sprouting from a bare field.
Conceptual artist Doug Aitken had an entire hilltop to work with. So he dug a hole the width of a narrow well 200 meters straight down, lowered powerful microphones to the bottom, and capped the well with a cylindrical gallery sheathed in frosted glass. Called Sonic Pavilion, the installation's microphones capture and transmit the sounds of the earth's rotation, an eerie caterwauling of whistles and groans that echo off the translucent gallery walls. "What's so exciting and sets Inhotim apart is that it is one of the few places in the world where art can be created and exist in response to the landscape and the culture," Aitken says. "This is the museum as enabler."
Inhotim started far more modestly, as a backcountry retreat of the semi-reclusive Paz. A mining baron who made his fortune scraping iron from Brazil's red hills and melting it into pig iron for China, Paz was rich and restless. He also loved contemporary art and began snapping up works to garland his farm near the mining site, about an hour's drive from the regional capital of Belo Horizonte. The property was named after its former owner, a British mining engineer known to locals as Senhor Tim—or Inhô Tim, in the backcountry shorthand.
Paz made the farm into a refuge for his family and friends, but soon the artwork started to outgrow the premises. So he decided to create a park. With the help of a friend, famed landscape architect Roberto Burle Marx, who sculpted the gardens of Brasilia and much of Rio, he set to work sketching out a tropical paradise. By 2006, when Inhotim opened to the public, it was a museum without walls framed by a world-class botanical garden. Today its gardens boast more than 4,000 plant species, from towering jequitibá trees to spiky bromeliads thrusting like green diadems from the forest floor. While museumgoers gambol among sculptures, scientists come here to study the largest collection of living plants in the hemisphere.
From the beginning, Paz vowed that Inhotim would not be just another shed for modern art. As it happened, he also was undergoing something of an aesthetic identity crisis. Long a consumer of modern sculpture and painting, Paz suddenly tired of his collection and put everything up for sale. "It was junk," he said of the family collections. He wanted something fresh and bold. Though not a trained artist, he was compelled by the provocations of contemporary art, starting with the notion of artists enlisting their public as creative accomplices instead of as mere spectators. "To me art doesn't work in enclosed buildings displayed on timed visits," he says. "Today the artist is no longer the lone genius, the one who executes his pieces for others to admire. He projects it inside an installation and then relies on the genius of the people around him to make it come to life," Paz says.
It sounds fanciful but examples abound at Inhotim. One is Burden's Samson, composed of two giant construction beams, suspended end to end, and fastened to opposite walls. When visitors enter the gallery, they pass through a turnstile, tripping the wheel in a gear box, which advances a notch and presses the lever on a 100-ton car jack, slowly prying the beams apart and into the pavilion walls. "If enough visitors come, the show literally becomes a blockbuster," says Burden. "The public can help push down the walls."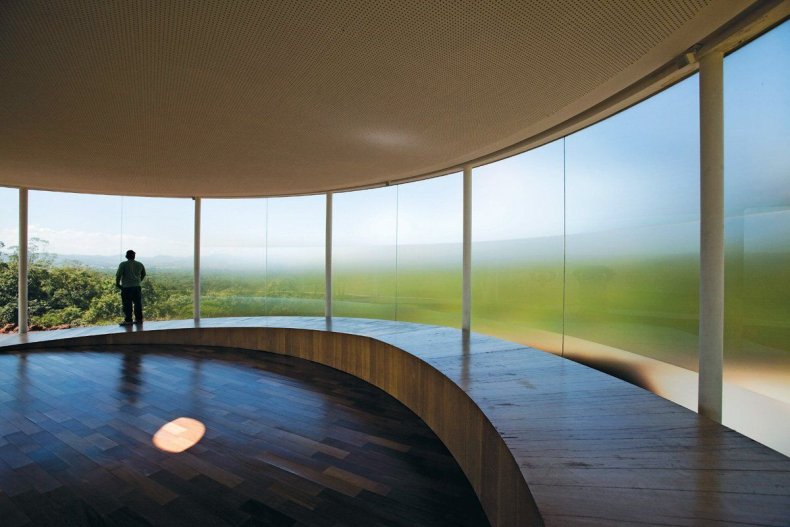 More playfully, Brazilian artist Marília Dardot created A Origem da Obra de Arte (The Origins of the Work of Art), a potted alphabet garden comprising hundreds of ceramic vases, each thrown in the shape of a letter. Visitors plant seeds of native plant species and arrange the vases in the field as they please, like a botanical Scrabble game.
Not everything at Inhotim is easy to look at. One of the most disturbing works is in a three-story pavilion dedicated to Rio de Janeiro conceptual artist Adriana Varejão, Paz's ex-wife. A near-empty room is tiled over in pleasing blue-and-white Portuguese colonial motifs. But the soothing symmetry of the classical tiling ends abruptly as the broken internal wall bursts at the ragged edges with bulbous polyurethane entrails, painted blood red—a meditation perhaps on the interplay between violence and Brazil's history. The entire effect is that of a punch in the gut.
But no one seems to be put off by Inhotim, which drew 250,000 visitors last year. Paz is betting they will come away with more than T-shirts from the gift shop. More than a museum and the enchanted gardens, he fashioned Inhotim as an antidote to what he calls the idiocy of urban life. "The city has ruined us," he says. "It makes us all into pseudo-intellectuals." As Paz warms to his theme, his voice incongruously grows softer, descending at times into half-audible riffs, punctuated by drags on his ever present Dunhill. "We've lost the ability to be surprised by life. We have to regain the sense of being a child again. Here you can do this."
Managing a garden of dreams is not easy, he allows. "I go crazy thinking constantly of what people want and will need," he says. "Next year, we'll have five more pavilions. We have to grow in order to sustain our costs." We are two hours into an interview his handlers had budgeted for one, but Brazil's bullish patron of the arts shows no signs of flagging. "I take a pill to sleep, another for my heart, and an antidepressant," he says. "I think about this 24 hours a day." The wizard of Inhotim has created a utopia for everyone, it seems, but himself.
Inhotim: Bernardo Paz's Botanical Eden of Sculpture | Culture