Injured Maryland Turtle Gets Custom-made Lego Wheelchair, Full Recovery Expected
An injured turtle in Maryland is on the road to recovery after a zoo employee found it with a severely broken shell in Druid Hill Park, Baltimore, in July. The worker rushed it back to the zoo for treatment, but it was discovered that the turtle would not be able to move while its shell healed. Thanks to some crafty work with Lego, the turtle is now up and rolling.
Ellen Bronson, the senior director of animal health at the Maryland Zoo, said it was difficult to treat the turtle's injuries while keeping it mobile. "He had multiple fractures on his plastron, the bottom part of his shell. Because of the unique placement of the fractures, we faced a difficult challenge with maintaining the turtle's mobility while allowing him to heal properly," she said.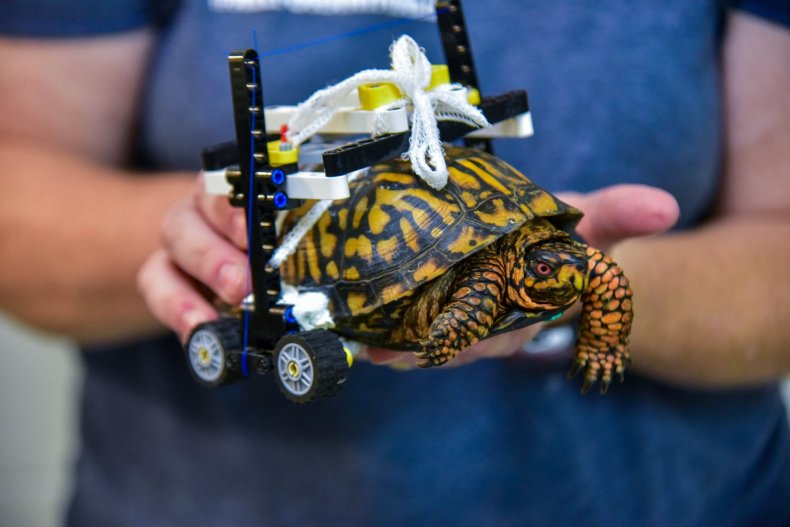 "Turtles heal much slower than mammals and birds, since their metabolism is slower. So this turtle will likely use his Lego wheelchair through the winter and into the spring until all of the fragments have fused together and the shell has completely healed," said Bronson.
The Lego design does not prohibit the turtle from retracting into its shell, as it normally would if threatened. The idea was led by veterinary extern Garrett Fraess, who drew up design sketches and received Legos from a friend. He said he was glad it wasn't dismissed as just some "zany" idea.
"They don't make turtle-sized wheelchairs," Fraess said. "So we drew some sketches of a customized wheelchair, and I sent them to a friend who is a Lego enthusiast."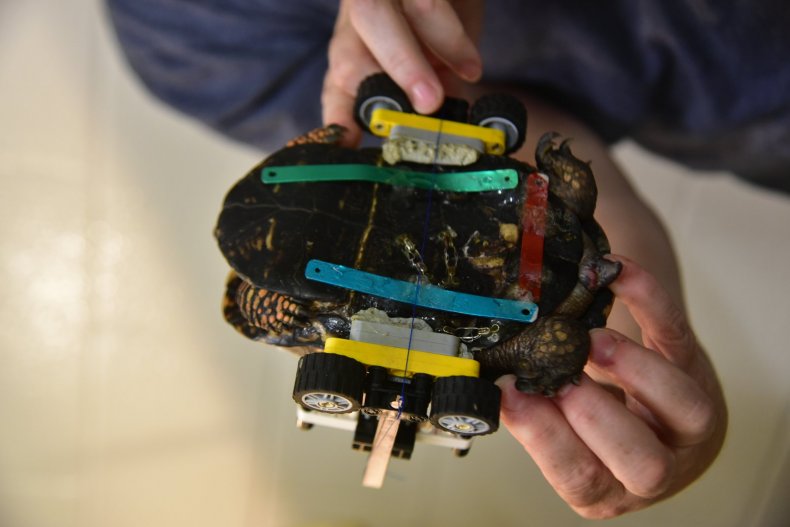 But how did the turtle take to his new mode of transport? "He never even hesitated," Fraess said. "He took off and has been doing great. Turtles are really good at healing as long as the shell remains stable." The turtle will be in the contraption for about a year.
Earlier this year, a kitten in New Brunswick, Canada, received similar treatment after it was found with two broken hind legs. Champ was discovered in a barn and rescued by Cat Rescue Maritimes, according to The Canadian Press. Champ wears a red sock with the Lego wheelchair to prevent chafing.