Injured Sea Turtle Trapped in 1,800 Pounds of Cocaine, Worth $53 Million, Rescued From Pacific Ocean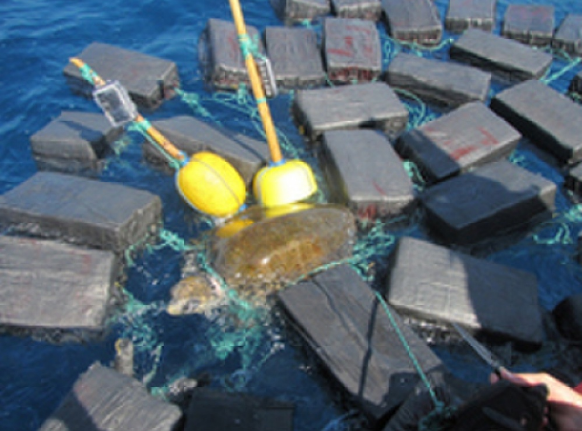 This November, a U.S. Coast Guard boat found a loggerhead sea turtle that had been trapped in floating packets of cocaine worth over $53 million. The turtle, whose species is considered vulnerable and close to endangered, was rescued and set free.
At first, the crew aboard the Thetis, a Key West-based Coast Guard boat that was deployed in the eastern Pacific, did not not even notice the trapped turtle, The Miami Herald reported. The cutter sent out a small boat to investigate a suspicious bundle of debris and crewmembers were shocked to find the entangled sea creature, along with the 1,800 pounds of cocaine, which were valued at over several million dollars, The Telegraph reported.
According to Mark Krebs, the pursuit mission commander, in a press release sent out by the U.S. Coast Guard, the crew noticed significant chaffing around the turtle's neck and flippers, caused by the rope used to hold the cocaine bundles together. The crew cut the turtle free and released it back to its eastern Pacific home. Afterwards, they removed 75 feet of line from the water to prevent other sea life from becoming entangled in the future.
The loggerhead turtle, named for its remarkably large head, is a sea turtle found in the Pacific, Indian and Atlantic oceans. It is currently listed as threatened, according to The Sea Turtle Conservancy, which means the animals are likely to become endangered within the foreseeable future.
Man-made problems, such as this line entanglement, are major threats to the vulnerable turtle. And while it may be rare for turtles to become ensnared in a cache of valuable drugs, the animals are often the victims of ocean plastic pollution, longline fishing, a type of commercial fishing technique, and shrimp nets, all of which can trap the turtles and prevent them from feeding and breathing, leading to their ultimate death.
Habitat loss is another major threat to this turtle and has become an increasing problem with the rise of developments and construction along the coastline. Human disturbances, such as coastal cities, which produce lights and noises, disorientate newborn turtles, making it more difficult for them to make the already treacherous journey from their beach nest to the ocean homes.